"Oil Drums" is the thirty-eighth episode of the second season of Teen Titans Go!, and the ninetieth overall episode of the series.
Synopsis
Cyborg is looking forward to a marathon of 80's television shows, but the remote appears to be lost.
Plot
The episode starts off with Cyborg announcing to all of the Titans that the night was all to be described in three letters. Robin guesses BLT, Beast Boy guesses VIP, Starfire guesses UFO and Raven guesses LOL. Cyborg responds to them all no and says it is VH and S. He announces that he has VHS's for days. Raven and Starfire both respond with some of the shows they would like to watch. Robin also replies that he wants to watch Alf, and claims, creepily, that he wants to see Alf eat cats. Beast Boy also replies, saying he wants to watch a show Manimal, a show about a human turning into animals, which he states is "so cheeseball!" Cyborg says that they will be watching The A-Team. Starfire is happy to hear about this, since she thinks that just because A is the first letter in the alphabet, it must be good. Cyborg then explains what happens in the show, and mentions that the van which the A team rides in has a stripe. Robin then says that he loves stripes, and finishes by saying that they are crime fighters. Raven then responds by saying how they are like themselves by being crime fighters.
Cyborg replies by saying that instead of being lame, they make weapons out of oil drums, which Beast Boy finds awesome. Cyborg then puts in the tape and asks where the remote is, which the Titans all responds with they don't knows. Cyborg then just thinks it is within the couch cushions and starts to search. He then pulls out Sticky Joe which Robin asks if he knows where the remote is. He only says "Howdy!" which makes Robin think he is useless and throws him out. Cyborg then starts panicking and searches everywhere in the couch and starts crying. Robin then suggests they just use the buttons on the TV, which Cyborg agrees to. However, there was a lot of buttons, so Cyborg worryingly starts hitting them all, which doesn't work. He started to cry again, and Raven tells him to relax and says that they can just watch The A-Team another time. Cyborg says it isn't about that or all of the other 1980's shows but it is that without TV, he doesn't know what to do with himself. Robin says that it's just TV which makes Cyborg visit his past by saying that all of his best moments in his life was watching TV. Robin then say that he sounds like a crazy person and should just take a break from TV.
Cyborg asks why he should do that and Robin replies that TV rots the brain. Cyborg doesn't believe this and says that TV keeps his brain active and strong. Beast Boy agrees by saying if a parent says it, it must be true. Robin then says instead of watching TV, they are going to hang around with each other, which all of the Titans except Cyborg are excited about. However, they all wind up being bored. Raven then breaks the boring silence by saying without TV, no one knows how long a second is. Cyborg asks how many seconds are there until they go to sleep, and Starfire replies approximately 32,000. Cyborg then gets annoyed and says he isn't going through seconds 32,000 more times. Robin then says they should have a meaningful conversation. Beast Boy then asks how they do that and Robin replies that they just speak how they feel. Robin then starts by saying "Good afternoon. These are a nice day. For things." Beast Boy then replies by saying "Uh, hi. I'm a person." Cyborg then says "I know when I do things." Starfire lead off from there by saying "One time, I saw." Raven responds to that by saying "Eeehhhhhhh." From there they just say "Ha" until Cyborg snapped and said that they needed to find the remote. Robin says they should just do something that people did for fun before TV. Beast Boy says a parade so the Titans all go to a parade. They all find it quite boring and boo at the parade. Cyborg then says he is tired of seeing parades and doing terrible conversations and just wants to watch TV.
Robin says that it will just rot his brain, so he tells the Titans things that they have been wanting to do. He tells Beast Boy to play the keyboard, Raven to do body building and Starfire to help the poor. It then shows them doing all of these things, along with Robin doing carpentry and Cyborg cooking. Cyborg then makes everyone tapas, which they all enjoy. However, they all start to feel empty inside and Raven wanted to know why. Cyborg says that no of the things that they did were beneficial, an said that TV have all of those things and that TV is the real hero. They then notice a foul smell an Cyborg states that it is their brains rotting. Raven wonders how their brains are rotting even though they weren't watching TV, which Cyborg states that TV keeps your brain from rotting by feeding it info an good times. Beast Boy then notices how Cyborg's brain wasn't rotting, which Cyborg states that it was that he watch so many good shows that his brain was stronger than everyone else's. Robin says that everyone must get in front on the TV before their brains rot away completely, only for Starfire to remind everyone that the remote to the TV is still missing. Cyborg with confidence says to improvise just like the A-Team, where he ends up concocting a "TV screen" made from an oil barrel. Cyborg holds it over a plant, and says its a show about plants. Robin finds interest in the "plant TV", and Beast Boy asks with enthusiasm if they can change the channel. Cyborg replies "no problem" and places the screen over cockroaches and calls it the "cockroach show". Raven comes to comment on how she wants to watch a show about walls. Cyborg shifts from the cockroach show, to the "wall show" but hovering over a wall with a stain on it, and the cockroach comes into the frame and Cyborg calls it a "crossover".
Despite the substitution of TV, Raven notices the smell is getting worse, and all of their brains are rotting. Cyborg in panic, switches to capture a slice of pizza on the floor only to not be helping any, and quickly switches to capture the Darkseid Plushie. The toy was the last straw, and all of the Titans brain have rotted only for Cyborg to be the last one sane. Robin, Starfire, Raven, and Beast Boy all move towards Cyborg acting like zombies, and for Cyborg to be back into a corner. Before the Titans could get to Cyborg, TV pops out of the elevator and kicks them back saving Cyborg. Cyborg questions what the TV is doing here, for TV to answer him that Cyborg himself has been a favorite to the TV among all the kids he's raised. The TV admits that all the years Cyborg has spent staring at the TV, the TV stared at him back as well. The TV is proud of how Cyborg turned into a man and confessed he loved him, where Cyborg said he loved him too and they hugged. The break apart, and the TV gets down to business offering a solution to save Cyborg's friends, by watching quality programming. Cyborg urges him to turn himself on, but for the TV to say he has no idea how his buttons work on his face and that he needs the remote. Cyborg says they lost it, and the TV remarks that will find it together.
The TV and Cyborg drive in a car, interrogate a person, and end up chasing down somebody in the street, where they break into a building they ran into, with the remote inside of there being held hostage. They end up saving the remote and is fast forward to out in the ocean where they are being chased by the hostage takers, and end up tricking them into hitting a buoy, letting them succeed in escaping. They fly through the sky and crash through the Titans Tower's window, and are greeted by the four other Titans zombie like state. Wasting no time, Cyborg turned on the TV, and immediately, Robin, Starfire, Raven, and Beast Boy reverted back to normal. Robin a little confused what happen, gathered his surroundings and thanked the TV for fixing their brains. The TV modestly says no problem, and suggests if they can all go out and take a hike or go to a museum to absorb some culture. The Titans all stare dead eye at the TV, only for him to admit he was only joking with them, and he really wanted to watch 18 hours of A-Team TV, for everyone to happily jump in the air and shout "yay!".
Characters
Trivia
This episode aired one year after "Uncle Jokes".
It's revealed that Cyborg used to wear braces as a child.
This is the second episode where there was no official clip released. The first was "I See You".
Based on the time on the clock, and Starfire's estimate of how long until they go to sleep, the Teen Titans go to bed at 12:00 AM, even though they need to go to bed by 9:00 PM, which is a rule in The Rules of Robin.
It shows in Cyborg's memory that he was fully human when he started watching television and was still fully human when he was an older kid. This further supports his true origin from the old comics stated in "Tower Power", "Man Person", and "Real Boy Adventures", while disproving his comedic, false origin first mentioned in "Dog Hand", which was later supported by "Slumber Party".
The "R" shaped chair that is next to Raven has "R <3 BB" engraved onto it.
Starfire's real name is revealed in this episode.
This is the first time that anyone in the show has noticed the Darkseid Plushie.
Cyborg can be seen rolling an oil drum a few seconds after he says "Just like the A team."
This episode reunites Tara Strong and Dwight Schultz who were previously casting from Chowder.
Continuity
The way Cyborg yells "Ohh" while extending his neck at the start of the episode, is very similar to what he did during the "Uncle Jokes" song.
Cyborg's love for 1980's popular culture and television marathons returns from "Tower Power".
When Beast Boy and Cyborg look at each other at the start, they are in the same pose as when they sung "I Love Pie".
The Titans once again take up activities randomly suggested by Robin, much like what happened in "Multiple Trick Pony".
This is the third time a Teen Titan's real name is mentioned, in this case Starfire's, which is revealed to be "Koriand'r". ("Hot Garbage", "Robin Backwards")
This is the seventeenth time that Raven is seen unhooded.
This is Sticky Joe's second appearance. It seems he has survived the trash avalanche from "Hot Garbage".
Raven's romantic feelings for Beast Boy are shown once again. The initials "R" and "BB" with a heart in between them are carved in her chair, which is shaped like the letter "R".
This is the third time the Titans have been rendered in a zombie-like state ("Salty Codgers", "Vegetables")
This is the fourth episode title to have nothing to do with the actual episode plot ("Two Bumble Bees and a Wasp", "Hose Water", "Head Fruit").
References
The plot of the episode (the remote going missing) is a reference to the original Teen Titans episode "Final Exam".
Several real-life 80's television shows are mentioned in this episode. They include: The Golden Girls, ALF, Manimal, The A-Team, Magnum, P.I., Small Wonder, Silver Spoons, Charles in Charge, Out of This World, Webster, MacGyver, Perfect Strangers, Who's the Boss?, Head of the Class, Too Close for Comfort, The Greatest American Hero, Happy Days, and Knight Rider.
Several references are made to The A-Team.

When Cyborg introduces the A-Team, 8-bit figures of the characters are seen.
Cyborg welding the TV screen is a parody of the A-Team opening.

Starfire also references The Cosby Show, but mispronounces the series name.
The idiom "TV makes your brain rot" is mentioned in this episode.

The idiom was similarly mentioned by SpongeBob from the SpongeBob SquarePants episode "A Day Without Tears".

When Cyborg preaches about how "life without TV is meaningless," his voice and body language are imitating a black pastor.
It is shown that Starfire works at the soup kitchen for the elderly.
When TV says about watching The A-Team in 18 hours, he was in that show The A-Team played by Dwight Schultz who portrayed his character named H.M. "Howling Mad" Murdock.
Running Gags
Robin, Raven, Beast Boy, and Starfire's brains rotting.
8-bit styled graphics appearing.
Cyborg wanting to find the remote before the Titan's brains rot.
Errors
Cyborg could have used the TV in Beast Boy's room to reverse the brain rot.

It's possible that his TV didn't have a remote or cable.
Cyborg could have also taken the Titans to the store with the TVs from "Friendship".

Beast Boy wanted to learn how to play the keyboard even though he was shown playing a keytar in "Girl's Night Out", which is almost the same as a keyboard.

It is possible that this episode takes place before it.

The big array of buttons next to the TV was absent until Robin suggested that Cyborg used them. Afterwards, they seemed to be absent again.
When Beast Boy turns into a goat, his eye isn't in his original eye when he turns into animals.
Starfire says the Titans go to bed at 12:00 am. However, one of Robin's rules in "Robin Backwards" was that he goes to bed by 9:00 pm.

However, it may be the time Robin wants the Titans to go to sleep as it was a rule and the other Titans were staying up with Nibor.
Transcript
The transcript for "Oil Drums" can be found here.
Gallery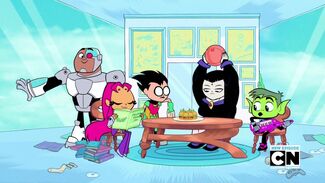 The image gallery for Oil Drums may be viewed here.