"Who's that Orange Girl?"

The name of this page is unofficial. Though the content on this page is accurate, the "official" name of this article has either not been given or has yet to be confirmed. Please keep this under consideration as you proceed.
Yes, it has been some time since I've talked to anyone...

--The Old Man to Starfire
Old Man is a wise character in Starfire's Quest: The Legend of the Legendary Quest. He offers a sword to Starfire, but ultimately ends up joining her dance campaign.
In Teen Titans Go!, "Video Game References" marks his first and so far only appearance.
Bio
While playing a reality RPG game, Starfire wondered into a building made entirely of adobe. Inside waited the Old Man, who tries to equip Starfire with a wooden sword. However, she blows off his generosity, passing it off as a mere "stick". He stated that she must take, as goin' alone would be dangerous, but she points out that he's alone, too. It turns out that the Old Man's wife left him a while back, and he hasn't talked to anybody in a while. With an awkward silence, Starfire is about to leave when the Old Man starts putting on a show about his loneliness, knocking over a fire vase. Starfire asks if he wants to come with, and he eagerly accepts, bringing along his feeble sword.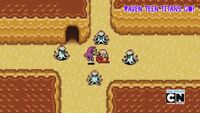 Outside the room, the two are met instantly by a pack of Land Squids. Old Man challenges them, but is defeated when they spray ink in his face. He cowers at Starfire's feet, unable to beat them. However, she manages to convert the monsters from their evil ways, and one of them joins the posse.
The Old Man, along with the rest of the group, starts to dance along the mission, up until they reach a farm. A treacherous chicken is threatening a villager, so he swings at it with his sword. He fails completely, and is only saved by Starfire's ability to convert enemies. Dancing through the whole quest, the Old Man praises Starfire for her growing army, and says that surely, she would be able to slay the monster. But, choosing only to dance for the rest of the game, the Old man and Starfire are unable to stop the evil wizard from taking over the land.
Characteristics

Due to being from an era where video games had not progressed so far in terms of graphics, the Old Man is heavily pixelated. His gameplay sprite shows him wearing a dark red robe, with a golden necklace chained around his neck. He seems to be barefoot, and his long white beard flows over his chest. The Old Man's head is bald, and so, overall, he resembles a Buddhist monk.
During cut scenes of the character talking, a more vivid image can bee seen of him. His wrinkles can now be made out, as well as squinty eyes, a large red nose, and the beaded golden chain. The necklace centerpiece has a simple circular design on it.
Episode Appearances
Teen Titans Trivia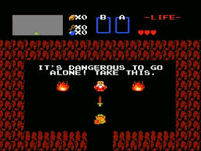 He is a reference to the Old Man from the Legend of Zelda, as they share this quote: "It's dangerous to go alone, take this!" They also reside in the same cave.
Voice in other languages
Lajos Csuha (Hungrian)
Marek Robaczewski (Polish)
 ? (Italian, Romanian)
Gallery
Community content is available under
CC-BY-SA
unless otherwise noted.