"Orangins" is the twenty-second episode of the fourth season of Teen Titans Go!, and the one-hundred-seventy-ninth overall episode of the series.
Summary
The Titans each tell their own slightly inaccurate origin stories.
Plot
It all begins when Robin breaks the door and is going to tell his story. Cyborg happily says that he loves stories. Robin tells him that it's an origin story, which Beast Boy mishears as orange. As soon as Robin tells his origin story about him as a circus clown, the other Titans stop him due to their being bored.
Raven tells her inaccurate origin story. She was a teen photographer taking photos of a science lab when she got bitten by a radioactive raven. She turns into Raven-Woman and gains a series of raven-related powers: winged flight, egg-laying, and nest making. Her tragedy is that her elderly uncle died...decades later of old age. All the Titans except Robin cry. Robin tells Raven that it wasn't real, as she stole the origin from Spider-Man.
Cyborg tells his inaccurate story about him escaping a terrible explosion that blew up his homeworld and killed his parents. Then he lived on a farm with step-parents who had always wanted a child. He finds he has superpowers and becomes Cyborg-Man. His tragedy is that his step-parents fell on hard times, lost their farm, and were now homeless. And yet again, all the Titans except Robin cry. Robin tells Cyborg that it was Superman's origin.
Starfire tells her inaccurate origin story about her younger self walking home from the movies with her cats. As they walk into an alley, a dog scares her and the cats, chasing them away, which causes Starfire to become depressed. Starfire takes the vast fortune left by her cats to build a headquarters in a cave and becomes the superhero Catfire, who fights bad dogs. Her tragedy is that her back was broken by Bane-Dog. Robin tells her that it was Batman's origin story, except she was Batman and all the characters were replaced by cats and dogs.
Beast Boy tells his inaccurate story about being a jet pilot known as the "man without fear". One night, while marooned on a desert island after jumping from a crashing plane, a dying green alien gave Beast Boy a green power ring. Beast Boy then used his powers to fight a series of bad guys (like the Red Lanterns and Dr. Hector Hammond). This time, the Titans, especially Robin, didn't cry. Robin tells Beast Boy that it was more like Green Lantern's story. Beast Boy says that he is a Green Lantern, explaining why he's green and can change form.
Robin then tried to remember and retell Beast Boy's real origin story: about how he was ill as a child and that his scientist parents gave him an experimental serum created from the blood of a rare green monkey. It not only cured him but granted him shape-shifting powers. Beast Boy points out how silly that is, so he and the other Titans laugh at Robin. Beast Boy then eventually reveals he's not real and that he's just a hologram created by Green Lantern, causing everybody (except Robin, who is more surprised than sad) to cry, especially Cyborg, upon realizing his friendship with Beast Boy was a lie. The episode ends with Green Lantern laughing.
Characters
Trivia
This is the third episode to feature each Titan tells a different inaccurate story or fable. The first two were "Grube's Fairytales" and "History Lesson".
The episode title is a play on the words "orange" and "origins", as mentioned by Beast Boy.
Spider-Man is mentioned/referenced for the second time in the series. The first being brought up in "Two Parter" (Part 2).
Robin briefly explains a little about Beast Boy's real origin where he was indeed bitten by a diseased monkey as a child, which granted him his superpower of animal shapeshifting and turned his skin and hair green.
Raven's origin story parodied Spider-Man; coincidentally, her voice actress, Tara Strong, voiced Mary Jane in Marvel's Ultimate Spider-Man series.
Interestingly, even though Starfire's origin story parodied Batman's, her voice actress Hynden Walch actually voiced the dark knight (as a child, specifically) in the 2008 anthology film, Batman: Gotham Knight.
"Orangins" was nominated for the 2017 Primetime Emmy for "Outstanding Short Format Animated Program".
The music used when Robin walks in the room is similar to what is used during the previews for suspenseful, action-packed movies, or suspenseful, action-packed Sci-Fi movies.
Beast Boy is the only Titan who didn't appear in-person in this episode.
Continuity
References
Each Titan's story is a parody of a well-known superhero's origin story. Starfire's story references Batman, Beast Boy's story references Green Lantern, Raven's story references Spider-Man, and Cyborg's story references Superman.

This is the second time that a Marvel superhero has been directly referenced in the show.
This is also the first time the show referenced two Marvel superheroes in one episode: Beast Boy says that he always thought Batman got hit with gamma radiation and that's how he gets all of his muscles which is a reference to The Incredible Hulk, another Marvel superhero.

Beast Boy mentions the Norwegian fairy tale of The Three Billy Goats Gruff.
Starfire mentions the fairytale Thumbelina when she refers to "the tale of the tiny fairy princess", although in older versions of the Fairy Tail Thumbelina does not ride a cat.
Several Spider-Man references are inserted in this episode:

During Raven's story, we see her uncle reading a newspaper with the headline, "Octopus Receives Doctorate". This is a reference to Doctor Octopus, who is a villain from the Marvel universe.
In Raven's story, the old man raising her (who portrays Uncle Ben) says, "If you ever get superpowers, you should probably use them for good, instead of not doing good." This is literally based on Uncle Ben's philosophy- "With great power comes great responsibility". However, it is said with a little twist- Uncle Ben doesn't realize in the actual Spider-man story that his nephew would get superpowers, yet his philosophy had a strong point of using your superpowers responsibly.
In Raven's story, she is bitten by an actual, radioactive raven, which is a mockery of Parker getting bitten by a radioactive spider, thus giving his powers. But a raven is used instead to add irony to the story as this character's name is actually the crow-like bird itself.
It's obvious Raven wears 'specs in her story, similar to how Parker wore them as well. He was nearsighted, which is why he wore 'specs. However, after being bitten by the radioactive spider, Parker was no longer nearsighted, which is why Raven stopped wearing her 'specs after being bitten.

In Starfire's origin story, the movie title "Top Dudes" outside the cinema is a reference to the 1986 movie "Top Gun".
Errors
When the boy falls out the window in Raven's story, his window had smoke. After he landed on the nest, his window is clean.
The parodied origins also have different downsides to them, such as Raven's when she said that Uncle Ben died of old age, whereas in the comics, he was shot to death. Cyborg's show that the Kents lost their farm and became homeless.

The only downside which is true is about Batman, which Starfire stated- Bane broke Batman's spine and he was unable to walk after some time.
Running Gags
The Titans (except Robin) crying while the word tragic appears in huge letters.
Beast Boy mispronounces and misunderstands words.
Robin being irritated by each of the other Titans' stories, as they give completely wrong versions.
Robin being dramatic.
A big pixelated "TRAGIC" sign appearing, causing alarms to go off
Transcript
The transcript for "Orangins" can be found here.
Gallery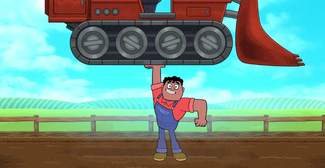 The image gallery for Orangins may be viewed here.