Pain Bot is a robotic creation invented by Brother Blood constructed to inflict agony on his victims. However, after his control pad was destroyed, Pain Bot was released from his bonds as a torturer and was adopted by Cyborg of the Teen Titans as a little buddy. He first appeared in the episode "Waffles".
Bio
In the "Waffles" episode, Brother Blood first implemented Pain Bot to interrogate the Teen Titans into giving him their voice codes for their secret data in the Titans Tower. Pain Bot was so ferocious that he easily got Robin, Raven, and Starfire's security passwords without using his instruments.
Cyborg and Beast Boy were more resilient to Pain Bot's methods, as they were currently devoted to a game of only saying the word "waffles". After a period of crushing, stabbing, electrocuting, and other painful procedures, the two still held strong to their game. Brother Blood went insane when the other three start singing about waffles as well, so he escaped the scene via Pain Bot.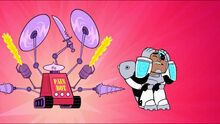 Another assault by Brother Blood in "Little Buddies" saw Pain Bot's return. After capturing all five Titans with huge metal pinchers, Robin hatched a plan to escape, using Beast Boy as a distraction. He threw a Birdarang at the control switch of Pain Bot and destroyed it, which made him short circuit and release the Titans. Still wary of the dangerous robot's capabilities, Cyborg soon learned that Pain Bot really wasn't a bad robot after all-he was just simply raised by a villain. Against the other Titans command, Cyborg took Pain Bot with him to the Tower.
After repairing him, the two grew very fond of each other, playing baseball, videogames, working on the T-Car, stuff like (even if he innocently caused pain in every activity). However, Robin discovered Pain Bot when he was helping Beast Boy with the pizza. Cyborg was forced to abandon Pain Bot, but after a touching song, Cyborg retrieves his little buddy. Soon afterward, the Titans found out he brought him back, but Cyborg cited that they all had "little buddies", and that if they got to have one, so did he. To settle the dilemma, Pain Bot and the other Little Buddies fought it out in a fight-to-the-death match in a boxing arena. Cyborg cheered as his robot eliminated all the competition, but he mistakenly underestimated Silkie. Starfire's pet was about to be smashed when all of a sudden, Silkie quickly swallowed Pain Bot whole.
In the episode "Brian", Pain Bot makes an appearance with the other Little Buddies to rescue the Titans. Aside from these episodes, Pain Bot makes cameo appearances in Teen Titans Go!.
Pain Bot made his appearance in "TV Knight", where he got tossed out of the tower by Beast Boy after the latter helped him plucked out a thorn from the wires in his body. He is also part of the backstage filming crew in "Justice League's Next Top Talent Idol Star".
Aside from once again being part of the backstage filming crew in "Justice League's Next Top Talent Idol Star: Second Greatest Team Edition", Pain Bot has a major role in "TV Knight 4", where he assumed the identity "Gain Bot" and subsequently forced the Titans to undergo intense workouts and consequently turned them into muscular athletes.
Physical Appearance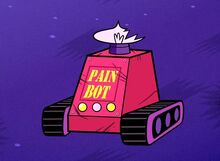 At first glance, Pain Bot does not look like that much of a threat. He is basically a metal box painted dull red. Yellow text spelling "PAIN BOT" is written across the front of his box, and three small, circular lights follow underneath. His means of transportation are small, black and purple, caterpillar tank treads. Atop of his body is a large, pointed light bulb that flashes red whenever he says the only thing he's programmed to say.
Expansions
Standard arms and claws (capable of electrocution)
Circular saw
Drills
Flamethrower
Anvil
Boxing Gloves
Spiked Ball
Knife Blade
Laser Cannon
Piranha Attachment
Metal Hammers
Episode Appearances
Video Game
Quotes
"Pain! Pain! Pain!"
"All I know is pain!"
"Pain."
"Pain! Pain!"
Trivia
Pain Bot is voiced by Scott Menville, who is the voice actor for Robin. However, in "Brian", he is voiced by Khary Payton, the voice actor of Cyborg.
Pain Bot is the first reoccurring villain in Teen Titans Go! to be created exclusively for the series.
He bears a noticeable resemblance to WALL-E, from the Disney Pixar film of the same name.
Pain Bot seems to be able to inflict pain on people even without the remote, as shown when he tortures Robin in the living room of the Tower.
In the official closed captioning, as seen on television, Pain Bot is commonly misquoted with "Oh, I know this hand" instead of the correct "All I know is pain".
In "More of the Same" of the calendar, he is attacking the Titans instead being a good little buddy.
In the online game Slash of Justice, Pain Bot appears as a villain despite becoming Cyborg's little buddy/companion.
Gallery