Pelicans are a group of three pelicans who play minor roles in Teen Titans Go!. They make their first appearance in "Books". They will have more prominent appearances in Season 3, as one of them has decided to stay on the rock near Titans Tower since "Leg Day".
Bio
Starfire grows to love reading when Raven gave her a book to read, The Birdwatcher's Guide to Pelicans!. She was fascinated by it, but once she finished it, Starfire wanted another book to read. So then she, with the rest of the Teen Titans who are also caught up in reading, constantly bother Raven into getting more books for them. Eventually, they dig up an ancient spell book in their yard and are eager to read it...
Suddenly, the characters from the books they were reading come out of the book; they started beating up the Titans, with the Pelicans mainly coming for Starfire. While she's flying to try to evade them, they open fire at her with fish machine gun-style.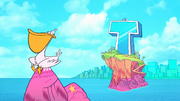 When Raven arrives, the Pelicans are pecking at Starfire and pulling her hair, but she is able to get rid of them somehow by saying unexciting details and statements about the book.
Physical Appearance
The pelicans look like any other pelican. They have a large yellow beak, webbed feet, and white feathers.
Episode Appearances
Gallery
Community content is available under
CC-BY-SA
unless otherwise noted.