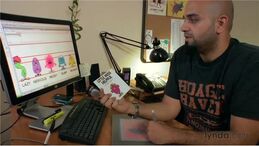 Peter Rida Michail
is a director, producer and song writer of
Teen Titans Go!.
He also was the voice of
Pizza Knight
,
Cranberry Roll
,
John
,
Mustard
and the
Cool School Teacher
. He was responsible for a lot of character designs on the show. Before working on "
Teen Titans Go!
", Michail worked heavily with Renegade Animation, contributing to many of their products such as "
Hi Hi Puffy AmiYumi
", "
The Mr. Men Show
", and "
Christmas Is Here Again
".
While his voice acting career is the most notable in the animated features that he has worked on, he also helps out with animation, art direction, and production design on his projects. ("Teen Titans Go!" is Michail's first venture into show directing.) These 3 factors are notably more common in his career than his voice acting, however in his voice acting career, he is noted for voicing Mr. Messy in "The Mr. Men Show" and Darzi in the obscure Disney XD series "The Jungle Book". He also voiced the big mouthed Smoke Monster in the satirical online short "The Lost Smoke Monster". He also sang the English version of the Geragera Po theme song and the Charming summoning song in the anime "Yo-Kai Watch" which the English version uses many regulars from The Mr. Men Show, since Mark Ristley directed and voice directed both series.
Episodes Worked On
Trivia
He appeared as himself in the series for the first time in "The Self-Indulgent 200th Episode Spectacular!".
He admitted that the Titan that has made him laugh the most is Robin. However, each Titan does evoke emotions to him and therefore identifies with all of them.
Gallery
Community content is available under
CC-BY-SA
unless otherwise noted.