"Pie Bros" is the second episode of the first season ofTeen Titans Go!, and the second overall episode of the series.
Synopsis
Cyborg's birthday is coming up, Beast Boy takes a job at their favorite pie shop so he can afford an expensive gift. But when he had to work during Cyborg's party, his job threatens to come between the two pie bros.
Plot
The episode starts with Beast Boy drawing a picture of himself as a robot and Cyborg as a dog, as a
birthday gift for Cyborg. Beast Boy tells Raven that by being Cyborg's best friend, he knows everything that he needs to know about him and things he enjoys. Raven and Beast Boy go to Cyborg, who is in the fridge, looking for something to eat. Beast Boy tells Cyborg that he obviously knows that Cyborg wants pie.
They later go to Mother Mae-Eye's Pie Shop and Raven tells the Titans that she hears that Mother Mae-Eye cooks people into her pies. Causing Raven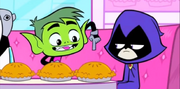 and the Titans to laugh. Beast Boy tells Cyborg that he has the best birthday gift for him. Cyborg tells him that he hopes that is a new video game, which Beast Boy felt bad that he could not afford. Starfire then tells Cyborg that she would be organizing Cyborg's birthday party. Beast Boy is in front of a store window, where the video game that Cyborg wants is on display. He starts hallucinating about Cyborg, and the hallucination convinces him to get a job, so he could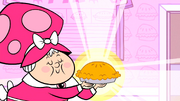 afford the game Cyborg wants.
He was looking for jobs everywhere on Jump City, being fired from each one. Not being able to find a job, Beast Boy is very sad at the gang's next trip to the pie shop. Starfire tells the gang that she would be holding Cyborg's party at Mother Mae-Eye's pie shop. Robin tells Beast Boy what's wrong, and that he replied about the game. Then he tells him that friends love homemade gifts and won't care what they expect and gives him the drink, to which Cyborg rejects. Robin tells him, "We cheap-os need to stick together." Beast Boy takes a job at Mother Mae-Eye's pie shop to buy the game for Cyborg, but his job may cause him to miss the party and lose his friend. At the birthday party Cyborg makes a toast criticizing Beast Boy and then he starts throwing the pies on the floor. Beast Boy tired of cleaning up, starts fighting with Cyborg. Then Mother Mae-Eye hypnotizes Robin, Raven and Starfire, making them go to the kitchen, throwing them into the stove.
After fighting for a while, Beast Boy and Cyborg make up after Beast Boy
shows him his picture. They start eating pies that look like Robin, Starfire and Raven while not noticing the obvious signs. We soon see the real titans who are semi-naked and beat up, tying up Mother Mae-Eye and covered her eye and glaring at Cyborg and Beast Boy. Robin asks them in a sarcastic tone "Seriously?" in reference to them not noticing the obvious as Cyborg and Beast Boy are (obliviously) confused by this.
Song
Characters
Mother Mae-Eye (debut)
Old Man (cameo)
Ed (debut, cameo)
Thugs (debut)
Unnamed MME's Pie Employee (debut, cameo)
Judge (debut, cameo)
Unnamed Lawyer (debut, cameo)
Surgeon (debut, cameo)
Trivia
The song at the beginning of the episode is from the game Tower Lockdown.
This is the first episode for several things:

The first episode with a song.
The first episode to have Silkie absent,
The first episode that Beast Boy got fired,
The first episode to have a villain return from the 2003 series, being Mother Mae-Eye.
This is the first time Cyborg and Beast Boy fought with each other.
The first episode to feature a birthday, being Cyborg's.

For an alternate opening of this episode, see Garage Sale.

As Cyborg and Beast Boy started singing all the way to the flavours, they were gone as Cyborg's future self took them and heads back to the future.

Beast Boy dipping his finger into Raven's pie and then licking it is actually a sexual innuendo.
Continuity
References
This episode is very similar to the original Teen Titans episode, "Employee of the Month", where Beast Boy tries to find a job. In both episodes, after several failed attempts at different locations, he finally gets a job at a restaurant run by the episode's antagonist.
Beast Boy's illustration is a parody of Mojo Jojo from The Powerpuff Girls and the Nyan Cat.

It could also be a spoof of Capcom characters such as Mega Man and Rush.

In the Game Store window, there is a movie titled "Cats on Plane

"

, which is a reference to film, Snakes on a Plane.
As Ed's lawyer, Beast Boy spoofed Capcom's Ace Attorney series.
Beast Boy was dressed as Apollo Justice, and acted like Miles Edgeworth in prosecuting the defendant, and had the attitude of Phoenix Wright.
The song "I Love Pie" is a parody of the song "Let me Clear My Throat" by DJ Kool.
The donkey that appears at the shop is similar to Donkey from the Dreamworks' Shrek movies.
Errors
As a kangaroo, Beast Boy should not have a pouch because he's a male.
Ed was arrested for the crimes he committed in "Driver's Ed," however, this episode is set before then.

It is possible that Ed escaped and his crimes continued in "Driver's Ed".

Beast Boy catches seven pies as an octopus, but in the next scene, he has eight, instead.
Beast Boy had the game before in "Power Moves," so he probably could have given it to Cyborg.
Running Gags
Starfire's literal interpretations of the various party games.
Cyborg and Beast Boy not noticing Mother Mae Eye taking their friends.
Transcript
The transcript for "Pie Bros" can be found here.
Gallery
The image gallery for Pie Bros may be viewed here.
v - e - d Episode Guide
Season 1: April 23, 2013 - June 5, 2014
Legendary Sandwich • Pie Bros • Driver's Ed • Dog Hand • Double Trouble • The Date • Dude Relax • Laundry Day • Ghostboy • La Larva de Amor • Hey Pizza! • Gorilla • Girl's Night Out • You're Fired! • Super Robin • Tower Power • Parasite • Starliar • Meatball Party • Staff Meeting • Terra-ized • Artful Dodgers • Burger vs. Burrito • Matched • Colors of Raven • The Left Leg • Books • Lazy Sunday • Starfire the Terrible • Power Moves • Staring at the Future • No Power • Sidekick • Caged Tiger • Second Christmas • Nose Mouth • Legs • Breakfast Cheese • Waffles • Be Mine • Opposites • Birds • Brain Food • In and Out • Little Buddies • Missing • Uncle Jokes • Más y Menos • Dreams • Grandma Voice • Real Magic • Puppets, Whaaaaat?

Season 2: June 12, 2014 - July 30, 2015
Mr Butt • Man Person • Pirates • Money Grandma • I See You • Brian • Nature • Salty Codgers • Knowledge • Slumber Party • Love Monsters • Baby Hands • Caramel Apples • Sandwich Thief • Friendship • Vegetables • The Mask • Serious Business • Halloween • Boys vs Girls • Body Adventure • Road Trip • Thanksgiving • The Best Robin • Mouth Hole • Hot Garbage • Robin Backwards • Crazy Day • Smile Bones • Real Boy Adventures • Hose Water • Let's Get Serious • Tamaranian Vacation • Rocks and Water • Multiple Trick Pony • Truth, Justice and What? • Two Bumble Bees and a Wasp • Oil Drums • Video Game References • Cool School • Kicking a Ball and Pretending to Be Hurt • Head Fruit • Yearbook Madness • Beast Man • Operation Tin Man • Nean • Campfire Stories • And the Award for Sound Design Goes to Rob • The HIVE Five • The Return of Slade • More of the Same • Some of Their Parts

Season 3: July 31, 2015 - October 13, 2016
Cat's Fancy • Leg Day • Dignity of Teeth • Croissant • Spice Game • I'm the Sauce • Hey You, Don't Forget about Me in Your Memory • Accept the Next Proposition You Hear • The Fourth Wall • 40%, 40%, 20% • Grube's Fairytales • A Farce • Scary Figure Dance • Animals, It's Just a Word! • BBBDAY! • Black Friday • Two Parter • The True Meaning of Christmas • Squash & Stretch • Garage Sale • Secret Garden • The Cruel Giggling Ghoul • How 'Bout Some Effort • Pyramid Scheme • Beast Boy's St. Patrick's Day Luck, and It's Bad • The Teen Titans Go Easter Holiday Classic • Batman v Teen Titans: Dark Injustice • Bottle Episode • Finally a Lesson • Arms Race with Legs • Obinray • Wally T • Rad Dudes with Bad Tudes • Operation Dude Rescue • History Lesson • The Art of Ninjutsu • Think About Your Future • TTG v PPG • Coconut Cream Pie • Pure Protein • Open Door Policy • Crazy Desire Island • The Titans Show • Booty Scooty • Who's Laughing Now • Oregon Trail • Snuggle Time • Oh Yeah! • Riding the Dragon • The Overbite • The Cape

Season 4: October 20, 2016 - June 25, 2018
Shrimps and Prime Rib • Halloween v Christmas • Booby Trap House • Fish Water • TV Knight • Teen Titans Save Christmas • BBSFBDAY! • The Streak • The Inner Beauty of a Cactus • Movie Night • BBRAE • Permanent Record • Titan Saving Time • The Gold Standard • Master Detective • Easter Creeps • Hand Zombie • Employee of the Month: Redux • The Avogodo • Orangins • Jinxed • Brain Percentages • BL4Z3 • Hot Salad Water • I Saw You Dance • The Story in Your Eyes • Playing Hard to Get • The Night Begins to Shine • Lication • Labor Day • Classic Titans • Ones and Zeroes • Career Day • TV Knight 2 • Justice League's Next Top Talent Idol Star • The Academy • Costume Contest • Throne of Bones • Demon Prom • Thanksgetting • The Self-Indulgent 200th Episode Spectacular! • BBCYFSHIPBDAY • Beast Girl • Flashback • Bro-Pocalypse • Mo' Money Mo' Problems • TV Knight 3
Season 5: June 25, 2018 - April 4, 2020
The Scoop! • Chicken in the Cradle • Kabooms • Tower Renovation • My Name is Jose • The Power of Shrimps • Monster Squad • Real Orangins • Quantum Fun • The Fight • The Groover • Justice League's Next Top Talent Idol Star: Second Greatest Team Edition • How's this for a Special? Spaaaace • BBRBDAY • Slapping Butts and Celebrating for No Reason • Nostalgia is Not a Substitute for an Actual Story • Business Ethics Wink Wink • Genie President • Tall Titan Tales • I Used to Be a Peoples • The Metric System vs Freedom • The Chaff • Them Soviet Boys • Little Elvis • Booty Eggs • TV Knight 4 • Lil' Dimples • Don't Be an Icarus • Stockton, CA! • What's Opera Titans • Forest Pirates • The Bergerac • Snot and Tears • Campfire! • What We Learned at Camp • Communicate Openly • Royal Jelly • Strength of a Grown Man • Had to Be There • Girls Night In • The Great Disaster • The Viewers Decide
Season 6: October 4, 2019 - present
Butt Atoms • TV Knight 5 • Witches Brew • That's What's Up! • Crab Shenanigans • Brobots • Brain Flip • Beast Boy on a Shelf • Christmas Crusaders • We're Off to Get Awards • Bat Scouts • Walk Away • Record Book • Magic Man • Titans Go Casual • Rain on Your Wedding Day • Egg Hunt • Justice League's Next Top Talent Idol Star: Justice League Edition • Mission to Find the Lost Stems • Drums • Guitar • Bass • You're The One
Top of the Titans: April 27, 2018 - July 20, 2018
Raddest Songs • Best Love Songs • Beast Boy & Cyborg Songs • Dance Party • Best Rivals
Community content is available under
CC-BY-SA
unless otherwise noted.