Let's have fun!

--Pink Raven in Colors of Raven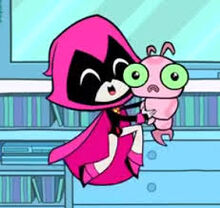 Pink Raven is one of Raven's split personalities released by the Mysterious Prism in the episode Colors of Raven. She represents Raven's happy side, always cheerful and loves to have fun. She is voiced by Tara Strong.
Biography
When Raven was divided by the Mysterious Prism, Pink Raven (happiness) was one of her personality aspects that emerged. After escaping Titans Tower, she hung out with Cyborg and Beast Boy in a magical wonderland (which in reality was a dirty alley). She had fun with them until she accidentally touched the prism crystal, leaving Beast Boy and Cyborg timid, just like Timidity Raven.
Pink Raven was one of four of Raven's aspects (along with normal Raven, Purple Raven, and Red Raven) to appear in the episode Video Game References as a ghost in the "Circle Guy" game. Pink Raven got devoured by Circle Guy, which prompted a tearful Raven to say of Pink, "I'll never forget you, Stinky."
Appearance
Pink Raven looks exactly like Raven, only she wears a pink cloak. She also has large, pink eyes, and wears a pink flower buckle on her cloak.
Personality
Pink Raven is happy all the time. She loves to play around and have fun, enjoying anything and everything. She never worries or shows any concern for anything bad. She loves to use her magic to turn everyday objects into fun and magical things, and enjoys playing around with everyone she meets. A beam of wink can make a wonderful tree. As shown throughout the episode, she has a strong liking for shiny things. Ironically, her curiosity for the sparkling prism in the back of Cyborg's pocket was how she was collected by touching it. Unfortunately, Grey Raven/Timidity Raven and Normal Raven were her 2 opposites. She was inside the pink crystal.
Quotes
Episode Appearances
Trivia
Pink Raven's voice is the most different to original Raven's out of all the Emoticlones.
She is the first character in the series to fart.
Gallery
Community content is available under
CC-BY-SA
unless otherwise noted.