"Power Moves" is the thirtieth episode in the first season of Teen Titans Go!, and the thirtieth overall episode of the series.
Synopsis
Beast Boy likes doing power moves with Cyborg, but when Robin starts doing power moves with Cyborg instead, he gets very jealous.
Plot
The episode begins with the Teen Titans arriving in downtown Jump City to stop the H.I.V.E. Five's destructive rampage. Before Robin and the others can jump into action, Beast Boy and Cyborg decide to try out some power moves together. Using a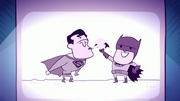 projector, they explain how a power moves is when two superheroes combine their powers into a powerful "power" move. The other Titans sit back and watch the duo use their first squid-ink power move to defeat See-More. Unimpressed, the Titans criticize their work. Cyborg and Beast Boy try out two other power moves (consisting of bowling and centaurs) on the other H.I.V.E. members, but fail to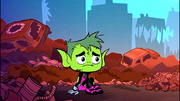 impress the other Titans every time.
Suddenly, Mammoth jumps out from behind Cyborg and Beast Boy, seconds away from smashing them. Robin and Cyborg react quickly, and attack the villain with their gadgets. Cyborg's Sonic Blast combines with Robins bird-a-rang mid-flight. The result is a gigantic, continental explosion, launching Mammoth far into the distance. Robin suddenly becomes very
intrigued by the power moves, and orders a retreat to the Titans Tower to practice some more.
Beast Boy, Starfire, and Raven are relaxing at the Tower when Robin and Cyborg burst in, practicing new soda-grabbing power moves. Beast Boy becomes envious of Robin for spending so much time with his best friend (he even turns down video games with him). The two jetpack away, and so Beast Boy decides to find a new partner to practice new moves with to compete. However, Raven will not cooperate at all.
Meanwhile, Robin and Cyborg merge many of their gadgets in the garage, creating a talking bird-a-rang and a walking boom box. After partying for a bit, they try to merge their sandwiches. But the end result is just a peanut butter and jelly mess, which Robin creepily licks from his face. Cyborg, obviously creeped out, decides to head off. But Robin, obsessed with merging powers, urges Cyborg to stay...
Meanwhile, Beast Boy has found a new power move partner in Starfire. They are atop the Tower, attempting a new move, "The Flaming Spiked Ball of DEATH!" Beast Boy transforms into a porcupine and jumps off a hot air balloon, and Starfire lights up with a purple flame. He instantly regrets this, and plunges into the Tower, a face full of flames. He crashes right next to Cyborg, then proceeds to insult the duo for being merge-obsessed. But Robin's gone off the deep end... he's now living inside Cyborg's body cavity! Cyborg isn't on board, however, as Robin annoys him by taking over his legs, forcing him to eat tons of food, dress up like a banshee, play basketball, and
having a lit party inside of him with their inventions. Merging bodies eventually drives Cyborg crazy, so he tries to punch, smash, and even gas Robin out. Robin, as usual, grows power hungry by taking over his very sentience. The other Titans show up and ask Robin to leave his body, but he remains obstinate and instead chooses to unleash power moves upon them. The Titans hide behind the couch from their Birdarang Barrage, and then come up with an idea... Raven, Beast Boy and Starfire work together to create one ultimate power move: Starfire riding a dark magic armor-covered triceratops Beast Boy while wielding a black magic sword covered in green flame. Robin sees this and bails immediately, but the charge doesn't stop, and Cyborg is slashed for no reason at all. Despite being cut in half and exploding, he thanks Beast Boy for saving him. Robin, parachuting down, is at first confronted by Beast Boy, but Robin praises the new power move, asking if he can be worked in somehow. The four Titans walk into the elevator, brainstorming on how Robin can join in, leaving Cyborg scattered in pieces all over the floor, asking timidly for help.
Characters
Trivia
This is the first episode where the preview has not been posted on the Cartoon Network website before the air date. (It was, however, posted on other sites a few days in advance, though later than usual).
Even though Gizmo is with the H.I.V.E., he doesn't get beaten up by the Titans. He probably got caught in the explosion, though.
This is the first time that Birdarang said something other than his usual, "What's up, fellas?"
Silkie does not appear in this episode, and the seagull in front of Titans Tower is absent.
Robin keeps referring to his powers in this episode, even though it's usually a common joke that he doesn't possess any powers.
This is the first episode in which Jinx appears and doesn't have any lines.
Beat Box's animation is in 3D while he's walking.
This is the first time that Robin is the main antagonist of an episode.
The power moves used by the characters are as follows:

Freeze-arang: Superman covering Batman's batarang with his freeze breath (Batman + Superman)
Power Ball Shuffle: Cyborg shooting ink out of squid Beast Boy (Cyborg + Beast Boy)
Thunder Alley Knock-Out: Beast Boy in gorilla form, using Cyborg's head as a bowling ball (Beast Boy + Cyborg)
Centaur Kick: Cyborg's torso on Beast Boy in horse form, before kicking an enemy (Cyborg + Beast Boy)
Power Rang: Robin's birdarang combining with Cyborg's Energy Bolt (Robin + Cyborg)
The Spider Squish: Raven slamming Beast Boy into the wall (Raven + Beast Boy)
The Flaming Spiked Ball of Death (failed: Beast Boy in hedgehog form falling through the air while lit with a starbolt (Beast Boy + Starfire)
Birdarang Barrage: Robin shooting birdarangs out of Cyborg's arm cannons (Robin + Cyborg)
Ultimate Titans Power Move: Beast Boy in triceratops form, suited with armor made by Raven's dark magic, while Starfire rides carrying a sword (also made by Raven) that has been lit by a starbolt beam (Beast Boy + Starfire + Raven).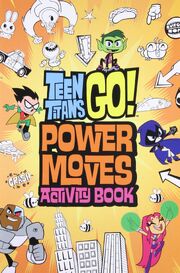 There is a activity book with the same name as this episode:
Continuity
References
While explaining the concept of a "power move", Cyborg shows the Titans a short video clip featuring Batman and Superman, who combine one of Batman's batarangs and Superman's freeze breath into a power move to defeat Darkseid.

In the demonstration, Darkseid makes the running sound effect from Scooby Doo.

When Beast Boy and Cyborg are demonstrating their power moves, the design and movements are the same as the 1990's battle arcades.
The "Centaur Kick" may be a reference to Cyborg riding Beast Boy as a llama in the original series episode "Nevermore".
The "Power Rang" move could be a reference to Cyborg and Robin's "Sonic Boom" move from the original series episode "Divide and Conquer".
Aquaman is seen on a sign for Fashion Fishy, one of the stores that Robin forces Cyborg into.
The game Whack-A-Mole is referenced when Cyborg tries to whack Robin with a hammer as he pops out of Cyborg's body.
Before Beast Boy and Starfire do their power move, Superman's theme and the Man of Steel theme combined can be heard. 
Beast Boy says WWE superstar Dwayne 'Rock' Johnson's phrase, "Know your role."
Errors
Cyborg didn't seem to be concerned when Jinx is hit, despite having a crush on her. However, it's possible that Cyborg didn't have a crush on her at this point, or may have known she was able to withstand it.
Beast Boy was able to kick Jinx accurately, despite not being able to see inside of Cyborg.
Robin calls out "Batarang Barrage" when he is actually firing birdarangs, as well as the backdrop saying "Birdarang Barrage".
Running Gags
Robin and Cyborg creating new power moves together.
Robin refusing to leave Cyborg's body.
Robin making Cyborg try new weird combinations of everything.
Transcript
The transcript for "Power Moves" can be found here.
Gallery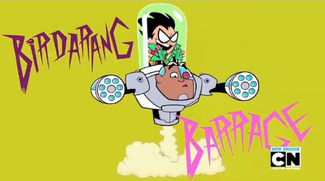 The image gallery for Power Moves may be viewed here.
v - e - d Episode Guide
Season 1: April 23, 2013 - June 5, 2014
Legendary Sandwich • Pie Bros • Driver's Ed • Dog Hand • Double Trouble • The Date • Dude Relax • Laundry Day • Ghostboy • La Larva de Amor • Hey Pizza! • Gorilla • Girl's Night Out • You're Fired! • Super Robin • Tower Power • Parasite • Starliar • Meatball Party • Staff Meeting • Terra-ized • Artful Dodgers • Burger vs. Burrito • Matched • Colors of Raven • The Left Leg • Books • Lazy Sunday • Starfire the Terrible • Power Moves • Staring at the Future • No Power • Sidekick • Caged Tiger • Second Christmas • Nose Mouth • Legs • Breakfast Cheese • Waffles • Be Mine • Opposites • Birds • Brain Food • In and Out • Little Buddies • Missing • Uncle Jokes • Más y Menos • Dreams • Grandma Voice • Real Magic • Puppets, Whaaaaat?

Season 2: June 12, 2014 - July 30, 2015
Mr Butt • Man Person • Pirates • Money Grandma • I See You • Brian • Nature • Salty Codgers • Knowledge • Slumber Party • Love Monsters • Baby Hands • Caramel Apples • Sandwich Thief • Friendship • Vegetables • The Mask • Serious Business • Halloween • Boys vs Girls • Body Adventure • Road Trip • Thanksgiving • The Best Robin • Mouth Hole • Hot Garbage • Robin Backwards • Crazy Day • Smile Bones • Real Boy Adventures • Hose Water • Let's Get Serious • Tamaranian Vacation • Rocks and Water • Multiple Trick Pony • Truth, Justice and What? • Two Bumble Bees and a Wasp • Oil Drums • Video Game References • Cool School • Kicking a Ball and Pretending to Be Hurt • Head Fruit • Yearbook Madness • Beast Man • Operation Tin Man • Nean • Campfire Stories • And the Award for Sound Design Goes to Rob • The HIVE Five • The Return of Slade • More of the Same • Some of Their Parts

Season 3: July 31, 2015 - October 13, 2016
Cat's Fancy • Leg Day • Dignity of Teeth • Croissant • Spice Game • I'm the Sauce • Hey You, Don't Forget about Me in Your Memory • Accept the Next Proposition You Hear • The Fourth Wall • 40%, 40%, 20% • Grube's Fairytales • A Farce • Scary Figure Dance • Animals, It's Just a Word! • BBBDAY! • Black Friday • Two Parter • The True Meaning of Christmas • Squash & Stretch • Garage Sale • Secret Garden • The Cruel Giggling Ghoul • How 'Bout Some Effort • Pyramid Scheme • Beast Boy's St. Patrick's Day Luck, and It's Bad • The Teen Titans Go Easter Holiday Classic • Batman v Teen Titans: Dark Injustice • Bottle Episode • Finally a Lesson • Arms Race with Legs • Obinray • Wally T • Rad Dudes with Bad Tudes • Operation Dude Rescue • History Lesson • The Art of Ninjutsu • Think About Your Future • TTG v PPG • Coconut Cream Pie • Pure Protein • Open Door Policy • Crazy Desire Island • The Titans Show • Booty Scooty • Who's Laughing Now • Oregon Trail • Snuggle Time • Oh Yeah! • Riding the Dragon • The Overbite • The Cape

Season 4: October 20, 2016 - June 25, 2018
Shrimps and Prime Rib • Halloween v Christmas • Booby Trap House • Fish Water • TV Knight • Teen Titans Save Christmas • BBSFBDAY! • The Streak • The Inner Beauty of a Cactus • Movie Night • BBRAE • Permanent Record • Titan Saving Time • The Gold Standard • Master Detective • Easter Creeps • Hand Zombie • Employee of the Month: Redux • The Avogodo • Orangins • Jinxed • Brain Percentages • BL4Z3 • Hot Salad Water • I Saw You Dance • The Story in Your Eyes • Playing Hard to Get • The Night Begins to Shine • Lication • Labor Day • Classic Titans • Ones and Zeroes • Career Day • TV Knight 2 • Justice League's Next Top Talent Idol Star • The Academy • Costume Contest • Throne of Bones • Demon Prom • Thanksgetting • The Self-Indulgent 200th Episode Spectacular! • BBCYFSHIPBDAY • Beast Girl • Flashback • Bro-Pocalypse • Mo' Money Mo' Problems • TV Knight 3
Season 5: June 25, 2018 - April 4, 2020
The Scoop! • Chicken in the Cradle • Kabooms • Tower Renovation • My Name is Jose • The Power of Shrimps • Monster Squad • Real Orangins • Quantum Fun • The Fight • The Groover • Justice League's Next Top Talent Idol Star: Second Greatest Team Edition • How's This for a Special? Spaaaace • BBRBDAY • Slapping Butts and Celebrating for No Reason • Nostalgia is Not a Substitute for an Actual Story • Business Ethics Wink Wink • Genie President • Tall Titan Tales • I Used to Be a Peoples • The Metric System vs Freedom • The Chaff • Them Soviet Boys • Little Elvis • Booty Eggs • TV Knight 4 • Lil' Dimples • Don't Be an Icarus • Stockton, CA! • What's Opera Titans • Forest Pirates • The Bergerac • Snot and Tears • Campfire! • What We Learned at Camp • Communicate Openly • Royal Jelly • Strength of a Grown Man • Had to Be There • Girls Night In • The Great Disaster • The Viewers Decide
Season 6: October 4, 2019 - May 1, 2021
Butt Atoms • TV Knight 5 • Witches Brew • That's What's Up! • Crab Shenanigans • Brobots • Brain Flip • Beast Boy on a Shelf • Christmas Crusaders • We're Off to Get Awards • Bat Scouts • Walk Away • Record Book • Magic Man • Titans Go Casual • Rain on Your Wedding Day • Egg Hunt • Justice League's Next Top Talent Idol Star: Justice League Edition • Mission to Find the Lost Stems • Drums • Guitar • Bass • You're The One • Where Exactly on the Globe is Carl Sanpedro? - Part 1 • Where Exactly on the Globe is Carl Sanpedro? - Part 2 • Where Exactly on the Globe is Carl Sanpedro? - Part 3 • Where Exactly on the Globe is Carl Sanpedro? - Part 4 • Ghost With the Most • Bucket List • TV Knight 6 • Kryptonite • Thumb War • Toddler Titans…Yay! • Baby Mouth • The Cast • Superhero Feud • Lucky Stars • Various Modes of Transportation • Cool Uncles • Butter Wall • BBRAEBDAY • Don't Press Play • Real Art • Just a Little Patience...Yeah...Yeah • Villains in a Van Getting Gelato • I Am Chair • Bumgorf • The Mug • Hafo Safo • Zimdings
Season 7: January 8, 2021-present
Justice League's Next Top Talent Idol Star: Dance Crew Edition • Feed Me • Pig in a Poke • P.P. • A Little Help Please • Marv Wolfman and George Pérez • Space House - Part 1 • Space House - Part 2 • Space House - Part 3 • Space House - Part 4 • Cy and Beasty • T is for Titans • Creative Geniuses • Manor and Mannerisms • Trans Oceanic Magical Cruise • Polly Ethylene and Tara Phthalate • EEbows • Batman's Birthday Gift • What a Boy Wonders • Doomsday Preppers • Fat Cats • Jam • DC • Pepo the Pumpkinman • Breakfast • Captain Cool • A Doom Patrol Thanksgiving • Glunkakakakah • Control Freak • A Holiday Story • The Drip • Standards & Practices • Belly Math • Free Perk • Go!
Top of the Titans: April 27, 2018 - July 20, 2018
Raddest Songs • Best Love Songs • Beast Boy & Cyborg Songs • Dance Party • Best Rivals