"Puppets, Whaaaaat?" is the fifty-second and final episode of the first season of Teen Titans Go!, and the fifty-second overall episode of the series.
Synopsis
Fed up with the team not listening to him, Robin makes a deal with a sock puppet which turns him and the other Titans into puppets.
Plot
The episode starts with Robin playing with puppets in his bedroom. Each puppet resembles one of the members of his team. As Robin plays with the puppets, he makes them do everything Robin says. Robin's watch goes off, reminding him it is time for his team to get some training done, so he leaves his puppets in his room. When Robin arrives in the living room, he orders the Titans to do whatever he says. Raven reminds him that he is their leader on missions, not at home. With that, Robin nearly explodes with anger, but quickly returns to his room.
Robin uses his puppet stage to act out what should have happened if the other Titans had listened to him, allowing him to relieve stress. Robin suddenly stops playing and realizes all of the other Titans are watching him play with his puppets. Robin tries to hide his stage, but Cyborg calls him weird, prompting Robin to use his stage again. Robin acts out a scene starring him andBeast Boy, in which Beast Boy tells him he is not weird. After seeing him act it out, Beast Boy and Starfire snatch the Robin and Beast Boy puppets from his hands. They announce that they want to be weird too. Cyborg and Raven run over to the stage, and everyone grabs their own puppet. Robin begins to freak out because the other Titans are messing with his puppets, but realizes they aren't listening. Robin uses the Robin puppet yell at the other puppets, and the other Titans become frustrated that they can't move their character. Robin demonstrates how to move the puppet by himself, but it is easier said than done, and the others only slightly improve. Robin becomes impatient and yells at them for not listening to his instructions on how to use them. Everyone finally becomes annoyed and leaves him alone in his room.
Later that day, Robin is shocked to see Cyborg and Beast Boy have built a wooden door, that leads to nowhere, into one of the Tower's windows. Robin glances out the door and sees a huge drop to the bottom, and asks why they didn't ask his permission first. Robin becomes really annoyed and runs to his room to find his puppets. To his horror, the puppet stage is missing! Cyborg says that he and Beast Boy were using it outside the door. Robin uses the wooden door and realizes too late that he had been pranked.
Robin lands safely in a bush and starts yelling in anger. He says aloud that he wishes the Titans were more like his puppets. The magical Puppet Wizard suddenly appears, and gives Robin an offer. If he would be willing to give up his and the other Titans' mortal souls, he would make them "his puppets". Robin accepts the offer and signs the contract. POOF! Robin's teammates are suddenly on a stage that looks just like their living room. They become horrified when they realize that they are puppets themselves. Robin arrives and tells them that because they are puppets, they have to listen to him. Robin himself is a puppet, however, so he still has no control over the others. The other Titans decide they want their lives back, but Robin tells them it is too late. Raven opens her ancient legends book to find a story about the Puppet Wizard. The story says if they can defeat him before sunset, they will regain their lives. If they fail to defeat him, they will become the Wizard's lifeless puppets forever.
The Titans begin a quest to find the Puppet Wizard's castle. They travel through the jungle, the desert, a concert, and up a mountain. At almost sunset, the Titans arrive at the castle, where the Puppet Wizard is waiting for them. The Wizard tells them that they are too late, and they will never defeat him. Immediately, Raven pummels the wizard with a boulder, Cyborg shoots his shoulder cannon at the Wizard, and Robin starts hitting him with a pencil. Beast Boy transforms into a lion and attacks the Wizard. Lastly, Starfire shoots a gigantic beam at the Wizard, which causes him to burst into flames, and run away.
The Titans suddenly regain their souls and their bodies, seconds before it would have been too late. The Titans ask Robin if he has anything he wants to say to them. Back at the tower, Robin apologizes to the Titans. The camera zooms out to reveal that he is not apologizing to the Titans, but his puppet Titans. The puppet Titans insist that it was not Robin's fault, but their own. The Robin's Starfire puppet begins to make out with the Robin puppet. The camera pans out again to reveal the real Titans watching Robin's show, with horrified looks of shock. Everyone leaves but Starfire, who watches with shock as Robin continues to make his puppets kiss.
Characters
Song
Trivia
The title of this episode (along with "Real Magic") was leaked when the details for the Season 1, Part 2 DVD were released.
This episode is the first season finale.
All of the episodes in Season 1 were only produced in 2013.
The season finale marks the last episode to use the 2008 closing Warner Bros. Animation logo.
It was also mentioned by Scott Menville in an interview with CBR, saying it was an episode he was looking forward to in the future.
This is the first episode to air in its new time slot, which airs on Thursday nights at 6:00 PM.
The backdrop of Robin's puppet stage contains many interesting features:

On the wall is a Teen Titans Go! promotional poster.
Also on the wall there is a live-action picture of two boys dressed as Cyborg and Beast Boy.

Robin is never shown signing the contract, but merely shakes hands with the Puppet Wizard.
While the puppets are in the living room, a person's hand can be very clearly seen fiddling with the strings. However, this may have been done on purpose to look sloppy.

Similarly, while Beast Boy is beating up the Puppet Wizard as a lion, the back of the paper lion can be seen with tape over the stick holding the lion.

The puppets and set were provided by "The Puppet Shop LLC", and the puppet sequences were done by "Pure Imagination Studios".
There are some DC comics on the floor of the puppet stage.
Continuity
Robin's fragile mental state is shown for the fifth time. ("The Date", "Staff Meeting", "Sidekick", "Uncle Jokes")
This is the third time Robin imitates the other Titans' voices, which he previously did in "Nose Mouth" and "Uncle Jokes".
The recurring movies "The Dark Knight Snoozes" and "Plastic Man 3" are seen again at the start when Puppet Raven sorts them.
Robin once again tries to get the Titans to partake in a fitness workout, which he first did in "Gorilla", although this time none of the Titans listen to him.
Robin having Puppet Beast Boy make him a sandwich is similar to the order Robin gives Beast Boy at the end of "Gorilla".
Starfire is once again reading a magazine titled "The Magazine", which she previously read in "Legs".
This is the second time Robin gets "crazy eyes", which were first seen in "Staff Meeting".
The dramatic sound that plays when Robin gets crazy eyes is also heard in "Nose Mouth" when he's sleep-deprived.
The backdrop that appears when Robin is panting whilst he has crazy eyes also appeared in "Matched".
This is the second episode to include lengthy live-action scenes. The first was "Dreams".
This is the third episode to be based on an ancient legend. The first was "Legendary Sandwich" and the second was "Staff Meeting".
Starfire discovers Robin's crush on her at the end of the episode.
The rest of the Titans no longer listen to Robin because they all became the new team leaders in "No Power."
References
This episode appears to be a reference to the original Teen Titans episode "Switched", where the Titans also play with puppet versions of themselves, before the male Titans get transformed into puppets by a villain called the "Puppet King".
A New Teen Titans #1 and a Detective Comics #27 are clearly visible on the floor of Robin's puppet stage.
On the floor on the puppet stage, the game controller seen is similar to the controller for the PS3.
Beast Boy's line "There ain't no strings on us, dude" is a reference to the song "I've Got No Strings" from Disney's Pinocchio, where one of the lines is "There are no strings on me".
When Puppet Raven is looking out the window, a Wayne Tech building can be seen, which is owned by Bruce Wayne.
The Tiger Puppet is very akin to "Giant Realistic Flying Tiger" from the Uncle Grandpa series.
Errors
Robin was able to trade Raven's soul to the Puppet Wizard, even though in "Salty Codgers", Raven stated that she had no soul. This error also happens in several later episodes, which may indicate that she was lying.
Running Gags
The Puppet Titans being chased off by a tiger puppet.
Robin making his Starfire and Robin puppets kiss.
Robin playing with his puppets.
Transcript
The transcript for "Puppets, Whaaaaat?" can be found here.
Gallery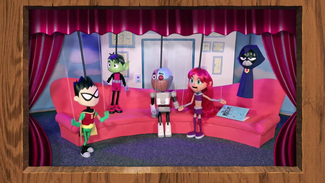 The image gallery for Puppets, Whaaaaat? may be viewed here.
v - e - d Episode Guide
Season 1: April 23, 2013 - June 5, 2014
Legendary Sandwich • Pie Bros • Driver's Ed • Dog Hand • Double Trouble • The Date • Dude Relax • Laundry Day • Ghostboy • La Larva de Amor • Hey Pizza! • Gorilla • Girl's Night Out • You're Fired! • Super Robin • Tower Power • Parasite • Starliar • Meatball Party • Staff Meeting • Terra-ized • Artful Dodgers • Burger vs. Burrito • Matched • Colors of Raven • The Left Leg • Books • Lazy Sunday • Starfire the Terrible • Power Moves • Staring at the Future • No Power • Sidekick • Caged Tiger • Second Christmas • Nose Mouth • Legs • Breakfast Cheese • Waffles • Be Mine • Opposites • Birds • Brain Food • In and Out • Little Buddies • Missing • Uncle Jokes • Más y Menos • Dreams • Grandma Voice • Real Magic • Puppets, Whaaaaat?

Season 2: June 12, 2014 - July 30, 2015
Mr Butt • Man Person • Pirates • Money Grandma • I See You • Brian • Nature • Salty Codgers • Knowledge • Slumber Party • Love Monsters • Baby Hands • Caramel Apples • Sandwich Thief • Friendship • Vegetables • The Mask • Serious Business • Halloween • Boys vs Girls • Body Adventure • Road Trip • Thanksgiving • The Best Robin • Mouth Hole • Hot Garbage • Robin Backwards • Crazy Day • Smile Bones • Real Boy Adventures • Hose Water • Let's Get Serious • Tamaranian Vacation • Rocks and Water • Multiple Trick Pony • Truth, Justice and What? • Two Bumble Bees and a Wasp • Oil Drums • Video Game References • Cool School • Kicking a Ball and Pretending to Be Hurt • Head Fruit • Yearbook Madness • Beast Man • Operation Tin Man • Nean • Campfire Stories • And the Award for Sound Design Goes to Rob • The HIVE Five • The Return of Slade • More of the Same • Some of Their Parts

Season 3: July 31, 2015 - October 13, 2016
Cat's Fancy • Leg Day • Dignity of Teeth • Croissant • Spice Game • I'm the Sauce • Hey You, Don't Forget about Me in Your Memory • Accept the Next Proposition You Hear • The Fourth Wall • 40%, 40%, 20% • Grube's Fairytales • A Farce • Scary Figure Dance • Animals, It's Just a Word! • BBBDAY! • Black Friday • Two Parter • The True Meaning of Christmas • Squash & Stretch • Garage Sale • Secret Garden • The Cruel Giggling Ghoul • How 'Bout Some Effort • Pyramid Scheme • Beast Boy's St. Patrick's Day Luck, and It's Bad • The Teen Titans Go Easter Holiday Classic • Batman v Teen Titans: Dark Injustice • Bottle Episode • Finally a Lesson • Arms Race with Legs • Obinray • Wally T • Rad Dudes with Bad Tudes • Operation Dude Rescue • History Lesson • The Art of Ninjutsu • Think About Your Future • TTG v PPG • Coconut Cream Pie • Pure Protein • Open Door Policy • Crazy Desire Island • The Titans Show • Booty Scooty • Who's Laughing Now • Oregon Trail • Snuggle Time • Oh Yeah! • Riding the Dragon • The Overbite • The Cape

Season 4: October 20, 2016 - June 25, 2018
Shrimps and Prime Rib • Halloween v Christmas • Booby Trap House • Fish Water • TV Knight • Teen Titans Save Christmas • BBSFBDAY! • The Streak • The Inner Beauty of a Cactus • Movie Night • BBRAE • Permanent Record • Titan Saving Time • The Gold Standard • Master Detective • Easter Creeps • Hand Zombie • Employee of the Month: Redux • The Avogodo • Orangins • Jinxed • Brain Percentages • BL4Z3 • Hot Salad Water • I Saw You Dance • The Story in Your Eyes • Playing Hard to Get • The Night Begins to Shine • Lication • Labor Day • Classic Titans • Ones and Zeroes • Career Day • TV Knight 2 • Justice League's Next Top Talent Idol Star • The Academy • Costume Contest • Throne of Bones • Demon Prom • Thanksgetting • The Self-Indulgent 200th Episode Spectacular! • BBCYFSHIPBDAY • Beast Girl • Flashback • Bro-Pocalypse • Mo' Money Mo' Problems • TV Knight 3
Season 5: June 25, 2018 - April 4, 2020
The Scoop! • Chicken in the Cradle • Kabooms • Tower Renovation • My Name is Jose • The Power of Shrimps • Monster Squad • Real Orangins • Quantum Fun • The Fight • The Groover • Justice League's Next Top Talent Idol Star: Second Greatest Team Edition • How's this for a Special? Spaaaace • BBRBDAY • Slapping Butts and Celebrating for No Reason • Nostalgia is Not a Substitute for an Actual Story • Business Ethics Wink Wink • Genie President • Tall Titan Tales • I Used to Be a Peoples • The Metric System vs Freedom • The Chaff • Them Soviet Boys • Little Elvis • Booty Eggs • TV Knight 4 • Lil' Dimples • Don't Be an Icarus • Stockton, CA! • What's Opera Titans • Forest Pirates • The Bergerac • Snot and Tears • Campfire! • What We Learned at Camp • Communicate Openly • Royal Jelly • Strength of a Grown Man • Had to Be There • Girls Night In • The Great Disaster • The Viewers Decide
Season 6: October 4, 2019 - present
Butt Atoms • TV Knight 5 • Witches Brew • That's What's Up! • Crab Shenanigans • Brobots • Brain Flip • Beast Boy on a Shelf • Christmas Crusaders • We're Off to Get Awards • Bat Scouts • Walk Away • Record Book • Magic Man • Titans Go Casual • Rain on Your Wedding Day • Egg Hunt • Justice League's Next Top Talent Idol Star: Justice League Edition • Mission to Find the Lost Stems • Drums • Guitar • Bass • You're The One
Top of the Titans: April 27, 2018 - July 20, 2018
Raddest Songs • Best Love Songs • Beast Boy & Cyborg Songs • Dance Party • Best Rivals
Community content is available under
CC-BY-SA
unless otherwise noted.