"Pure Protein" is the forty-second episode of the third season of Teen Titans Go!, and the one-hundred-forty-sixth overall episode of the series.
Summary
Still stranded on a deserted island, the Titans hold a team competition but have to avoid an alien hunter.
Plot
The episode begins as Beast Boy and Cyborg are out playing some beach volleyball, Raven is molding a few sandcastles, and Starfire is enjoying wiggling the sand between her toes.
Their fun in the sun suddenly stops when Robin stomps one of Raven's sculptures. Asking what they're doing, Cyborg responds that they're just island living. Robin reminds them of how dangerous it is, just as Sticky Joe gives them a "howdy!" offshore on a float.
Starfire remarks that the only danger is having too much fun, and Beast Boy chimes in that he needs to melt his cares away. Robin refuses, kicking Beast Boy's volleyball out into the ocean. Somehow, the ball sprouts a face and tears up. Beast Boy woefully calls out, and the two start shedding tears.
Robin says that survival is the main priority, not fun and relaxation. He proposes challenges to help them with their skills, but Raven objects, as challenges are "challenging."
Robin says to break into groups, but Starfire points out they are a team. Cyborg starts getting into a teamwork speech. Robin interrupts, saying they don't need that cheesy niceness, but divided teams instead. Beast Boy says they all need to help each other, and Robin agrees- in separate teams. He emphasizes backstabbing, and when he keeps fake stabbing them in the back, Cyborg shoves him away to makes sure he isn't on his team.
The others agree, but Robin protests that he's not on a team and nominates himself as the host, with Team 1 consisting of Cyborg and Starfire, and Team 2 composed of Beast Boy and Raven. Beast Boy gets comfortable with this, but Raven responds by smashing his head with her demonic fist.
Batman and Joker totems announce the Island Survival challenges. But first, Robin stages a confession with Raven on a couple of rocks. Robin says to pretend he's not there, but the two sit there awkwardly until Raven leaves. For Starfire's confession, Robin tries to push her emotions and feeling about him, but she resorts to passing. With Cyborg's intervention, he completely breaks down about taking Beast Boy's super fresh glasses because they look good on him, but at least he feels better after.
The first challenge consists of finding food. Beast Boy has already ordered pizza, but Robin kicks the Pizza Deliverer canoe away. Once again, Beast Boy is heartbroken, and the two shed tears again. Robin explains that survival means eating gross things, not pizza.
For Island Food, he escorts the four of them to trays of grubs, beetles, and worms. All of them gag at the bugs as Robin states that the first team to eat their share wins. Star declines, but the Boy Wonder gives her a lecture on bugs being excellent sources of protein and fiber.
He catches a whiff of Beast Boy's coconut curry and grows angry when Starfire sips down the yummy goodness. He uses the spoon to catapult the wooden pot out across the sea, and Beast Boy again sheds tears with his seemingly faced dish.
Robin says that bugs are real survival, and starts munching on them, eating maggots and grasshoppers in a refined manner. It's pure protein he says, with bugs crawling around his face. In Beast Boy's (transformed into a bee) confession, he declines from eating the beautiful creatures. He also comments on Robin's bad-smelling burp.
Robin's next challenge is Island Wear, in which they must make clothes from their surroundings. Raven points out they have clothes already, which leads to Robin maniacally burning their attire and bodies to a crisp with a flamethrower.
Robin orders them to get leaves and cover their shame, but Cyborg has a brilliant idea: make it an Island Fashion Show! Starfire struts out on the bamboo boardwalk, showing off her pirate flag dress, Beast Boy poses in his shell bikini and mermaid outfit, and Raven sports her palm poncho, all while Cyborg plays them up, taking pictures.
Furious, Robin scolds the team for not doing it right and resorts to a self-demonstration of nakedness. Raven begs him not to, but he strips down, and it's just a bright flash of light. Starfire says he needs to watch his pasty skin, which is already burning, so Robin does a sort of snow angel in a mud pile (Which is nature's sunscreen). He rejoices when chivalrous leeches with top hats suck his blood free of toxins, and he welcomes the mosquitoes, aka the supper buffet, that are attracted to his blood.
After he'd done sucking up and chewing the bugs, Cyborg protests any confession until Robin is decent. But Robin plays it cool, much to the hero's horror.
Gathered around a campfire, the Titans are ready for the 3rd challenge, which is an Island Meeting. The group reaches a unanimous cote to throw Robin off the island, but he claims the results are tampered with and messed up... onto the next challenge!
But Cyborg and Beast Boy object, saying that their survival had already mastered. Flabbergasted, Robin asks really. When they all agree, he skips to the final challenge. Using his communicator to call in an Alien Skull Collector, whose task is to stalk them and salvage their heads. Cyborg yells that he's crazy, and from a cave a few meters away, growling noises can be heard, and red eyes shine. Infrared eyesight zeroes in on the robotic hero's skull, and four scarlet beams appear on his chest plate. At first, Beast Boy is excited about the laser light show, but when Cyborg's arm is blown off and wriggles about, they all scram. Cyborg temporarily forgets his appendage but backtracks quickly to retrieve it.
The monster reveals his gray and red, armor-clad body, armed with a giant ray gun. His infrared capabilities come in handy again when he tracks the fleeing Titans cramped behind some foliage and rocks. Blowing up their cover, the Titans try to slip away on vines, but they'd severed by Alien Skull Collector's forearm-fired ninja stars. The branch they land on is exploded, and eventually, the Titans can evade the laser beams by falling down a waterfall. Thinking they are dead, the alien gives up the chase.
Once they regain consciousness, Raven says they're doomed, and Cyborg grows insecure about his precious skull. Robin starts to go on about the one method of survival, but when Starfire interrupts with teamwork talk, he grows angry, questioning if they learned anything and saying it's every man for him/her self. He plans to let the others be picked off one by one until only he is left.
When Raven and Beast Boy chip in about working together and using the survival skills they've learned throughout the day, but Robin yells at the team for learning nothing about survival and ditches them, screaming. The alien returns, aiming his blaster at the team. But Cyborg convinces him to try coconut curry before killing them.
Alien Skull Collector takes off his mask to reveal his red fly-like face, and, sipping the curry, he is delighted. Beast Boy compliments his sweet gear, adding a leaf cape, and Starfire says it compliments his mandibles. Raven then gets them into survival the "island style."
Back at the beach, Alien Skull Collector and Beast Boy are playing volleyball with Cyborg looking on. When the alien pops the ball with razor spines, they all let out a hearty laugh (even though Beast Boy cried earlier about his beach ball. Contradiction ALERT!). Raven is building castles again when she catches the eye of Alien Skull Collector's sand skull fortress, and he's proud. Starfire also relaxes with the outer space creature, both giggling with the sand between their toes.
After performing a survival pose, it's time for Alien Skull Collector to leave. His purple, spiked ship had parked on the beach, and Raven asks if he really has to go. He's a pretty cool dude. Starfire says he'll always be dear to their hearts. Cyborg and the alien exchange a fiery handshake. Beast Boy gives him some curry for the road, which he sloppily drinks. After boarding the ramp, Alien Skull Collector looks back with warmth in his eyes once more, waving goodbye.
The others wave, and then he heads off. Cyborg says he'll miss him... but whatever happened to Robin?
Above Earth's atmosphere, Alien Skull Collector walks his red-lit spaceship, filled to the brim with various animal skulls. The episode ends as Robin's decapitated skull, which apparently has skeletal hair, is placed on a special stand, a real valuable collector's piece.
Characters
Song
Trivia
This episode is the second part of the week long summer event of "Island Adventures".
At the end of the episode, it looks like the alien skull hunter murdered Robin, but it's from a different animal.
The Bamboo Titans Tower from the first Island Adventures episode, "Coconut Cream Pie", is not seen in this episode.
Starfire is barefoot for most of the episode.
Continuity
The title refers to a recurring joke in "Nature", where Robin ate butterflies as he claimed they consisted of pure protein.
This is the second time that Robin uses a flame thrower. The first time was in "Croissant".
Raven is seen unhooded for the 43rd time in this series.
This is the second time that Robin is naked. ("Laundry Day")
References
The music playing when the Alien Skull Collector chases the Titans is a reference to certain chase music in the show Danny Phantom.
The competition Robin has the other Titans take part in is based on the long-running reality TV competition Survivor (or the cartoon based on Survivor that has six seasons, Total Drama).

The two tikis have the faces of The Joker and Batman.

Beast Boy wearing a bikini top made out of seashells seems to be a reference to Mermaid Man from the SpongeBob SquarePants franchise and Princess Ariel from Disney's The Little Mermaid.
The skulls seen aboard Alien Skull Collector's ship belong to (from left to right):

Jabba the Hutt, Kodama (tree spirits from

Princess Mononoke), Dr. Zoidberg, Beta Ray Bill, a Balrog, Bowser, Mr. Mxyzptlk, Doomsday,

E.T., and

Etrigan the Demon.

Robin's skull resembles Lewis Pepper's from Mystery Skull Animated.

The Alien Skull Collector is a parody of the 1987 movie Predator.
Errors
It's unknown if Robin got off the radar of the Alien Skull Collector, or if he really murdered him.

It's also unknown how Sticky Joe came along on the island trip.

Cyborg shouts "You won't take our skulls!" but the Closed Captions reads "You won't take us, ghost!" but "skulls" should be the correct word since they were talking about the Alien Skull Collector hunting them and collecting their skulls as trophies.
Running Gags
Beast Boy getting upset when Robin throws away his desires into the ocean.
Robin forcing the other Titans to participate in Island Survival activities.
The other Titans dismissing Robin for his bossy behavior.
Robin saying "pure protein" when he eats insects.
Transcript
The transcript for "Pure Protein" can be found here.
Gallery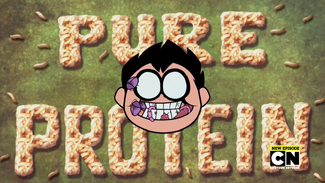 The image gallery for Pure Protein may be viewed here.