"Pyramid Scheme" is the twenty-fifth episode of the third season of Teen Titans Go!, and the one-hundred-twenty-ninth overall episode of the series.
Summary
Not being able to buy a present for Cyborg, Beast Boy enlists in a pyramid scheme run by a mummified boss. But when he and the other Titans can't afford to pay up, they're forced into hard labor building pyramids.
Plot
The episode starts at when Robin, Raven (who's reading a book), Cyborg, and Starfire are all sitting on the couch. A sad and depressed Beast Boy emerges from behind the couch and slouches next to Starfire. She asks him why he's sad, and the reason is that Beast Boy can't afford an expensive gift for Cyborg's birthday. Raven mentions they have been through this before, and Cyborg also points out that his birthday isn't even close to coming up. Holding each other's hands, Beast Boy tells Starfire if he doesn't give Cyborg an expensive gift, their friendship is going to be ruined, and Beast Boy sulks in sorrow as Starfire greatly comforts him.
Although Cyborg says that it is not even true, Raven says this has definitely happened before. Beast Boy then says that Cyborg loves expensive stuff, but Cyborg tries to remind Beast Boy that the latter was making him look bad. The latter says that he has to get a job to buy him the gift, which the former responses that he doesn't have to. When Robin gestures that Beast Boy has to work at the Pie Shop, Beast Boy denies and gives Robin a pamphlet and say it's a Pyramid Scheme, the Titans confuse this for mummies and Robin explains this to the Titans. Now they get the meaning of such scheme, Robin then says the only way you can make money is hard labor. Beast Boy says labor is for pregnant ladies and criminals and Beast Boy (in dolphin form) leaves and Cyborg yells to give him a card.
Later in the kitchen, Beast Boy is eating a "cash salad", which is a bowl of money, Robin then crashes through the window and attacks him for the money. The others see this and ask what is he doing to Beast Boy. Robin then say he refuses to see money getting waste. Cyborg ask if it was good, Beast Boy says no and has more money he can spend and explains this in a song and the others praise him except Robin. The expensive gift that Cyborg get is a gold crown, much for his and Starfire's amusement. Raven ask where does he get all the cash and he says it's the Pyramid Scheme he has signed up and he's now a "Money Sheriff". Starfire asks what is the definition of his title and Beast Boy says he's a leader with a badge, which convinces Raven, Starifre, and Cyborg to join him. BB tells them to pay $100 dollars, and they give him the money anyways although Robin stops them. The three of them are now his money deputies and he gives them badges and the four of them act like cowboys.
Later, Raven and the others recruit more people to join the Pyramid Scheme for money. Then the three of them eat "money salads" around a fire; Cyborg offers some to Robin, but he refuses and scolds them for it. Beast Boy frantically takes the money from Cyborg, Starfire, and Raven and explains that the boss wants his cut of the money; this shocks the Titans and a giant pyramid emerges from the ground. The Boss Mummy appears and asks for the money. Beast Boy gives him the suitcase, which only contains a few dollars and coins, along with a barely eaten sandwich. This enrages the Boss Mummy, so he forces the Titans to do hard labor for him in the hot sun.
Beast Boy admits that he was wrong for doing the Pyramid Scheme and Starfire angrily blames Cyborg for being selfish with his need for the perfect gift and he claims himself innocent, saying that he would be happy with just a hug. Robin says that he is also wrong for his stupidity and selfishness, believing that pyramid schemes are really because of mummies. Then he says the only way to get out of this is with hard labor, but Raven say they're already doing that.
The Titans hide behind the huge stone block and Robin say the other kind of hard labor. Beast Boy transforms into a pregnant chicken and gives birth to an egg from which a chick emerges. Robin only wants the egg, not the chick, and shakes out hedge clippers. Robin uses them to free the Titans; he is now happy that Beast Boy has learned the value of hard work. When he asks about the mummies, the others says that he is still the sheriff and they are still their deputies (with Robin joining). The Titans then defeat all the mummies, and Beast Boy engages a duel with the Boss Mummy, which he wins (without the need to fight the Boss Mummy, as he suddenly gets run over by a golden tank/vehicle with the song's fake Gold Bear). The Titans hang at a saloon, speaking with western accents, having learned their lesson about pyramid schemes, and the Titans ride on horses into the sunset.
Characters
Song
Trivia
This episode aired on the same day as "How 'Bout Some Effort".

This is the first time in the third season that two new episodes have aired back to back.

This is the second time an episode plot revolves around money (the first being "Two Bumble Bees and a Wasp".
This is the first time that Billy Numerous appears without any of his Hive-mates.
This aired as part of the "Night of New" time slot on Cartoon Network.
In real life, a "pyramid scheme" is an illegal form of investment which each payment participant recruits two further participants, with returns being given to early payments using money to later contributed participants.
Boss Mummy's revolver appears to be in the shape of an ankh, which, ironically, is the ancient Egyptian symbol for life.
Continuity
Beast Boy's liking towards money returns from "Two Bumble Bees and a Wasp".
Raven is seen unhooded for the thirty-fourth time.
Beast Boy mentions wanting to raise money to buy Cyborg a birthday present, like in "Pie Bros". Raven even mentions that it had happened before.
This is the second time that the other Titans say "OHHH!" at the end of a rap song sung by Beast Boy. The first time was at the end of song, My Book in "Books".
This is the eighth episode to directly reference events from a previous episode.
References
While being a cowboy, Cyborg says "Reach for the sky", a line originally said by Sheriff Woody from the Toy Story franchise.
The music playing during the fight scene is similar to the surf music from the movie Pulp Fiction, specifically "Miserlou", by Dick Dale and the Deltones.
During Beast Boy's musical number, the giant lion-like Beast Boy sculpture is reference to the Great Sphinx of Giza, Egypt (which is a famous Egyptian landmark).
There are many common Western movie clichés present in this episode:

The pyramid is a saloon, packed with poker playing mummies. One is even tending to the bar.
Starfire is shown fanning her hand in a way similar to how movie cowboys fanned the hammers on their revolvers.
Cyborg dispatches two mummies by tossing them out the saloon window.
The Titans ride off triumphantly into the sunset.

The last scene, in which Beast Boy and the Boss Mummy have a duel outside the saloon, is a parody of the final gunfight in The Good, the Bad, and the Ugly film between Blondie, Angel Eyes, and Tuco.

Beast Boy himself is dressed up as Blondie (played by Clint Eastwood), with a low-brimmed hat, poncho over shoulder, and a piece of twig (representing Clint's cigarette).
The phrase that Beast Boy says in the fight, "This pyramid ain't big enough for both of us" is a slight alteration of the popular western movie saying, "This town ain't big enough for both of us".
Errors
Beast Boy (as a chicken) lays an egg. This is impossible, as Beast Boy is clearly a male.

Beast Boy also refers to himself as a "mama", which can't work out either.

However, this may just be Beast Boy being his normal, foolish self.
Running Gags
The Titans (except Robin) eating money.
The mummies constantly moaning "Mummy Money".
The Titans (except Robin, only in the end) speaking in western accents.
Cyborg saying that Beast Boy doesn't have to buy him a present and saying random things he would have been satisfied with.
Robin mentioning the word, "Pyramid Scheme" in a drawn out fashion.
Beast Boy and the others thinking that pyramid schemes involve mummies.
Transcript
The transcript for "Pyramid Scheme" can be found here.
Gallery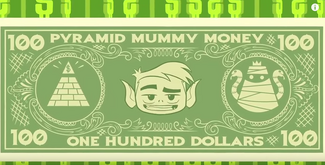 The image gallery for Pyramid Scheme may be viewed here.
Community content is available under
CC-BY-SA
unless otherwise noted.