"Quantum Fun" is the tenth episode in the fifth season of Teen Titans Go!, and the two-hundred-nineteenth overall episode of the series.
Synopsis
Robin takes the other Titans on a trip through the dizzying world of quantum physics.
Plot
It's a sad, rainy day outside in Jump City, and Robin's in a similarly depressing mood. Not bothering to get dressed, he merely wears his bath robe wit a defeated look on his face. The other Titans, noticing that Robin's looking out his temporary sadness curtain again, wonder what's got him down. He explains his worries about their lives not being real—that it's all just a computer simulation. Raven slaps him in anger for bringing this nonsense up again, and the other berate him for watching The Matrix again. After Starfire brutally roasts Robin about not wondering metaphysics, Robin points out the fact that reality has strange paradoxes. The imbeciles mishear him as saying "pair of box" and "pair of docs", so he has to explain a paradox: a self-contradicting idea that turns out to be true. Surprisingly, Beast Boy understands his explanation, then burns him with the example of him smelling like fish, but never eating it. Offended by this insulting yet true example, Robin changes the subject to the science of reality, but the Titans aren't in the mood for boring stuff. However, Robin's intent on crushing their souls with metaphysical depression as well...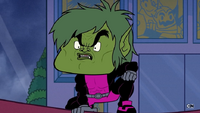 Robin begins his lecture on quantum physics, but he's instantly interrupted by Cyborg, who mistakes this for the show Quantum Leap. To his disappointment, Robin corrects him, saying they'll actually be studying the movement of atomic/subatomic particles (tiny things). He can't catch a break, though, as Raven jokes that they're studying tiny things, i.e. Robin's height. After a brief meltdown, he starts to define superposition. When the Titans misinterpret him and begin superhero-posing, Robin tries to get them back on track with the Copenhagen definition of superposition. Once again though, the Titans completely digress, this time obsessing over visiting the fishy city of Copenhagen, Denmark. Exasperated beyond belief, Robin shuts down their delusional ideas and finally gets to the definition of superposition: matter being in all possible states until measured. The Titans are amazed—not by superposition, but by the incredible levels of his boringness. At his point, Robin literally explodes in fury.
A little while later, Raven, Beast Boy, Cyborg, and Starfire are chilling out on the couch when lights suddenly dim and sparkly flames start going off. Apparently, Robin's trying to make his lecture about the nature of reality little more exciting. However, when his fanfare leads to a cardboard box, the Titans aren't so impressed. He explains that it's for a thought experiment called Schrödinger's cat. Hearing the name Schrödinger, the Titans get off track talking about the similarly named Peanuts cartoon character. After begging them to stay focused, he asks Beast Boy to turn into a cat and then get into the box. The shapeshifter is willing to go cat-mode, but highly protests being put into the box. Robin has to repeatedly thrust Beast Boy to get him to penetrate the container's hole.
Cyborg doesn't really like how this experiment is going, but Robin continues with it anyways... he explains that lethal acid trap lies within the box, and until they check on the box, they won't know Beast Boy's fate. However, while he's talking, Raven and Starfire point out Beast Boy's ghost rising from the box. Robin orders them to focus on the lesson in superposition, not Beast Boy's dead body. But Raven, being a good teammate, calls over a pair of docs to revive Beast Boy. When Robin complains about his superpositions, the Titans once again strike super poses, causing him to combust in rage again...
Now nighttime, the Titans are taking it easy when the couch suddenly rises to the roof—another Robin lecture... This time, Robin's got a huge stage set up, and he flies in via jetpack. All that coolness is wasted, though when he reveals a table with absolutely nothing... or so the Titans think. Using a microscope, the four Titans zoom in on a super-small electron. The atomic particle starts spitting dope bars about the experiment, a physics demonstration showing that light can be seen as both waves and particles, as well as the probabilistic nature of quantum mechanics.
Although the subject matter is a little dull, the rap somehow inspires interest in subatomic existence. Robin starts congratulating himself for a job well done, but he suddenly notices an identical group of Teen Titans standing right next to them. Raven notices another five Titans nearby, and Starfire wonders just what the heck is going on. Skilled in science, Robin realizes that these must be their superpositions. The roof starts to overflow with endless teams of Titans, making the original team a little nervous. However, Raven actually retained some info from Schrödinger's cat experiment: they can fix an object (their true team) in one state simply by observing/measuring.
On Robin's command, the Titans get to work battling the impostor possibilities simply by staring at them. The phony teams slowly start disappearing, but they use measuring devices to make the vast amount go away even faster. To finish off the remaining stragglers, they go binocular-machine gun-mode on them until only one team remains. However, before they can get to the alternate reality group, they themselves get measured, and disappear as a result... Now the only ones left, the different-possibility team breathes a sigh of relief. They're very lucky to have understood quantum mechanics and all that science-y stuff. The new Cyborg is a little depressed that their just one sample in an infinite number of outcomes, but the Titans manage to laugh off their insecurity about the terrifying universe they live in...
Unexpectedly, the camera zooms out, revealing the Titans to merely be on a computer screen in a cartoon studio. A crew member of Teen Titans Go! (who appears to be Ken McIntyre) then gives the audience a jolly thumbs up.
Characters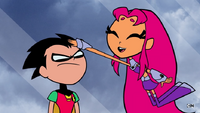 Major Characters
Minor Characters
Songs
Trivia
Apparently, the original Teen Titans disappear at the end of this episode. However, Teen Titans Go! does not follow a strict continuity, so upcoming episodes will probably feature the primary versions.
This is the first time Beast Boy has died in one of his animal forms.
Continuity
References
During the Schrödinger's cat scene, the Titans assume an art form similar to that of Charles Schulz's Peanuts comic. Similar theme music also plays. As for the specific Titans, the look like:
Beast Boy and Cyborg make a few references to The Matrix, a 1999 science action film about breaking free from a simulation reality.
Cyborg also mentions Quantum Leap, a late 80s, early 90s TV show about time travel.
Errors
Running Gags
Robin getting roasted by the Titans.
Cyborg and the others calling Robin crazy.
The Titans interrupting Robin's lessons.
Robin trying to teach get the Titans interested in Quantum physics and each time doing so the experience becoming more and more grand.
Transcript
The transcript for "Quantum Fun" can be found here.
Gallery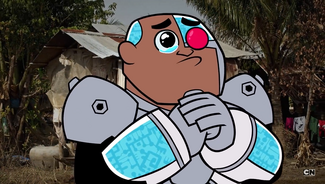 The image gallery for Quantum Fun may be viewed here.