"Rad Dudes with Bad Tudes" is the thirty-fourth episode of the third season of Teen Titans Go!, and the one-hundred-thirty-third overall episode of the series.
Summary
Robin meets cool dudes on rollerblades and tries to emulate them in order to fulfill a dream related to his "parents"...
Plot
The episode begins with Robin doing a competition with the Titans to see who can pop the most bubbles. They encounter people with rollerblades, to which Robin gets very interested in. The others see them as "grandpas", and think that rollerblades are lame. Robin, however, thinks differently, and tries to talk with them. The rollerblades insult Robin while mentioning the Demon's Tongue, the most dangerous rollerblading race. Robin, feeling down, goes back to the tower.
Back at the tower, he talks to his "parents" about rollerblades. His "mom" shows Robin his "dad's" rollerblades. When Robin appears in the Tower, the remaining Titans are meditating with Raven. However, they see the rollerblade after Robin pops up and they decide to join in to show their support of a bad attitude. They then meet the two dudes from before, and they go to a showoff, insulting each other. Robin is challenged to the Demon's Tongue, which he reluctantly accepts. When they're about to shake hands, Robin psychs them and takes away his hand before they could shake, which would be considered an insult.
When Robin gets home, his "dad" meets him and asks where he is. They talk about the Demon's Tongue and rollerblades, when Beast Boy comes into his room. It turns out, not surprisingly, that Robin is pretending that he has a dad, and changes roles from his mom, to dad, or to himself. We hear more about the conversation, and then Beast Boy takes out some popcorn. As Robin exits his room with confidence, Beast Boy cheers him on.
The next day at the race, Robin and the two dudes are seen with two other random guys. The random two blow up into the race, and eventually, Chip, one of the roller dudes, loses his wheels on one of his rollerblades. He tries to get Robin to help him. Robin is about to do so but then turns out that the former has tricked him; instead Robin psychs Chip out, and the latter ends up falling into a pit.
The other dude Randy, attempting to avenge Chip, goes for the win, more determined than ever. Nonetheless, Robin pushes him to the harder way, to which Randy has his ambition being diminished as he burns in fire. As a result, Robin wins the race with his four friends merrily uplifting him, and when the two dudes are about to be taken to the hospital, they say it's just a race to ease their pain of being utterly defeated.
As a revenge for the two losers who humiliated him earlier, Robin says that it was a race that he won, roasting them. He then sees his imaginary parents, to which they hug each other. Since Robin is actually thinking up his parents, the rest of the Titans (except Beast Boy who has seen him with this behavior before) are wondering what he is doing followed by explosive fire as the episode ends.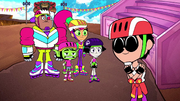 Characters
Major Characters
Minor Characters
Song
Trivia
It's revealed that Cool Rollerblading Dude #1's name is Chip and Cool Rollerblading Dude #2's name is Randy.
Other than Trigon, Robin's parents are the only parents of any other Titan who make an appearance in the series even though they are most likely just fragments of Robin's imagination.
Continuity
This is the eighth episode to focus on Robin's fragile mental state. ("The Date", "Staff Meeting", "Sidekick", "Uncle Jokes", "Puppets, Whaaaaat?", "Sandwich Thief", "Yearbook Madness")
Raven is seen unhooded for the thirty-eighth time.
Beast Boy wears his rollerblading outfit for the second time. The first time he wore it was in "Finally a Lesson".
Beast Boy is the first one to refer to the Cool Rollerblading Dudes as "grandpas" and is not very pleased to see them reappear. This could suggest that Beast Boy remembers his short-lived friendship with them in "Finally a Lesson".
This episode ends with real explosive fire, similar to "Pyramid Scheme". This is the second episode ending to have real fire.
Raven's strange liking for elderly people is referenced for the second time when she comments how grandpas are "cute". The first time was in "Salty Codgers".
This is the third time that Robin's parents are mentioned, the first two times being in "Let's Get Serious" and "Batman v Teen Titans: Dark Injustice". Though this is the first time they appear as characters.
The Cool Rollerblading Dudes appear for the second time in the third season and second overall appearance in the series. They first appeared in "Finally a Lesson".
References
Beast Boy says, "Don't harsh my vibes, weezles," which is a quote from Pauly Shore used in films such as Encino Man.
The blue pickaxe Robin was holding in his expectation of being a miner in the future, resembles the diamond pickaxe from the popular sandbox game, Minecraft.
This episode is inspired by the 1979 American coming of age comedy-drama film Breaking Away. But instead of focusing on bike racing, it's about roller-blades.
Errors
Oddly enough, there were a total of three Cool Rollerblading Dudes in "Finally a Lesson" but only two are present in this episode. However, the third one does make a cameo during the race on Demon's Tongue Mountain.
When Robin's mother pulls out the skates from the sink and hands them to him, there's only one skate. When they hug, suddenly there's two.
When Robin won, he got the trophy, but in the scene where he drops it and hugs his parents, it's gone.
Running Gags
The Cool Rollerblading Dudes being called "rad grandpas".
Robin saying the phrase "rad".
Robin arguing with his "father".
Cyborg fainting.
Robin tricking the Cool Rollerblading Dudes and saying "PSYCH!".
Robin imaging his parents.
Transcript
The transcript for "Rad Dudes with Bad Tudes" can be found here.
Gallery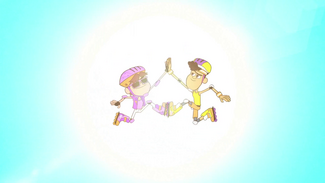 The image gallery for Rad Dudes with Bad Tudes may be viewed here.