"Real Boy Adventures" is the thirtieth episode of the second season of Teen Titans Go!, and the eighty-second overall episode of the series.
Synopsis
After transforming into "Fleshy Guy", Cyborg discovers the ups and downs of being human.
Plot
The episode starts with all the Titans and Beat Box relaxing at the swimming pool, when Robin appears seemingly constructing something, while bringing up parts, tools and a water warmer. Robin then came quickly to the Titans to happily tell them the exciting news, which was that he installed a heated hydrotherapy chamber, although no one seemed to care, as they kept relaxing. Beast Boy insisted it wasn't exciting, but Robin asked if it would be more exciting if it was a-, when he gets interrupted by the other Titans, who go in, believing it's a hot tub which everyone except Cyborg, went in. However, when Robin said it was for training purposes only, Raven and Starfire were already in the pool, saying how the bubbles felt very good. Robin tried to kick them out, since it was only for training purposes, but he got interrupted when Beast Boy came cannon-balling into the hot tub. Robin complimented Cyborg that at least he respected his orders, but Cyborg said that it wasn't that at all. It was that he couldn't enjoy hot tubs, which terrified all of the Titans. Cyborg explained that a robot body is great for many things, like looking metal shiny, hacking Robin's personal data files (by this time, Robin said "I'm sorry?"), and being tough, but hot tubs wasn't one of those things. He said dramatically that he sometimes wished he was a Real Boy, but there was nobody that could help him. But before he could finish his sentence, Raven said that she could do it, which surprised Cyborg. She explained that she could turn him human again because of magic. When Cyborg asked why she never said anything before, Raven said that it was because it would take way too long to list everything she could do with magic, for example: teleportation, telekinesis, flying, reading the minds of animals, see in the dark, and perfectly crack open walnuts, which impressed the Titans. Cyborg then said that they should hurry up to make him human.
Later in the backyard....
When Cyborg asked if that was going to hurt, Raven then said that she won't feel a thing, but that would be excruciatingly painful for him. She then casts a spell to turn Cyborg into a human, which is excruciatingly painful to him. When he stands up, all of his robot parts fall off, to reveal his naked human self underneath. The Titans are terrified by this, so Raven quickly puts a towel on him. Cyborg thanked her for the human body, but he warned him that his nervous system is much more sensitive than the previous robot one, but he ignored her, saying "Hot tub! Hot tub!"
As he swan dived in the water, Cyborg was surprised to find the water to be very hot. When he asked Raven why was the hot tub so hot, she answered that because he is a human, he felt way more pain than robots. When Robin came and almost said to him sorry, he realized that they couldn't even call him Cyborg anymore, so they settled on Fleshy Guy. Cyborg said he wasn't so sure, but they all agreed that Fleshy Guy was the best name. Cyborg said that he had a lot to learn to be a Real Boy again. Beast Boy congratulates him , and said that he'll be his guide to being a human again.
One montage later...
When Beast Boy reintroduces food to him, Cyborg enjoys it even more, saying it was so good. Beast Boy said that if he thought that was cool, he should try something, and over the table, something started appearing. Beast Boy said once every 3 hundred years, a taco, a pizza, a burger, and a hot dog all come together as 1: El Burdigato Supreme.
A few minutes later, Cyborg was on the couch groaning because of his eating. Beast Boy said he might have overdone it a bit, but Cyborg has a huge belly, and got a bit mad with Beast Boy. Then his belly started rumbling, and when he asked what was it, Beast Boy said it was the Burdigato. He then started jumping around, and went straight to the bathroom. Cyborg then called him and asked him if he could go there for a second. When he came, Cyborg was in the bathroom with his feet on the toilet. When he asked him what he was doing, he responded it may have been a while since he used the last bathroom, and flushed himself.
Later at night, Beast Boy congratulated him for the first day. Cyborg asked why it was so hard to move his body, and he said that it was because he was tired, and it happened to all of them. He said that all he needed to do was recharge his batteries, however, Cyborg misinterpreted that by electrocuting himself and Beast Boy in his previous charger.
Later the next day, The Titans welcome back Cyborg, saying that he decided to sleep in. However, he said that he couldn't sleep because of his body, which was sloshing around and making weird noises. When he sat down, he got himself cut, and when he asked the Titans why, they said it was a paper cut. however, when he hit himself in his toe, he said that he couldn't take it anymore, and walked away. The Titans felt sorry for him, and asked if they could help out, but Robin stopped them, saying the situation must be handled by a "Real Boy."
Later...
Cyborg was back in his room, crying. Robin came in and asked if he needed anything, but he stayed sobbing. When Robin was trying to consulate, he said that he didn't knew someone who could live a day like that, but he realized Robin was there. Robin then explained the ups of being a human, and invited him up to a Real Boy Adventure. Cyborg said that sounded weird, but he goes along nonetheless. Robin then shows him all of the upsides of being a real Boy, while the song "Real Real Boy" plays. This cheers Cyborg, and he says he never realized all the things he was missing out on a robot. Cyborg feels he no longer needs his robot parts, and discards them via the trash chute. Right at that moment, the crime alert rings, and the Titans set off to find criminals, who were trying to steal their hot tub.
In the pool...
As the H.I.V.E. Five (without See-More and Billy Numerous,) come and try to steal the hot tub, they got surprised to see Cyborg as a human, and when they asked what happened to him, he answered Cyborg was gone, and that he was Fleshy Guy. At that moment, Robin showed up with his suit, and Fleshy Guy asked what he was doing, at which he answered "Booh-Yah!". Fleshy Guy was angry he stole his catchphrase, but he said that he was a Cyborg now. Cyborg asked if all that was to get his robot parts, and he answered yes. He said why being human when he could have rocket boots, which did not activate. He said he was still working on the bugs. Right as he was about to attack them, the rocket boots activate, crashing into all the Titans, sending them off the Titans Tower and into the water. Cyborg then pleaded for them to not hurt him, since he was a real boy. He then realized that he could use the human's weaknesses against them, and used paper cuts, toe cracks, and hot water. He said that that was a Real Boy Adventure, and the episode ends, as the H.I.V.E are in pain.
Characters
Beat Box (cameo)
Pinocchio (cameo)
Control Freak (cameo)
Pain Bot (cameo)
The Riddler (debut, cameo)
Napoleon Bonaparte (debut, cameo)
Michael Jackson (debut, cameo)
John Stewart (debut, cameo)
The Joker (debut, cameo)
Albert Einstein (debut, cameo)
Gandhi (debut, cameo)
The Penguin (debut, cameo)
Peter Pan (debut, cameo)
George Washington (cameo)
Thomas Jefferson (debut, cameo)
Abraham Lincoln (debut, cameo)
Theodore Roosevelt (debut, cameo)
Tinker Bell (debut, cameo)
Nite Owl (debut, cameo)
Song
Trivia
This episode aired one year after "Be Mine".
Animation from "Matched" is reused.
This is the second episode that has aired on Scott Menville and Tara Strong's birthday.
This is the first episode in which Cyborg's entire body is featured. Oddly enough, his character design seems to be different from Stone's human design.
Batman's real name, Bruce Wayne, is mentioned on a newspaper in this episode.
This is the first episode where more than one H.I.V.E member appears, but the whole group doesn't.
This shows that they did not eat Batman in Thanksgiving.
Both "Real Magic", "Body Adventure" and this episode have similar names.
When Cyborg (Fleshy Guy) is hitting Jinx with papercuts, he says "sorry, babe!", which implies that they're still dating after the events of "Opposites".
The entire scene from Cyborg's armour falling off until he jumps into the hot tub is censored by Cartoon Network in New Zealand and Australia.
Continuity
Starfire once again uses the Tamaranean word "Klorthog" which she previously used in "Legs" and "Baby Hands."
Raven is once again shown using the pool while in her usual outfit, which she stated was her swimsuit in "Hey Pizza!,"
Cyborg having a human origin is once again brought up, which was previously mentioned in "Tower Power" and "Super Robin". Although it contrasts the story given in "Dog Hand", where he was born half robot.
Raven being able to make Cyborg human again is similar to how she was able to give Robin superpowers in "Super Robin".
This is the second time that George Washington appears. The first time was in "Money Grandma".

Strangely, this George Washington looks different from the one who first appeared.

This is the second time Robin has attempted to acquire superpowers. The first was in "Super Robin".
This is also the second time Robin wears Cyborg's body, which he previously did in "Power Moves". If one counts Robin wearing Cyborg's suit during his story in "Baby Hands" then it is the third time.
Cyborg still appears to have feelings for Jinx, as first shown in "Opposites" and "Be Mine", saying, "sorry babe, put some ice on that!".
The scream that Mammoth lets out is the same scream that the Shrimp used in "Pirates".
References
This episode contains several references to Disney's Pinnochio.

The title and the repeated phrase "real boy," references how Pinnochio desired to become a real boy.
The cricket form that Beast Boy turns into is a reference to "Jimminy Cricket", a character from Pinocchio.
Cyborg becomes real via Raven's magic, similarly to how Pinnochio also became real through the Blue Fairy's magic.
Pinnochio himself makes a cameo appearance during Real Real Boy.

The "El Burdigato Supreme" is barely similar to the "Sluzzlewurst" from The Amazing World of Gumball, as both have crazy food combinations.
Michael Jackson also appears in his Thriller outfit.
Albert Einstein, Mahatma Ghandi, and Napoleon Bonaparte appear in the song "Real Real Boy".
The Joker, the Penguin, the Riddler, Nite Owl, Batman, and Green Lantern (John Stewart) also appear in the song.

Former presidents depicted on Mount Rushmore: George Washington, Abraham Lincoln, Thomas Jefferson, and Theodore Roosevelt, also appear.

When Beast Boy mentions that he's good at naming people, it's a reference to Michelangelo from Nickelodeon's Teenage Mutant Ninja Turtles, who also has a habit of naming others. Both are voiced by Greg Cipes.
In the song, the "big belly band" part (with Cyborg and Robin using their big bellies as musical instruments), is very similar to when Patrick Star did the same thing in the episode "Krabby Road" from SpongeBob SquarePants.
Errors
Cyborg has been in water several times before, such as in "Little Buddies","Burger vs. Burrito", "Meatball Party", "Hot Garbage", and "Serious Business", but he is unable to go into the water in this episode.
While eating food, Cyborg talks about now having a "human belly", when in fact Cyborg has been shown with a human belly on several occasions. ("Double Trouble", "Vegetables", "Thanksgiving", "Smile Bones")
When Beast Boy is a cricket, he is able to use his communicator, even though the communicator is much bigger than him.
Running Gags
Transcript
The transcript for "Real Boy Adventures" can be found here.
Gallery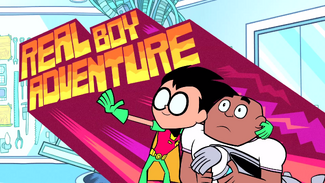 The image gallery for Real Boy Adventures may be viewed here.