"Real Orangins" is the ninth episode in the fifth season of Teen Titans Go!, and the two-hundred-eighteenth overall episode of the series.
Summary
Robin tries again to tell the real origin story of the Teen Titans.
Plot
With no urgent emergencies to attend to, Starfire, Cyborg, Raven, and Beast Boy are hanging out at the Titans Tower, playing some Jenga. Suddenly, Robin bursts into the living room, writhing in pain. The four Titans rush to his attendance, but are peeved when they learn it's just a ruse to get their attention. He's got a good story for them: how he formed the Teen Titans. Raven and the others point out that there's already been a couple episodes detailing their past, but Robin explains that his will be serious—no ridiculousness, only coolness. Beast Boy's a little skeptical about how "cool" Robin can be, but before he can protest any further, Robin sends them all down a trap door to his secret story place. With a great fanfare, he begins the flashback with his days as a mere sidekick...
Years ago in Gotham City, after the Joker had finally been locked away, Commissioner Gordon was just congratulating Batman and the underappreciated Robin. The Boy Wonder was so unrecognized that Batman and Gordon had trouble even seeing him in a dim shadow—that's how worthless he was. Tired of sidekick status (and of the short shorts he had to wear), Robin said his farewells to Batman; he was going to find his own city to fight crime in. Batman bid his apprentice good-bye, although he lost sight of him once again.
Cyborg rudely interrupts Robin's story to point out it's unbelievability, and Beast Boy adds that Batman's not known for being all brooding and menacing. Robin is stupefied—he says there's a reason Batman's called "The Dark Knight." However, Raven contradicts him by pointing towards Batman and Gordon, who are sitting right beside them, laughing it up. Starfire offers the suggestion of not telling such a "tall" story, but Robin shouts the animosity down and continues...
After arriving in the criminal cesspool that is Jump City, Robin realized he would need some sidekicks (or teammates, for politeness), to help clean up the streets. To find some suitable candidates, he logged onto DCUBOOK, a social media for superheroes, and started browsing through the various profiles. Most of them were too boring or too cool, but Cyborg... he showed some potential. Robin traveled to Detroit High, where he found the half-human, half-robot reminiscing about his football career. Alarmed by his entrance and requests for him to join a team, Cyborg initially treated him with hostility; he could never be part of team again in his shape. But when Robin told him it was a superhero team, Cyborg instantly broke out into joy, thinking he was getting an invite to the Justice League. However, his hopes were shot down when Robin announced that it was a new team. Nevertheless, he was still interested.
With the muscle of the team scouted out, Robin next looked to enlist a wild card. An interesting prospect currently resided in Upper Lumumba, Africa: Beast Boy. At the moment, the animal shape-shifter (currently in rhino form) was busy protecting endangered species from poachers and their bolt-action rifles. When an illegal hunter nearly shot him down, he was luckily saved by none other than the Boy Wonder. After Beast Boy thanked Robin for his assistance, he was offered a business card for the Teen Titans. It was all good with him, so long as there were some girls on the team. Robin couldn't guarantee that, but what he could assure was that Beast Boy would make a big difference in the world.
Having given invites to two idiots, Robin now searched for somebody smart to recruit. He had his eyes set on Raven, a dark, infernal individual. As he scanned her bio, Raven was at that present time in the Demonic Dimension, fleeing from some hellish beasts and her wretched father, the demon Trigon. After being demanded to join in his dark deeds, Raven blasted the creatures away with dark magic, then disintegrated her dad with a black death ray. But a new threat now approached her: Robin. She tried frightening him away, but the hero was adamant in convincing Raven to join his team. However, she wasn't too interested in saving the world—at the moment, her favorite show, Pretty Pretty Pegasus was on TV. Robin apologized, but left her a Teen Titans card for later.
As Robin scrolled through the remaining profiles, his eyes lit up when he saw Starfire's picture. Currently, the Tamaran princess was held captive aboard a Gordanian starship in the Vega System. While the captain of the cruiser was taunting Starfire about her enslavement, an alarm suddenly sounded, and a mysteriously-masked warrior exploded into the chamber. After taking out all hostiles, the man freed Starfire, then took off his mask, revealing himself to be Robin. She instantly kissed him, but to Robin's disappointment, it was merely to insta-assimilate his language (a Tamaranian power). Having lost her throne, Starfire at first wanted to remain hopeless and alone in her grief. However, Robin started to persuade her to join the Titans.
Finally, Robin's dream team was finished. Counting on his teammates (really sidekicks) to show up, he departed to South Side, Jump City, where a group of Thugs were looting a bank. As the gangsters started to surround Robin, he began concluding that this would have to be a solo fight. To his relief, however, the four recruits flew onto the field of battle; they had finally accepted his offer. When Robin wondered why they weren't attacking, though, Raven said they were waiting for his command. At first, he shouted "let's do this, Titans!" but he eventually settled on the more concise "Titans, GO!"
And that's how Robin's origin story of the Teen Titans ends. They all compliment his story...it actually was pretty cool and satisfying. Robin, excited to hear this, asks them if they think anyone will believe it. The account might've been dramatic and emotional, but the Titans confidently assure Robin that absolutely no one will believe it. Adding to his sadness is Batman and Gordon's cruel laughter...
Characters
Main Characters
Minor Characters
Trivia
The flashbacks of how Robin recruited his "sidekicks" show different animations.

Robin's is the Batman animated series.
Beast Boy's are a comic book style.
Cyborg's is a Justice League-ish style.
Raven's is an edgy art style.
Starfire's is an anime style.

Like the previous "Orangins" episode, "Real Orangins" is a phony origin episode for the Teen Titans. "Flashback", a two-part episode from Season 4, still stands as the official origin story for Teen Titans Go!.

Out of the four Teen Titans he had selected as his faithful "teammates", the only two Robin had actually pitted are Starfire (known only as Princess Koriand'r then), initially a recently captured slave to the vile Gordanians, and Raven to having to serve an inter-dimensional demonic father of pure evilness.

The Titans' origin story ends, the opening theme song has been briefly played.
In Robin's story, Batman is voiced by Kevin Conroy, who has famously voiced Batman in various animated programs and video games, most notably Batman: The Animated Series. In this episode he's credited as "BTAS Batman".
Continuity
This episode is a sequel to "Orangins".
Raven's love towards Pretty Pretty Pegasus is displayed.
Starfire mentions about Tamaranian language through lip contact from "The Inner Beauty of a Cactus" is brought up again.
Cyborg's desire to join the Justice League is brought up again, and so is Robin's fish breath.
Starfire remembers the true origin of the team as showcased in "Flashback".
Cyborg also recalls his concocted origins from "Orangins".
This is the thirteenth episode to directly reference events from previous episode.
References
In the scene where Robin leaves Batman, the animation is based off of Batman: The Animated Series from the 90s.
Starfire's anime styled sequence takes after 1990s conventions of anime aesthetics, including how her hair is evocative of 1990s space sci fi series female mainstays like Nei of Phantasy Star and All Purpose Cultural Catgirl Nuku Nuku, and how Robin's hair is fashioned after Vegeta of Dragon Ball Z.
Jason Todd is seen in the icon wearing his Red Hood outfit with two crowbars in his hand when Robin accesses the computer to look for recruits to form the Teen Titans.
Errors
Robin's version of the Titans' origins contradicts with "Flashback". However this could have been because he wanted to make the stories more serious.
Running Gags
New art styles for each Titan recruitment.
Transcript
The Transcript for "Real Orangins" can be found here.
Gallery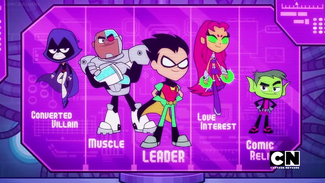 The image gallery for Real Orangins may be viewed here.