"Road Trip" is the twenty-second episode of the second season of Teen Titans Go!, and the seventy-fourth overall episode of the series.
Synopsis
Cyborg fixes up the T-Car so he can take the team out on a road trip, but will the other Titans enjoy?
Plot
The episode starts with the Titans smelling a delightful aroma. The Titans decide to follow the scent, which is coming from the garage. They discover it is coming from the T-Car. Robin was about to unveil it, but Cyborg interrupted him, asking him what he was doing. Starfire then explains that they were following the smell that appeared to be coming from the tent. Then, Cyborg explains that the smell was coming from the renovated T-Car, which he then unveils by himself to show to the Titans. He explains he had been "tinkering, tweaking, and straight-up improving everything on the T-Car." He also compliments the T-Car, saying that it's why he is his only best friend and only true confidant. Starfire then points out he is acting as though he loves the T-Car more than them. Cyborg thinks they are garbage compared to his T-Car and saying that he loves them too. Beast Boy feels pleased when he said he loved them, but Raven points out that he also called them garbage, much to Beast Boy's sadness.
Cyborg then explains to the Titans that he had raised the T-Car since he was a baby and found him when he fell out of his nest. He raised him, teaching him karate, Spanish, and, most importantly, how to be a man. Starfire then tries to say hi (hola coche) to the car in Spanish. But Robin believes that none of Cyborg's stories are true. Cyborg feels that is true. When Cyborg was trying to figure out how to get the Titans to love the T-Car as much as he did, he took them on a road trip. The Titans disagreed. Cyborg told the other Titans how road trips could make the team bond and convinced the Titans. Starfire is wondering where they will go. Cyborg says that they will go from point A to point B, explaining that it's not the destination that matters it's the journey. Starfire asks if it would be a magical journey, and Cyborg agrees. All the Titans agree except for Raven. When Raven asks if she can still read her book on the trip, Cyborg points out she could get carsick, but she can still read. Raven joins them, too.
Later, in the T-Car, Cyborg tells them they will love the car as much as he does by the end of the trip. The Titans pass by the H.I.V.E. Five, who were filling up their truck at a gas station. The Titans think they are stealing, and they decide to teach them a lesson. Cyborg sprays water on the road in front of the gas station, then uses the T-Car to splatter it all over the H.I.V.E. All the Titans celebrate their "victory" against the H.I.V.E.
Three hours later...
During their road trip in the middle of a desert, The Titans feel bored. When Cyborg asks if they're having fun, they all decline: Beast Boy doesn't have any more snacks; Starfire hasn't seen a magical fairy or any wizards on their "magical" road trip; Robin claims there's no team bond, and Raven is getting car sick. Cyborg then suggests road games, but Starfire quickly denies, for she remembers when she was playing fetch near a road with Beast Boy, she threw the ball to the road, and Beast Boy got run over. Cyborg points out that it is not the kind of road game they are talking about. Beast Boy happily shouts that they should play Slug Bug, and he stares out the window, scanning for a bug. Seeing one fly by, he punches Robin in the arm. Robin acknowledges Beast Boy's triumph. Starfire scolds Beast Boy, asking why he would punch Robin. Robin explains that it's part of the game: you look for a bug, and when you find one, you get to "punch someone in the arm!" Starfire, understanding the game now, sees a fly landing on Robin's head. She yells "Slug Bug!" and slugs Robin in the arm. While searching for more bugs, a beetle splatters all over the windshield. Starfire excitedly spots the squished bug and yells, "Oh! I see another insect!" She then punches Robin in the face, not listening to the punch-in-the-arm rule. Robin desperately says that she doesn't know how the game works, but Starfire doesn't listen. A swarm of bugs covers the T-Car, and Starfire punches him repeatedly in joy. Robin tries to explain that those were the wrong kind of bug. However, Starfire keeps socking him, hurting Robin, pleading to make it stop, as he suggests a game of "I Spy" instead. Robin then says: "I spy with my little-" but Starfire interrupts when she sees a fly land on Robin's forehead, punching him again in the face. Cyborg believes that it's starting again to feel like a road trip.
Robin then spots the H.I.V.E. with their truck broken down, and Cyborg suggests having a little fun with them. After all, they are superheroes. When they get close to the H.I.V.E., Cyborg then kindly asks if they need a ride to the mechanic. Gizmo agrees, saying it's nice of them. Cyborg then starts pranking him by getting farther away from him every time he tried to get in, every time saying: that time it's "For real." Then, The Titans leave Gizmo in the dust while Beast Boy yells again that he loves road trips.
A few minutes later, Beast Boy complains he feels bored again. Cyborg then asks why didn't they feel happy after all that pranking, and Starfire replies that maybe they are not the Road People. Robin then asks if they could go back to the Tower. However, Cyborg denies it, saying that "they are going to point B," and they will have fun. Robin then puts on music and starts dancing. However, Cyborg turns it off, saying: "Nobody wants to see your groove on!". Robin shows him how his cape is flying, making Cyborg incapable of seeing the road. Raven then gets carsick, and Starfire sees another fly, punching Beast Boy this time and asking why there are so many bugs in the car. Raven then vomits all over the T-Car's windshield, causing the vehicle to lose control because they can't see where they're going. Cyborg desperately yells that did they want to walk all the way home. The Titans agree and start walking their way to the Titans Tower, while Cyborg tries to apologize, saying it was an "empty threat." The Titans all agree that they are better off walking to the road. Cyborg then tries to convince the Titans to stay, saying they'll miss the best part of the road trip, hours 12 through 16. However, the Titans don't buy it.
Cyborg then tries to convince himself that he doesn't need the Titans and tries to play road games by himself. However, he ends getting himself lonely and hurt. Cyborg then finds the Titans, who were walking to the Titans Tower, sweating because of the desert's heat. Cyborg then tries to convince himself that he doesn't need the Titans and tries to play road games by himself. However, he ends up getting himself lonely and hurt. Cyborg then finds the Titans, who were walking to the Titans Tower, sweating because of the desert's heat. Cyborg then tries to convince the Titans to get in the car and apologize to them for getting them cooped up in it to drive them home. They initially declined, but later, they accepted it.
Later, they find the H.I.V.E. truck is driving straight towards them on the wrong side of the road. They hurry Cyborg to get out of there as fast as he can. He turns the car around while the truck is throwing missiles at them. Robin now believes that it seems like a team bonding. Cyborg asks if Starfire wanted to see some magic, and he makes them go faster with jet propulsion. However, the truck also had jet propellers and catches up. Cyborg then tries to put some spikes on the road, but the truck avoids them. He then tries to blind them with dust, but the truck avoids that too. Then, the truck shoots lasers at the T-Car. This forces Cyborg to put the car on autopilot and uses their lasers to destroy the gun. The truck then gets out a giant weapon, which made Cyborg retreat. Cyborg requests Beast Boy for help, but he claims he isn't sure if he has enough energy. Cyborg then pulls out a secret box full of snacks, which gave him enough energy to turn into a gorilla, and destroys the cannon. The H.I.V.E. then uses their secret weapons and were about to destroy the T-Car. Robin says that nothing is working, and Raven asks what she could do. Cyborg tells her to keep reading and turns around violently the T-Car, causing her to vomit again on the H.I.V.E Five truck's windshield. Unable to see anything, they crashed on a giant rock, causing a massive explosion while the Titans eventually escaped.
All the Titans celebrate, and Robin then adds that even though they didn't make it to their destination, they pretty much enjoyed their road trip. Cyborg then discovers at his G.P.S that they got to their destination, which was more desert road. When Robin says this, Cyborg remembers that it's not the destination that matters, it's the journey after all. While Beast Boy is relieved that it is finally over, Cyborg claims all they need to do now is get from point B to point A, which he defines as returning to the Titans' Tower, which he claims is the best part. However, the Titans disagree, saying that they'll never do that again. From now on, their current destination is where they will live, right in front of a B-shaped Tower in the middle of the desert.
Characters
Trivia
This episode aired one year after "Caged Tiger", and 10 years after the original Teen Titans episode "Titans East: Part 1".
This is the H.I.V.E. Five's second appearance in the second season. The first was "Money Grandma

"

.
Apparently, the T-Car is battery powered, as you can see a battery inside of the car.
Raven appears to have a book called Pretty Pretty Pegasus! The Novel.
When Starfire recalls her experience with her idea of "road games", Beast Boy rubs his head while glaring at her, which indicates he remembers that day well and not fondly.
Raven apparently gets carsick in a more extreme, yet similar fashion as when the other Titans teleport with her through her soul-self.

In real life, what causes motion sickness while reading is incoordination between the ears and the eyes. This can explain why Raven has a severe motion sickness.

The T-Car gets an update in this episode.
This episode aired on Rodger Bumpass's 63rd birthday.
In most versions of the show, Cyborg says that he taught his car how to speak Spanish. But in the Spanish dubbed episode, he tells the Titans that he taught his car to speak English. Starfire even tries communicating with the car in English by saying, "Hello, car!"
Continuity
The instrumental that Robin likes to listen and dance to on the car's radio is the same one from "Driver's Ed", with Robin even dancing to it in the exact same manner.
Raven's puke is black, which is the same color of Gray Raven's puke in "Colors of Raven".
Starfire's misunderstanding of popular Earth culture takes place once more since Knowledge: her idea of "road games" is playing fetch with Beast Boy near a busy street, and punching Robin whenever she saw a bug (insect) instead of a Bug (vehicle).
References
The way that Cyborg presented his new car to the Titans references the scene from "Car Trouble", an episode of the original Teen Titans series.
The zombie posters in the hallway of Titans Tower may be a reference to the resurrected undead heroes from the Blackest Night comic series.
Robin has a handheld console similar to a Nintendo DS/3DS/3DSXL
Beast Boy has a game system that is similar to an old 1989 Nintendo Game Boy.
Errors
Starfire is seen in an unbearable state in the heat, sweating and burning with the others while walking in the desert, which goes against her happy statement of the "glorious wave of heat" back in "Hey Pizza!".
When the H.I.V.E. is filling their tank, the gasoline hole is in the truck. However, when the Titans spray water on them, the hole is gone.
When Starfire punches Beast Boy, he breaks the window. However, in the next scene, the window is fine.
Cyborg says that there's only so much you can do with steering, when you can actually do a lot with steering.
Lauren Tom voiced Gizmo in this episode, but in the credits, she was not credited.
Running Gags
Raven constantly getting carsick and throwing up from reading.
The H.I.V.E. Five getting pranked repeatedly by the Titans.

The Titans constantly shouting out "Road Trip!"

The Titans becoming happy, then growing bored.
Starfire punching Robin or Beast Boy really hard in the face while trying to play "Slug Bug.

"

Robin jammin on to his favorite song.
Transcript
The transcript for "Road Trip" can be found here.
Gallery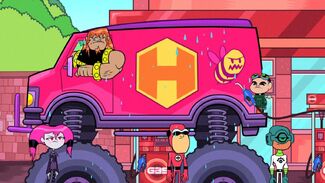 The image gallery for Road Trip may be viewed here.