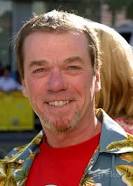 Rodger David Bumpass (born on November 20, 1951) is an American voice actor who voices Doctor Light. Bumpass reprised his role as the villain from the original Teen Titans series. Bumpass is most widely known for his role as Squidward Tentacles in the long-running Nickelodeon hit series SpongeBob SquarePants.
Teen Titans Go!
List of characters voiced by Rodger Bumpass.
Outside Teen Titans Go!
Squidward Tentacles, Additional Voices (SpongeBob SquarePants)