Santa Claus is a minor character who made a speaking debut in "The True Meaning of Christmas".
Bio
Santa Claus is a magical human being who lives at the North Pole and the main antagonist of the episodes "The Teen Titans Go Easter Holiday Classic" and "Halloween vs. Christmas". He put the Teen Titans on the Naughty List because they do not understand the true meaning of Christmas. They think about getting presents when it is actually about giving, friends, and family. He shows some hunger to obtain control over all the holidays.
In "Teen Titans Save Christmas", he originally quit his job, but decided to return by defeating the Titans by all means, yet gets punished by Sticky Joe, who loaded bags of garbage onto him in the end.
In "The Streak", he joined the Teen Titans with Tooth Fairy and Sticky Joe after Raven, Starfire and Cyborg left the team and became a substitute Titan.
Physical Appearance
Santa Claus appears how Santa Claus traditionally does. He is a big, fat, jolly old man with a long white beard. He wears a red coat with a matching red hat, green mittens, and a black belt and black boots.
Personality
For the majority of the time, Santa is being considered as a jolly, nice, old man who believes that the true meaning of Christmas is about family and friends, during his initial debut. However, he is later shown to be a very crazy maniac who can't stand other holidays that aren't Christmas and will attempt to do anything selfish to abolish them.
He also loathes the Titans on many occasions, and he even develops a bad habit of deeming them worthless by calling them "garbage kids" or "garbage children". In fact, he could've murdered Robin with his gun if Sticky Joe didn't come to the rescue in "Teen Titans Save Christmas".
Powers and Abilities
Skills
Relationships
Santa Claus was convinced by the titans that Christmas is also about presents and helped him to give every person in the world presents. But in "The Teen Titans Go Easter Holiday Classic" he began to hate the Titans because they wanted to stop him from taking over all the holidays. They became enemies and he often calls them "garbage children" and "garbage kids"
Later, the Titans once again try to stop him from taking over all the holidays. But after they defeat him three times, Santa gave up and became a good person again and befriended the Titans. But then he becomes their nemesis once again in "Teen Titans Go! vs Teen Titans".
Halloween Spirit and Santa likely know each other for a long time and they seem to be rivals in "Halloween v Christmas".
Episode Appearances
Films
Songs sung by Santa Claus
Game Appearances
Trivia
Gallery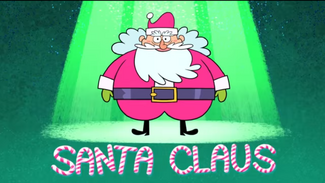 The image gallery for Santa Claus may be viewed here.