Sassypants is a cat alter ego used by Robin in the episode, Cat's Fancy.
Biography
Since Starfire always showed love and affection to cats, Robin decided to act like a cat to get Starfire to notice him, but it didn't work out as he hoped it would. It made it worse when the Titans said that they didn't want Sassypants because it was making Starfire into a "Cat Lady". So Starfire moved out of the Titans Tower with Sassypants into an apartment. Afterwards Starfire got more kitties which she found in a box. Several months later when Raven, Beast Boy and Cyborg visit, they tell Starfire to return and told Sassypants to come but he didn't listen. After they leave, Sassypants goes into the window and realizes that becoming a cat made Starfire love him in the wrong way and tries to get rid of the cats by pretending to be a dog.
Appearance
Sassypants wears a light purple cat suit, with a red collar. He has a pink nose and has two whiskers on the left side and right side of his face. However, since he's still technically Robin, his mask can still be seen.
Episode Appearance
Season 3
Season 5
Trivia
He may be a reference to the comic strip Garfield as he hates Mondays and eats lasagna.
Gallery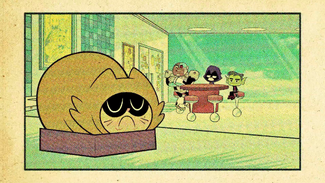 The image gallery for Sassypants may be viewed here.
Community content is available under
CC-BY-SA
unless otherwise noted.