Scott Menville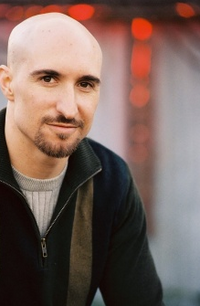 Role   -   Voice Actor
Character   -   Robin
Date of birth   -   February 12, 1971
Scott David Menville (born February 12, 1971) is an American actor, voice actor, and musician who voices Robin in Teen Titans Go! and in its previous series, Teen Titans and in New Teen Titans animated shorts.
He is best known for his voice work in animated films and television series. He also voices Ma-Ti in Captain Planet and the Planeteers, Sneezy in Disney XD's The 7D, Metamorpho in Batman the Brave and the Bold, J.T, Jimmy Jones, and Kenny Tennyson/Chrono Spanner from the Ben 10 Franchise, Bucky in Avengers Earth's Mightiest Heroes, Shaggy in Shaggy & Scooby-Doo Get a Clue, Red Herring in My Pup Named Scooby-Doo, Bucky Hensletter in Randy Cunningham: 9th Grade Ninja. He also plays the role of Duane in Full House and Fuller House.
Teen Titans Go!
List of characters voiced by Scott Menville in Teen Titans Go!:
Other Voice Roles
TV Shows and Movies
Teen Titans, TV Series (voice of Robin and Red X, 2003-2006)
Teen Titans: Trouble in Tokyo, Movie (voice of Robin, 2007)
Rugrats, TV Series (voice of Bucky Majors, 1991)
A Pup Named Scooby-Doo, TV Series (voice of Red Herring, 1988-1991)
The 7D, TV Series (voice of Sneezy, 2014-2016)
My Little Pony, TV Series (voice of Danny, 1984-1987)
Ben 10: Ultimate Alien, TV Series (voice of Jimmy Jones, 2010-2012)
Ben 10: Omniverse, TV Series (voice of Jimmy Jones and Chrono-Spanner, 2012-2014)
Shaggy & Scooby-Doo Get a Clue!, TV Series (voice of Shaggy Rodgers, 2006-2008)
Trivia
Scott Menville voices the most characters out of the voice cast on the show.
According to a Titans Trivia promo from CN of behind the scenes of Teen Titans Go!, he is envious that Starfire can fly.
He shares the same birthday with Tara Strong.
He refers to call Tara Strong his "superhero sister" due to the fact she voices Raven who he sees as a sister to his character Robin.
He is the voice of Riley from the Uncle Grandpa episode "Grounded".
He is one of the additional voices in 2 Stupid Dogs.
While answering a fan's question, he admitted he wants Robin and Starfire to hopefully get together in the series at San Diego Comic Con 2015. As they did in the original Teen Titans series.
He also voiced Teddy, Hanout, and Crook #2 from the original Powerpuff Girls series episode "Ice Sore".
He and Hynden Walch share the same birth month and birth year.
Outside his voice role as Robin, he appeared for the first time as himself in Teen Titans Go! in the episode, "The Self-Indulgent 200th Episode Spectacular!", along with the rest of the cast, in honor of the success of recording over 200 episodes for series.
Social Media
Gallery
The image gallery for Scott Menville may be viewed here.