"Second Christmas" is the thirty-fifth episode of the first season of Teen Titans Go!, and the thirty-fifth overall episode of the series.
Synopsis
The Titans trick Starfire into believing in a Second Christmas with a Second Santa.
Plot
The episode starts with the day being Christmas morning. The Titans get up and start celebrating. First they open their presents having Cyborg getting robot parts, Robin gets some capes, Starfire gets a Tamaranian toy, Beast Boy gets a yarn ball, and Raven gets a golden, limited edition, Pretty Pretty Pegasus doll. Next, everyone puts some "Ugly Christmas Sweaters". They all comment on how ugly they are, and Raven says yet there still festive. Beast Boy notices that it's snowing out. And everyone goes out to play. At night, everyone pigs out on a Christmas dinner. Everyone then yells "WE LOVE CHRISTMAS!"
But the next day, as soon as Christmas ends, Robin takes down all the Christmas decorations and tells everyone that he has a long and hard workout schedule ready for them. As he removes the Christmas tree, Beast Boy tells him that Christmas isn't over, but Robin breaks free of his grip, rudely tells him that it's over, and walks off. The other sad Titans decide they don't want to wait 364 days again until Christmas. Starfire announces that she plans to return to her home planet to celebrate the great Kergoff, as she does every year the day after Christmas. She says it is like a Tamaranian Christmas and is the most important holiday for her people. As soon as she leaves the room, Beast Boy, Cyborg, and Raven complain about how jealous they are that she gets to celebrate a "Second Christmas".
When Starfire hears them say the the words "Second Christmas", she pops back into the room, asking them if such a holiday really exists. The Titans decide to lie to her and tell her it does exist, and make her do all of the preparations for "Second Santa". They say if she truly believes, Second Santa will come and give them a Second Christmas Miracle. Robin walks into the room, and Starfire asks him if all of this is true. He tells her that no, it is not true, but Beast Boy convinces her that he is just a grouch who hates Second Christmas. Every time Robin tries to tell her that the Titans are playing a trick on her, she should punch him in the face, which she does.
After a day of celebrating, Starfire lights up the entire front wall of the Tower with neon Christmas lights. Robin tells them that they are insane, and the Tower's generator can't handle that much energy. Nobody listens, however, and Starfire punches him in the face again calling him "the grouch."
Later that night, Cyborg, Raven, and Beast Boy are proud of themselves, and decide that it is time for bed. Starfire decides she wants to stay up to see Second Santa. The three start to feel bad, but decide to go to bed anyways. Starfire goes to the roof, waiting for Second Santa by flying the Second Christmas kite and singing a Second Christmas song. Starfire begins to blame herself for Second Santa not coming, and nearly cries. The other Titans appear on the roof, and Robin forces them to tell her the truth. After hearing that they made her miss her home planet's festival, Starfire begins crying, and when Raven asks if she's okay, she becomes furious, and starts throwing starbolt-enhanced snowballs at them in a rage. Even Robin is attacked for "being the grouch". While the battle on the roof ensues, the Tower's generator finally overheats, with a gigantic explosion lighting up the entire island. The Titans lay unconscious in the hospital in their beds and in hospital gowns (expect Cyborg and Raven) while the Tower was being rebuilt.
The Titans and Silkie wake up in the hospital, confused. Robin checks the clipboard at the end of his bed, and realizes that the tower's explosion put all six of them in a coma for 363 days. Starfire claims that she was a fool for believing in a Second Christmas but Robin comforts her by saying that it was a Second Christmas miracle. They are all suddenly filled with excitement, realizing that tomorrow is Christmas Eve, and they didn't have to wait a whole year after all. Starfire looks out the window to see the real Second Santa, who provided them with a Second Christmas miracle.
Characters
Trivia
Robin is the only protagonist to not be an antagonist in this episode.
This episode aired one week after its original date; it was replaced by LEGO Star Wars: the Yoda Chronicles.
This is the last episode of Teen Titans Go! to premiere in 2013.
Starfire's snow angel being a cat could possibly be a reference to Tamaranians being descended from a feline-like race. Raven's snow angel is an obvious reference to her demonic heritage.
Raven doesn't act like a stoic like she does in other episodes.
Beast Boy's voice sounds slightly different in this episode.
This is the first Christmas and holiday episode of the series.
Continuity
References
The present Robin opens is a Superman cape.
A doll of Kid Flash and Green Lantern can be seen under the Christmas Tree.
Cyborg attaches his head onto a snowman and brings it to life. This may be a reference to Rankin-Bass' Frosty the Snowman.
The Second Christmas "Grouch" is a parody of the Grinch from the Dr. Seuss 1957 book, the 1966 animated television special directed by Chuck Jones, the 2000 live action remake directed by Ron Howard, and the 2018 CGI film from Illumination Entertainment.
Errors
Since 365 days is a full year, it would be New Year's Eve instead of Christmas.
Continuity Error: The Titans and Silkie end up in the hospital for 364 days. However, in "Be Mine", Terra escaped from her dimension six months after "Terra-ized". Although this could take place after "Be Mine" because the timeline in the episodes don't have to air in production order.
Some of the foods that the Titans were eating had meat in them, despite Beast Boy being a vegetarian.
Running Gags
The Titans celebrating Christmas and Second Christmas (except for Robin on Second Christmas).
Transcript
The transcript for "Second Christmas" can be found here.
Gallery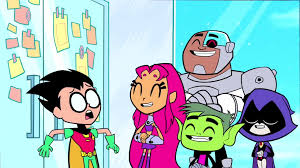 The image gallery for Second Christmas may be viewed here.
v - e - d Episode Guide
Season 1: April 23, 2013 - June 5, 2014
Legendary Sandwich • Pie Bros • Driver's Ed • Dog Hand • Double Trouble • The Date • Dude Relax • Laundry Day • Ghostboy • La Larva de Amor • Hey Pizza! • Gorilla • Girl's Night Out • You're Fired! • Super Robin • Tower Power • Parasite • Starliar • Meatball Party • Staff Meeting • Terra-ized • Artful Dodgers • Burger vs. Burrito • Matched • Colors of Raven • The Left Leg • Books • Lazy Sunday • Starfire the Terrible • Power Moves • Staring at the Future • No Power • Sidekick • Caged Tiger • Second Christmas • Nose Mouth • Legs • Breakfast Cheese • Waffles • Be Mine • Opposites • Birds • Brain Food • In and Out • Little Buddies • Missing • Uncle Jokes • Más y Menos • Dreams • Grandma Voice • Real Magic • Puppets, Whaaaaat?

Season 2: June 12, 2014 - July 30, 2015
Mr Butt • Man Person • Pirates • Money Grandma • I See You • Brian • Nature • Salty Codgers • Knowledge • Slumber Party • Love Monsters • Baby Hands • Caramel Apples • Sandwich Thief • Friendship • Vegetables • The Mask • Serious Business • Halloween • Boys vs Girls • Body Adventure • Road Trip • Thanksgiving • The Best Robin • Mouth Hole • Hot Garbage • Robin Backwards • Crazy Day • Smile Bones • Real Boy Adventures • Hose Water • Let's Get Serious • Tamaranian Vacation • Rocks and Water • Multiple Trick Pony • Truth, Justice and What? • Two Bumble Bees and a Wasp • Oil Drums • Video Game References • Cool School • Kicking a Ball and Pretending to Be Hurt • Head Fruit • Yearbook Madness • Beast Man • Operation Tin Man • Nean • Campfire Stories • And the Award for Sound Design Goes to Rob • The HIVE Five • The Return of Slade • More of the Same • Some of Their Parts

Season 3: July 31, 2015 - October 13, 2016
Cat's Fancy • Leg Day • Dignity of Teeth • Croissant • Spice Game • I'm the Sauce • Hey You, Don't Forget about Me in Your Memory • Accept the Next Proposition You Hear • The Fourth Wall • 40%, 40%, 20% • Grube's Fairytales • A Farce • Scary Figure Dance • Animals, It's Just a Word! • BBBDAY! • Black Friday • Two Parter • The True Meaning of Christmas • Squash & Stretch • Garage Sale • Secret Garden • The Cruel Giggling Ghoul • How 'Bout Some Effort • Pyramid Scheme • Beast Boy's St. Patrick's Day Luck, and It's Bad • The Teen Titans Go Easter Holiday Classic • Batman v Teen Titans: Dark Injustice • Bottle Episode • Finally a Lesson • Arms Race with Legs • Obinray • Wally T • Rad Dudes with Bad Tudes • Operation Dude Rescue • History Lesson • The Art of Ninjutsu • Think About Your Future • TTG v PPG • Coconut Cream Pie • Pure Protein • Open Door Policy • Crazy Desire Island • The Titans Show • Booty Scooty • Who's Laughing Now • Oregon Trail • Snuggle Time • Oh Yeah! • Riding the Dragon • The Overbite • The Cape

Season 4: October 20, 2016 - June 25, 2018
Shrimps and Prime Rib • Halloween v Christmas • Booby Trap House • Fish Water • TV Knight • Teen Titans Save Christmas • BBSFBDAY! • The Streak • The Inner Beauty of a Cactus • Movie Night • BBRAE • Permanent Record • Titan Saving Time • The Gold Standard • Master Detective • Easter Creeps • Hand Zombie • Employee of the Month: Redux • The Avogodo • Orangins • Jinxed • Brain Percentages • BL4Z3 • Hot Salad Water • I Saw You Dance • The Story in Your Eyes • Playing Hard to Get • The Night Begins to Shine • Lication • Labor Day • Classic Titans • Ones and Zeroes • Career Day • TV Knight 2 • Justice League's Next Top Talent Idol Star • The Academy • Costume Contest • Throne of Bones • Demon Prom • Thanksgetting • The Self-Indulgent 200th Episode Spectacular! • BBCYFSHIPBDAY • Beast Girl • Flashback • Bro-Pocalypse • Mo' Money Mo' Problems • TV Knight 3
Season 5: June 25, 2018 - TBA
The Scoop! • Chicken in the Cradle • Kabooms • Tower Renovation • My Name is Jose • The Power of Shrimps • Monster Squad • Real Orangins • Quantum Fun • The Fight • The Groover • Justice League's Next Top Talent Idol Star: Second Greatest Team Edition • How's this for a Special? Spaaaace • BBRBDAY • Slapping Butts and Celebrating for No Reason • Nostalgia is Not a Substitute for an Actual Story • Business Ethics Wink Wink • Genie President • Tall Titan Tales • I Used to Be a Peoples • The Metric System vs Freedom • The Chaff • Them Soviet Boys • Little Elvis • Booty Eggs • TV Knight 4 • Lil' Dimples • Don't Be an Icarus • Stockton, CA! • What's Opera, Titans? • Forest Pirates
Top of the Titans: April 27, 2018 - July 20, 2018
Raddest Songs • Best Love Songs • Beast Boy & Cyborg Songs • Dance Party • Best Rivals