"Secret Garden" is the twenty-second episode of the third season of Teen Titans Go!, and the one-hundred-twenty-sixth overall episode of the series.
Summary
Cyborg is building stress up, to the point where he directs his built-up rage onto the other Titans. To help calm him down, Starfire takes Cyborg into her own, little secret garden; a calming place full of peace, meditation, and relaxation.
Plot
The episode begins when Cyborg stretches and watches "Golden Girls" on TV, which turns out to be just three prunes in a bowl. Enter Beast Boy who claims dibs on Cyborg's remote, turns into a gorilla, and snatches it out of his hands. Raven's the next to enter the scene and claim dibs on the remote. She uses her magic to snatch it from Beast Boy. Now Robin drops in and uses a birdarang to claim dibs on the remote. Beast Boy, Raven, and Robin continue to fight over the remote, calling dibs on it. Meanwhile, Cyborg begins to lose his cool because the other Titans are not respecting proper dibs procedures. His blue circuitry and skin are starting to turn red.
Finally, cue Starfire. She wants "the dibs" on the remote and obtains it with a few eye blasts aimed at the other Titans. Cyborg has had enough. He runs away, sobbing and steaming. Starfire is worried to see her fellow Titan so distraught. She gives up her dibs on the remote to help him, leaving the rest of the Titans to fight over it like starving wolves.
In his room, Cyborg begins freaking out over how much he is freaking out. Starfire enters and explains to him that there are several stages of "the freakouts." Stage one is turning red, stage two is bulging veins, and stage three is grinding teeth. There is also the fourth stage, but no one's ever freaked out that much. Cyborg is at a loss of what to do. But Starfire has a solution. She carries Cyborg outside to a secluded area on the Titans' island.
With the pull of a hidden lever, a door opens from a bush, revealing a garden. It's a peaceful place full of flowers, trees, bunnies, butterflies, colorful birds, a stream, lawn gnomes, and various topiaries of Silkie and Batman. Cyborg becomes incredibly enthused by his surroundings and starts shouting. Starfire explains to him that her garden is a quiet place, and she encourages Cyborg to speak softer. His volume lowers from speakers to a megaphone, to a microphone, to a tinier microphone, and finally, the two are talking in hushed voices. And just like that, Cyborg is healed as he begins freaking in. He wonders why he never knew about the garden's existence. Starfire explains it's her secret, but that she trusts him with it. Cyborg next meets some of the critters in Star's garden, including a bird, a bunny, and a koi, which he mistakes for a chubby goldfish. Starfire feeds one of the koi, whom she calls Chubby Chops.
Cyborg and Starfire then sit down on a bench, letting the comfortable seat cradle their respective buttocks. The two take turns letting out relaxed sighs. Their sighs become more melodic, and just like that, the two are doing a duet in a magical fantasy garden.
Back in the Tower, Robin, Beast Boy, and Raven are now arguing over dibs on the Marshmallow Manhunter cereal. Cyborgs, still super relaxed, sees his friends in distress and offers them some help.
The scene then cuts to the Secret Garden once more. Starfire is about to join Cyborg on the bench when she notices that Robin has taken her place, has called dibs on it. Raven is in the garden as well, picking flowers, while Beast Boy is relaxing in the pond. Starfire is quite upset to see Beast Boy, Robin, and Raven in her secret garden. She tells Cyborg that the whole reason for her garden was to escape from the other Titans' stressful behavior.
And as if on cue, Starfire notices that Raven is draining the life and color from the flowers, claiming they were too colorful. Robin takes out a chainsaw and cuts down a tree to let in more light. As for Beast Boy, he's converted the koi pond into a hot tub, which boils poor Chubby Chops. Starfire laments the passing of her favorite koi and begins freaking out, becoming hot to the touch. She goes through all three freaks-out stages in a flash. Then she reaches the fourth stage of freaking out, which means her inner freak actually gets out, making her act crazy and angry. She flies off to Jump City, screaming and shouting the whole way. The other Titans are faring no better. Raven, Robin, and Beast Boy are freaking out over dibs rules, causing them all to go through the four stages and follow Starfire's lead into Jump City.
Thinking he's probably to blame for this, it's up to Cyborg to get his freaked-out friends freaked back in. He flies to downtown Jump City, finding them in the middle of a destructive rampage. Cyborg decides the best way to calm down his friends is to make a new garden. He takes some less-than-fresh bouquets from a flower shop and scatters them in the middle of the street. He then takes a beat-up, graffiti-covered bench from under Sticky Joe and puts it next to the flowers. He creates a fish pond by smashing a crater into the street and fills it with water from a nearby hydrant. The final touch for the garden is the animals, which Cyborg gathers from a pet shop. The rest of the Titans crawl over to the garden, and one by one is healed by its relaxing atmosphere.
Cyborg apologizes to Starfire for breaking his promise to not tell anyone about the garden, and she forgives him, understanding he only wanted to help his friends. The whole team relaxes around the garden until the peace is suddenly disrupted by Sticky Joe.
Characters
Trivia
This is the ninth episode to be leaked before its official air date.
This episode shows that Starfire trusts Cyborg the most out of all the other Titans.
This episode premiered with a rerun of "Garage Sale".
When Starfire is stressed out by all the other Titans, she goes to her garden.
This episode reveals that Raven knows life-force absorption.
On the back of the season 3 part 1 Eat. Dance. Punch! dvd, a few iconic moments from the season are shown on the dvd, including Cyborg in the secret garden from this episode.
Continuity
Raven is seen unhooded for the thirty-second time.
This is the third time that the Golden Girls are mentioned or referenced. The other two times were in "Oil Drums" and "Two Parter".
The garden gnomes from "Uncle Jokes" are seen.
The opening music of the Whistle Song from "Mouth Hole" can be heard.
The bushes in Starfire's secret garden are shaped like Batman.
This is the second episode to mainly focus on Starfire and Cyborg. The first was "Hose Water".
References
The title of this episode is an allusion to the classic book by Frances Hodgson Burnett, and the movie adaptation of the same name. Another version was made and released in 1987.
When Cyborg grabs a bench for his makeshift garden, the graffiti on it says "Why so serious?", which is the Joker's (played by Heath Ledger) quote in the movie, The Dark Knight.
A reference to Rampage is made during Robin, Beast Boy, Starfire, and Raven's stress attack on Jump City.
"Who's watches the Watchmen?" is the title slogan in Watchmen.
Stressed out Beast Boy (when he's red) is a possible reference to his early New 52 comic design.
Errors
Raven is hoodless when she reaches Stage 4, but when she turns back to normal, it's suddenly back on.
Running Gags
The Titans "calling dibs" on different things.
The Titans getting enraged with four stages of freak-outs.
Transcript
The transcript for "Secret Garden" can be found here.
Gallery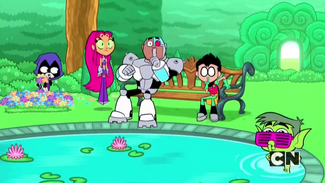 The image gallery for Secret Garden may be viewed here.