While there's a whole lot of bouncers out there, one particularly muscular doorman has recently been featured a few times in Teen Titans Go!, the Security Guard. He doesn't say all that much—instead, he focuses on keeping fools like the Titans away.
History
The Security Guard actually made his debut in Teen Titans Go! To The Movies, where he was a bouncer at the premier of Batman Again. The Teen Titans tried to gain access to the theatre, but since they weren't on the guest list, he couldn't let that happen. The Guard was doing his job well, but, unfortunately, he was dealing with superheroes... the team managed to bypass him thanks to one of Raven's demonic portals.
Later on, the Security Guard found a new job at the Big Game in Season 5's "Slapping Butts and Celebrating for No Reason". This time around, Robin was trying to sneak onto the field (again, uninvited) to apprehend a mystery villain. The first few disguises didn't fool the Security Guard at all, but eventually he caved when Robin came dressed as Bea Arthur. Apparently he has a soft spot for The Golden Girls actress...
Characteristics
One look at the Security Guard tells you that he's all about business. His outfit consists of a basic indigo suit, complete with black dress shoes, a white undershirt, and a red tie. There's a golden button pinned to his collar, which possibly denotes his task force affiliation or something. To keep people from knowing what he's looking at, the Guard sports a pair of dark shades. He also wears an earpiece in his left ear for some confidential info. To complete his look, the Security Guard has an intimidating mustache, along with a highly-honed hunky body.
Powers and Abilities
Weapons and Equipment
Skills
Appearances
Movies
Trivia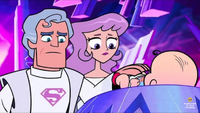 Gallery
Community content is available under
CC-BY-SA
unless otherwise noted.