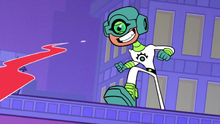 See-More (Seymour) is a member of the H.I.V.E. Five and a major antagonist of Teen Titans Go!. He is voiced by Kevin Michael Richardson.
Bio
In "Super Robin", See-More is seen with the H.I.V.E. Five robbing a bank. He fought Raven, but was easily defeated. He is the driver of the H.I.V.E. Five's monster getaway truck.
In "Artful Dodgers", he is on the H.I.V.E. Fivers' team and takes the role as bench player, along with Billy Numerous.
In "No Power", See-More is with the rest of the gang fighting the Titans, who are banned from using their powers. He ends up being attacked by a cat from Beast Boy. He walks back in the process, and gets crushed with Mammoth by a car.
In "Sidekick", See-More fought Raven, trying to shoot down bats, but Robin, who wants everything in place that Batman has, tells them to go home, and thus capturing Raven in a bubble that looks like his eye. He is then later blinded by smoke bombs and then punched in the eye by Robin.
In "Legs", he fights with the H.I.V.E. but gets starbeamed by Starfire multiple times.
In "Breakfast Cheese", he appears with the rest of the H.I.V.E. loitering. When the Titans attack, he runs away like the others, but is captured by Beast Boy and Cyborg, only to get shot by rockets later with the rest of the group.
When they appear again, they are angry at the Titans, and beat them up. The Titans have gone through a peaceful stage, so See-More is given a kitten, while they do positive things to the H.I.V.E. to make them peaceful. When they sing Peace and Love, See-More sings along with them.
In "Opposites", See-More commits another crime with the H.I.V.E., and shoots up cars in the air. He is later defeated by Starfire in the battle with everyone else, except Jinx, who has escaped. He sneaks away with the others when the Titans are distracted. He later appears with the H.I.V.E. check out a robbery (who have become good for Jinx to be with Cyborg under circumstances). When the Titans come out (who have also become bad for Cyborg). See-More leaves with the others when the battle finishes in the end.
In "In and Out", See-More is with the others, watching Gizmo discussing their plans of using a space battle station. Later, he fought Starfire, but both collapsed. After the H.I.V.E. Tower exploded, See-More went to the rest of the gang to the Titans Tower, where he stands and wipes his ear.
In "Money Grandma", he stands with the others, watching Billy Numerous and Mammoth using a conga line to rob a bank. He gets caught by the Titans, and gets beat up by Cyborg.
In "Operation Tin Man", along with Mammoth and Billy Numerous, he laughed at the jokes Cyborg was cracking. And when the Titans was shooting missiles in the tower it appeared as he was hit by one. He also fell into the ocean with the rest of the H.I.V.E.
In "The HIVE Five", See-More is with the rest of the team while Gizmo discusses his newest plan to destroy the Teen Titans. The others suggest plans to destroy them See-More suggests that when they make the Titans think they have gone soft they'll hit them with murder missiles, however, Gizmo declines with the rest of the ideas the team has. When he gets angry after the Teen Titans prank him, he tells the H.I.V.E. to have a day off and flies through the ceiling.
See-More makes caricatures of people, when Cyborg comes and asks for a caricature of him. See-More starts good, but gets overwhelmed by Cyborg when he asks for too many details, and Cyborg dislikes the drawing he made and says bad things to the line. See-More drops a tear and says "Curse you Cyborg!" as he stands in sadness.
In "Some of Their Parts", he and the rest make a cameo in the Titans battle scene. But See-More and rest are grabbed by Raven's Rage personality and after she yells "YOU ALL MAKE ME SO MAD!" she throws everyone across the screen.
In "I'm the Sauce", See-More participates in Robin's game of Heads-Up Seven-Up in order to make the clouds happy and go away.
In "Scary Figure Dance", See-More is seen dressed as a pirate for Halloween. It is also the second time in the show's run that he has any dialogue, along with Mammoth and Billy Numerous.
Physical Appearance
See-More wears a white jumpsuit that has a large eye design on the chest area. He has a light green pattern over his neck, as well as on his ankle and wrist guards, along with navy blue gauntlets and boots, and a black belt around his waist. See-More always has his helmet on, as he attacks by shooting lasers through the large, mechanical eye in his helmet. Though when he's without his helmet he's revealed to actually have only one eye.
Personality
See-More is one of the smarter and more helpful members of the team. He is shown helping Gizmo put in gas in the H.I.V.E. Five Monster Van.
In the episode "The HIVE Five", it's shown that See-More is an artist and that he might be the creative member of the H.I.V.E.
Relationships
Main article: See-More/Relationships
Powers and Abilities
Laser Eye: See-More can blast a very powerful eye beam.
Far Sight: See-More can see things further away with his eye.
Flight: See-More can fly with his eye activated.
Episode Appearances
Appearances in other Media
Comics
Game Appearances
Trivia
His villain name, "See-More," is used as a pun to his real name "Seymour".
See-More and Billy Numerous are the only two members of the H.I.V.E. Five to debut in "Super Robin".
In the original series, he was shown to have a crush on Jinx, but there has been no mention or relationship shown to be between them in this series.
Despite being a recurring villain, See-More, along with Mammoth and Billy Numerous, never spoke until The H.I.V.E. Five. He is voiced by Kevin Michael Richardson, his voice actor in the original series.
He is the seventh/eighth villain from the original series to return, along with Billy Numerous.
He likes drawing caricatures.
In the European Portuguese dub, he has the same dubber as Billy Numerous and Speedy.
He seems to be best friends with Billy Numerous, occasionally hanging around each other and huddling next to each other when they were scared of the Titans as ghosts.

However, in the original series, See-More was shown to be best friends with Kyd Wykkyd and in Teen Titans Go!, their relationship status with each other is unknown.

See-More shares the same power of electronic eye capabilities with Cyborg.
See-More is the only member of the H.I.V.E. to have never appeared once without anyone else from his team, unless you count his cameo in the comic, "Stare Master".
He is the only H.I.V.E. member who is shown on the Naughty List, as mentioned in "The True Meaning of Christmas".
It's revealed See-More has one eye under his helmet in "Costume Contest".
Quotes
The quotes for See-More can be found here.
Voice in other languages
Ferenc Elek (Hungarian)
Donald Reignou (French)
Krzysztof Szczepanik (Polish)
Gallery
The image gallery for See-More may be viewed here.