Oh, my gosh! Look how big I am!

--Silkie (His first speaking line in "Missing")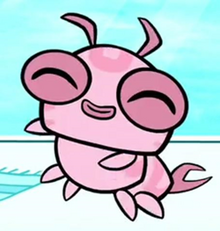 Silkie (Larva M3-19) is a supporting character in Teen Titans Go! and the mascot of the Teen Titans. He is Starfire's pet moth caterpillar, but seems to have average relationships with all of the Titans. His voice from "Missing" and his noises throughout the series are provided by Tara Strong.
Bio
Silkie was created as Larva M3-19 by Killer Moth for use in an army of giant mutant moths to overthrow and dominate Jump City. However, Killer Moth had to get rid of certain parts of his plan, when his spoiled daughter, Kitten, angry about her recent abandonment by her boyfriend, "Fang", decided to blackmail Robin into becoming her date for her Junior Prom. The plan failed spectacularly, and upon the destruction of the moth control device by Robin, all the mutant moths reverted from their adult state into their caterpillar state. Beast Boy secretly took Silkie home to the tower, and gave him to Starfire when she found out about it.
In "La Larva de Amor", he is left with the other Titans at the Tower when Starfire goes on a vacation. He ends up going to Mexico on a bucket through a chain of events. He ends up meeting a woman named Sonia Conchita Hernández. Sonia brings Silkie around and calls him her new 'boyfriend'. Her ex, named Carlos, finds out, and sets to kill him. However, Silkie easily defeats him. The next day, he heads back to the tower, and leaves Sonia to see Starfire.
Silkie has also appeared in most episodes of the Teen Titans Go! series. As seen in the episode "La Larva de Amor," Starfire loves Silkie so much that she would attack her friends when they fail to keep track of him. Also in the same episode, Silkie develops an extremely one-sided relationship with a Mexican woman known as Sonia Conchita Hernández, and saves her from Carlos, a Mexican crime lord. It is shown in the episode, "Driver's Ed," that certain berries which Starfire collects are bad for him. They make his face swollen and puffy, as if he was having an allergic reaction.
Personality
Silkie is characterized as being lazy, gluttonous and prone to barfing, yet intelligent and loving towards Starfire.
Physical Appearance
Silkie is a small, pink, mutant moth larva with light green eyes. Most of the time, Silkie has his eyes closed. He has six, nub-like legs and two antennae. He also seems to have a spot-like design on his body.
Inside his mouth, he has pointed yellow teeth, resembling that of a dog's. However, there are several rows of them, seen in "Little Buddies" during Cyborg's "Little Buddy Showdown". Silkie has the appearance of a large maggot, although he is technically a moth caterpillar rather than a fly.
Episode Appearances
Film
Comics
Trivia
Gallery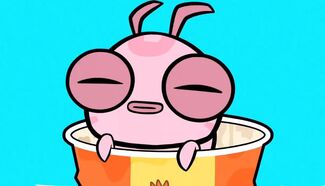 The image gallery for Silkie may be viewed here.