The Boy Wonder (also known as 60's Robin) is one of the many Robins who served Batman as a sidekick. He made a debut in Teen Titans Go! in "The Best Robin". He is voiced by Scott Menville.
Bio
Silver Age Robin appears in "The Best Robin" as one of the members of Team Robin. He was originally a partner with Batman, but Batman regularly gets new Robins, which explains the foundation of Team Robin.
As with Carrie Kelly and Tim Drake, Silver Age Robin was summoned by the original Robin because of the Teen Titans being too lazy to do some crime-fighting. However, after they rounded up the criminals out and about, the Titans started abusing Silver Age Robin's lust for being the best by asking him to get pizza and other requests. Eventually, the original Robin kicked him out of the Tower.
He later arrives when Robin accidentally does the Team Robin summoning call, on account of their capture by Brother Blood. Going in for the rescue, Silver Age Robin gets crushed by Pain Bot's giant hammer, and is tied up as well. However, Super Robin comes in right at the last second to save all of them, with Robin deciding that he is "The Best Robin".
Physical Appearance
He looks similar to Robin, but with a different, curly hairstyle. He also has a different costume, including short leggings that exposes his shaved legs. He seems to be a more calm and friendly version of Jason Todd. 
Abilities
Being a normal human person, Silver Age Robin lacks any powers. However, Silver Age Robin seems to have the same abilities as Robin, including well-tuned fighting skills, detective skills, and leadership.
Episode Appearances
Game Appearances
Trivia
His costume is similar to Robin's in his flashback from "Baby Hands".
Errors
There is a lot of confusion to figuring out if this Robin is Dick Grayson or Jason Todd. However, he shouldn't exist because Dick Grayson is already in the series but if he's Jason Todd, he shouldn't exist either because of the subtle hints in the series that says he's deceased.

It is revealed in "Flashback", that Dick Grayson is Silver Age Robin, which makes it confusing due to being seen as two different people in "The Best Robin".
It is very possible that time travel may be involved.
Gallery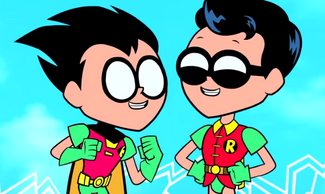 The image gallery for Silver Age Robin may be viewed here.