Slade Joseph Wilson (aka Deathstroke the Terminator), or commonly referred to as just Slade, is the arch-nemesis of Robin. He had his first speaking debut in the Teen Titans Go! the episode "The Cape", voiced by Khary Payton, and he is voiced by Will Arnett in Teen Titans Go! to the Movies where he is the main antagonist.
History
Slade, best known as the world's greatest enemy, is the Teen Titans' greatest enemy, particularly Robin's, who will stop at nothing to destroy them. Although he was the primary villain in the original Teen Titans series, Slade did not make any actual appearances in Teen Titans Go! until "The Titans Show".
Slade makes a brief appearance in the comic Silicon Valley Cyborg. When Robin asks Cyborg if he can be the VP of security, Cyborg tells him that he has already given the job to Slade. And with that, Slade sneaks up behind Robin and smacks him on the head.
Throughout the show, there are small, brief hints of Slade, such as on Robin's punching bag in "The Date". Slade has also affiliations with some other characters in the Teen Titans Go! series. Like Terra (possibly his apprentice/servant) and Rose Wilson (his daughter).
He finally makes a full speaking appearance in the feature film, Teen Titans Go! to the Movies, where he disguises himself as a movie director, Jade Wilson and creates tons of superhero movies to keep the heroes busy while he steals tech from all the cities they protect for his mind control device.
While attempting to obtain a crystal power source for his device, the Titans attempt to stop him, seeking him to be their arch-nemesis so they can obtain their movie as well, but using "Mind Manipulation" (really just simple tricks, such as the rubber pencil and pulling your thumb off trick), he swiftly defeats and insults them as he leaves.
Later on, he arrives at Wayne Tech to infuse the crystal's power and the Titans arrive to stop him once again, this time putting up an actual fight. They secure the crystal and store it in the Tower vault, but Slade escapes, resolving to split Robin from his teammates.
Later, disguised as Jade, he invites the Titans to Hollywood and announces that he will make a movie about them due to their recent fight. While Robin is given a tour of the premises, Raven, Beast Boy, Starfire and Cyborg venture out and cause mischief. They find a Doomsday Machine that is heavily guarded by the heroes and try to destroy it, but "Jade" arrives and reveals that D.O.O.M.S.D.A.Y., is just a terrible acronym for a new streaming service for the new movies. He resolves to drop the rest of the Titans from the film and make it solely about Robin, which he happily accepts, much to the consternation of his team, who wish him luck.
During a scene where Robin interacts with the Titans Tower vault door panel, a light falls and knocks him out. He awakens and finishes the scene where Slade reveals his disguise and his plan while getting the crystal back, destroying the tower as he leaves.
Later, during the Robin movie premiere, the Titans expose Slade to the other heroes, but Slade unleashes the crystal's power to control the other heroes and sends them after the Titans. Robin goes after Slade while the rest of the team leads off the heroes. However, Slade uses his device to control Robin and tells him to attack his friends who show him the rest of the movie they made for him. Robin comes to his senses, and the team attacks Slade together. However, Slade pulls out his back-up plan, a giant robot.
When he questions how they will defeat him, Robin tells him that it doesn't matter if everyone thinks they're a joke, because they're happy with each other. They then perform the same rap song from the movie's beginning, but this time, they work together to take down Slade and destroy his machine, who admits that the rap was too dope for him before he passes out.
Personality
Slade is a sarcastic, cunning, serious, manipulative and diabolical criminal mastermind who found himself being a reluctant nemesis for the Teen Titans. He viewed them as a joke for their rambunctious antics and only wanted to mind his evil plans unless they proved to be a major problem. Another thing that greatly annoyed him is being referred to as Deadpool.
As Jade Wilson, she presented herself as a friendly mentor figure for Robin, but in truth, she is an untrustworthy and manipulative person who preyed on the Titan's insecurities for her advantage and was merely a facade of Slade.
Appearances
Film
Comics
Other Media
Relationships
Slade sent Terra to infiltrate and destroy the Teen Titans. Terra posed as Beast Boy's girlfriend to get the Titans' most sensitive files. Terra ends up battling Raven and ends up left in another dimension alone for months.
Slade's daughter, Rose Wilson, is a well-known thief. She seems to not be impressed with her father's high level of crime, even though he bought her two swords that she uses often. This implies that their relationship is similar to Raven and Trigons.
Slade is the arch-nemesis of the Teen Titans, especially Robin. He is less than impressed to see the group's rambunctious antics, despite their tenacity to get in his way. Nevertheless, he proved himself as a formidable adversary through manipulating Robin through his insecurities and even managed to put all of the superheroes, except for the Titans, under his control.
References
In "The Date", a punching bag in Robin's room can be seen with Slade, Killer Croc, and Bane's faces on it (The Dark Knight Rises variant). The punching bag can also be seen in several other episodes where Robin's room is featured.
In the episode "La Larva de Amor", a Slade doll can easily be seen in the Titan's yard, with an arrow stabbed into it. It is likely that it is a failed voodoo doll.
In "Caged Tiger", a purple poster with Slade on it can be seen in the elevator. The Titans painted graffiti all over his face and drew a mustache and an eye-patch over his mask.
In "I'm the Sauce" Slade appears as a hangman on a chalkboard.
He appears as a lego figurine in "The Self-Indulgent 200th Episode Spectacular!"
His daughter is seen wearing a Slade mask in "Costume Contest".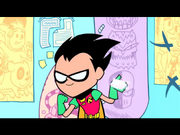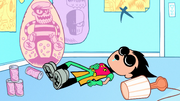 Trivia
Ron Perlman voiced Slade in the original series. Perlman reprised his role in the 2013 direct-to-video release Justice League: The Flashpoint Paradox.
At the Teen Titans Go! Comic-Con panel in 2013, Teen Titans Go!'s creators stated that they wanted to use Slade and Blackfire for the series, but they were unsure if they would be able to. However, Blackfire has appeared in the Season 2 Episode "Mr. Butt", and Slade was mentioned in the episode "The Return of Slade".
In this series, The H.I.V.E. Five replaced Slade as the main antagonist.
He is the twenty-seventh villain from the original series to debut in Teen Titans Go!
Slade's role in the first animated series is somewhat different from depictions in the comics, in the sense that he is a pure evil criminal mastermind, rather than a prominent mercenary who only leans evil and sometimes even fought for the Titans. However, he was willing to work for others if it benefited him (as he did with Trigon before the demon betrayed him).
The arrow in the Slade doll could be a reference to the CW's hit TV show Arrow, in which Slade is the main antagonist of the second season and recurring character throughout the series.
Slade's character basis "Deathstroke" was the inspiration for the famous Marvel comics anti-hero Deadpool, the similarity between the two is made fun of in Teen Titans Go! to the Movies.
He did not appear in the digital download of Silicon Valley Cyborg for an unknown reason.
He was teased to appear in "The Return of Slade", but was only mentioned and his head and mask were shown.
A Teen Titans Go! the version of Slade appeared on an alternate cover of Deathstroke issue number 8.
Gallery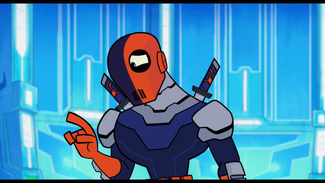 The image gallery for Slade may be viewed here.
Community content is available under
CC-BY-SA
unless otherwise noted.