"Slumber Party" is the tenth episode of the second season of Teen Titans Go!, and the sixty-second overall episode of the series.
Synopsis
When the other Titans find out about Cyborg's fear of the dark, they have a slumber party to help him face his "childish" fears.
Plot
It starts off with Cyborg singing the song The Night Begins to Shine before bedtime, and when he shuts down the lights and turns the night light back on before the power went out leading him to get terrified of the dark. As he attempts to find a light switch around in his room while screaming out loud, the Titans show up to see what's going on but Cyborg blasted them thinking it was an eight-eyed monster until Robin lit the lantern to reveal themselves.
Robin would prefer to check on the power grid in the next morning but Cyborg demands it right there and then, demonstrating that he's afraid of the dark while he claims he isn't scared of it but only what hides in it, which was Scary Teri, a young childhood game called Scary Teri according to his flashback after the last slumber party he had been to, where Cyborg was supposed to stand in front of a mirror and saying "Scary Teri" multiple times making him to scream in terror. The Titans don't believe the embarrassing story and decide to do another slumber party to unjustify his fear of dark for the whole night.
They brought their sleeping bags with a lantern on in the living room and starts a pillow fight while Robin is busy on constructing a blanket fort. Later on when Starfire suggested a game of truth or dare as another attempt to solve Cyborg's fear of dark, Robin hears it and wants to play with her by making her dare to kiss him or date him but Starfire was about to pick the truth, then when Robin asked Starfire if she could do that stuff, she said no. As Robin returns to his fort crying for his failure, the other Titans are listening to him then suddenly Cyborg thinks of a good dare. The Titans are sneaking up towards Wayne Manor and covering up the front fountain of a mermaid with toilet paper rolls making it a Batgirl fountain, ringing the door bell and hiding in the bushes. Batman and Commissioner Gordon opens and sees the covered fountain and starts to laugh about it.
Back at the Tower, just when the Titans thought they got rid of Cyborg's fear of dark due to their successful slumber party, Cyborg started to scream and shoots with lasers again after Robin turned on the lantern. They had no choice but forcing Cyborg to play the Scary Teri game as they pushed him into the bathroom. Cyborg with his candle plays the game and doesn't seem to be harmed for now but suddenly he gets busted out of the bathroom by Scary Teri herself. The Titans gets shocked by her appearance and starts to make a run for it after she scared them and while Robin is wondering how they're going to defeat her, Cyborg's solution is by mirror. While Robin claims that he has some mirrors in his room, Cyborg's mechanical eye is reaching towards Robin's room and sees Scary Teri blocking the entrance room, leading no choice for the Titans to go in Robin's blanket fortress.
They make a tour around the fort as they are amazed of its size and amount of blankets with pillows used until Scary Teri shows up as well and starts to chasing the Titans. They got eaten one by one by Teri until Cyborg is the only one left to face her with a mirror by playing the game again. he chants "Scary Teri isn't scary." three times which sucked up Scary Teri in his mirror. The other Titans are also free out of the blanket fort while Cyborg enjoys his victory and the lights are back on. Just when they were celebrating their end of their slumber party, Cyborg breaks the mirror and the power went out again, making him screaming and shooting with lasers again. While in the meantime back at the mansion, Batman and Gordon were still laughing at the covered statue, and the episode ends.
Characters
Song
Trivia
This episode aired 10 years after the original Teen Titans episode "Deception".
This episode is very similar to the original series episode "Fear Itself".
This is the first episode of the second season to have Batman and Commissioner Gordon in it. Both appear to have undergone another redesign, as Batman has a bigger chin, and Gordon is no longer fat.
This is the first time that the seagull is not on the rock in front of the Tower. Instead, there is a crab.
Robin is revealed to have an aunt named Cecilia.
It's revealed that Cyborg is afraid of the dark.
It is revealed that Robin speaks in a lisp when he wears either a nightbrace or braces (or both).
Continuity
Raven wears the same pajamas she wore in "Dreams" and "Man Person."
Beast Boy and Starfire's pajamas are seen again in this episode. The first time was in "Dreams".
Instead of wearing pajamas like he did in "Dreams", Robin is shown wearing his usual T-shirt and boxer shorts from "Dude Relax" and "Terra-ized" However, he is seen wearing a night brace that he's never used before.
This is the fourth time we see Batman and Gordon together. ("La Larva de Amor", "Girl's Night Out", "Sidekick")
This is the first time that The Night Begins to Shine has been played. The second is in 40%, 40%, 20%, which the episode is based on.
Robin has an aunt named Cecilia, which is also the name of Jessica Ramsey's aunt in The Babysitters Club franchise.
"The Night Begins To Shine" can be heard when the Titans are TP-ing the statue outside of Wayne Manor.
References
Starfire calls the game "Truth or Dare" "Candor or Audacious Undertaking", Candor meaning the act of being honest.
This episode shares the same title from episodes of We Bare Bears and Clarence.
Scary Teri is a parody of Bloody Mary, including the mirror legend.

The plot of this episode is similar to the Bunnicula episode, "Muddy Harry".

The "False Bod" words which were sprayed onto the Superman statue is a reference to "False God" sprayed by Wallace Keefe from Batman Vs Superman.
Errors
This is the second episode in the series so far without a preview given before its air date. The first was "I See You."
Robin reveals that he always has to wear a night brace at night time. However, in every other episode, he has not needed one. 
Cyborg is afraid of the dark, but in previous episodes, he is shown sleeping without lights.
Cyborg is shown already a robot in his flashback, even though he wasn't a half robot until his teen age. The same thing happened in "Dog Hand".
Running Gags
Cyborg mistaking the other Titans as an "eight-eyed monster" and blasting them with a laser.
Cyborg being afraid of the dark.
The other Titans not believing Cyborg about Scary Teri.
Robin wearing a teeth brace contraption and talking weirdly.
The Titans playing truth or dare.
Transcript
The transcript for "Slumber Party" can be found here.
Gallery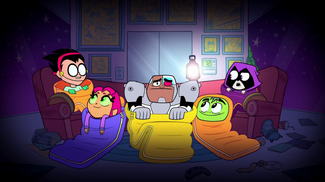 The image gallery for Slumber Party may be viewed here.
Community content is available under
CC-BY-SA
unless otherwise noted.