"Smile Bones" is the twenty-ninth episode of the second season of Teen Titans Go!, and the eighty-first overall episode of the series.
Synopsis
When Cyborg and Beast Boy teach the others to wolf down their food, the group must battle their own obesity when they follow Cyborg and Beast Boy's lead of eating too fast.
Plot
The episode begins with the Titans having a formal dinner, savoring every bite of their food. However, Cyborg devours the entire sandwich in one shot without even biting. The Titans watch in disgust. Robin shuddered and said that he didn't even used his teeth. Cyborg got confused, as he had never heard the word "teeth" before. However, Beast Boy tells him that they were probably speaking about their "smile bones." Cyborg asks who calls smile bones "teeth." Beast Boy points out that they were people who "did not know how to eat", because they were chewing their food. Raven said that they were inhaling their food, but Beast Boy pointed this out by inhaling all of the Titans' food and plates. Starfire wanted to try inhaling the food, but choked, and spit the bit into Raven's mouth. Beast Boy congratulated her, and said that the point of eating is getting as much food in your belly as quickly as possible.
However, Robin pointed out that the point of eating is cherishing every bite, because food, for food not only gives us life, it is life. And told them that they did not want them to end up with "The Belly". A voice then asks what's wrong with a beautiful belly, which startles Robin, and asks who wants to challenge him. However, it was Beast Boy's belly, who said that their bellies are nothing compared to them, and Beast Boy tried to calm his belly down. Raven said that that was disgusting. Cyborg asked if he was challenging them before Starfire greeted the bellies, saying that she has nine bellies, but none speak. Robin explained that they were just squeezing their fat around to make it look like they were talking, but Beast Boy's Belly asked who he was calling fat, and called him shorty. Robin screamed to him that he was the average height for a male of his age, and warned them that they may be talking with their bellies now, but later, the bellies will speak for them. Beast Boy's belly was about to insult him, but Robin quieted them, and asked them to take small bites and cherish each moment, and use their teeth. Cyborg's belly told them that they were called Smile Bones, and they were the ones that did not know how to eat, and Beast Boy's belly told Robin that he could try to slowly enjoy and savor their food if they can.
The next day...
Beast Boy and Cyborg started pranking the other Titans by inhaling all their food when they tried to eat, from cereal and sandwiches, to popcorn, bowls and vases.
Subsequently, while Beast Boy and Cyborg were complimenting their big bellies, the Titans came and begged them for food. Beast Boy asked why didn't they asked them sooner, and threw a pizza to them. The Titans then complimented the pizza, saying how much they would enjoy it, but Cyborg and Beast Boy ate everything before they could dig in. Cyborg told them that they were complimenting their food before even eating, and Beast Boy said they ate too slow. Raven then gave up and asked them how to eat the right way, but Robin reminded her of "The Belly". However, Starfire also gave up, and Robin asked them if they were ready to give up because of a little hunger. However, Robin gave up before finishing the sentence.
Later in the backyard, the Titans lined up with their bellies outside, while Cyborg and Beast Boy complained about the bellies as they examined them. When they asked what did they had to say for themselves, they told them to speak with their bellies. They all did except for Starfire's who did not know how they did that. Cyborg acknowledged that they had a lot of work to do.
Cyborg and Beast Boy then asked them to turn in their smile bones, and Robin asked if they were going to store them in a sanitary place, and Cyborg said yes, because they were in a bucket. Then a training montage began.
One training montage later...
The Titans earned medals for learning to eat right, and Beast Boy returned their smile bones. However, they received the wrong ones, so they exchanged. Cyborg asked the bellies how they felt now, and they all answered that they wanted to eat. However, the bellies got into an argument over who is the bigger belly, and thus the leader. Then they settled on one solution: to belly up.
One eat-off later...
All the Titans complained that they could not eat any more, for their bellies could not take any more. Beast Boy and Cyborg laughed, because their bellies were much, much bigger than theirs. However, they were not them who laughed, it was their bellies. The Titans didn't believe them until their bellies started growing arms and legs. Robin said "The Belly" was happening. They gave too much power to their bellies, and they were taking control. The belles were now fully humanoid-like, and they said that they should go search for more food. The Titans said that their obsession of food was controlling them and there was only one way to stop it: to make them enjoy their food, but before they could take care of their bellies, they had to take care of theirs.
Following...
The Bellies were rampaging the town, eating everything they could find. From sandwiches and tacos, to hundreds of bags of popcorn, to thousands of hot dogs, to even a goat and a pig.
Ensuing...
Their bellies have grown skyscraper-size. Eating thousands of food items. They said that there was tons of food, and that this earth would be very easy to control. Cyborg and Beast Boy said that it was getting out of hand, and that they needed help. The Titans then appeared, and said that they were going to teach the bellies how to eat. Raven and Starfire went to both bellies to give Cyborg and Beast Boy a decent meal. As they started eating it bite to bite, their Bellies began to shrink, to the point that they were to their ordinary size. Robin said that he hoped everyone learned a lesson of savoring their food, and Beast Boy and Cyborg said yes in agreement. Robin said that there was one more thing: "BIGGEST BELLY IS IN CHARGE!" As Robin reveals that he still has his belly, the episode ends.
Characters
Random Dude Lady
Trivia
This episode aired one year after "Waffles."
When Raven removes her "smile bones," she is shown to have rather fairly long and sharp canine teeth, referring to the fact that she is of demon origin.
Continuity
This is the third episode which involves the Titans dealing with a cause of obesity. It previously happened in "Double Trouble" and "Vegetables".
This is the fourth time one of Robin's ridiculous warnings turns out to be correct. It also occurs in "Parasite", "Sandwich Thief", and "Hose Water".
This is the fifteenth time that Raven is seen unhooded.
This is the Little Girl's first appearance in Season 2 and her first appearance since "Lazy Sunday".
Raven is revealed to have a six-pack, and she kept that six-pack since "Vegetables".
It's revealed that Cyborg has had his smile bones since the beginning of the show and Beast Boy keeps his since he lost his REAL teeth by shattering them when he tryed to open a pickle jar in "No Power".
References
Cyborg and Beast Boy "vacuuming" up food might be a reference to Kirby, who does a similar thing.
Starfire is shown having nine stomachs, which her species were established to have in the original Teen Titans series episode "Mother Mae-Eye".
The Belly Bros at the theater and seeing food dancing is a reference to "Let's All Go to the Lobby", a 1953 animated musical snipe played as an advertisement before the beginning of a main film.
"Belly Bros" was also the name of the very first episode of Uncle Grandpa.
Cyborg and Beast Boy's ''belly talk", the same thing Chowder did from the Chowder episode called "The Rat Sandwich".
Errors
Cyborg and Beast Boy have referred to teeth by their proper name before, as they did in "Legendary Sandwich".

Also in "Legendary Sandwich", Cyborg commented that Beast Boy couldn't eat the sandwich without any teeth, even though in this episode they had devised a method to eat without using their teeth.

Beast Boy once again eats meat, despite claiming to be a vegetarian.
After Cyborg and Beast Boy's stomachs have taken them over and walked away, Starfire is shown laying on the ground with one stomach instead of nine.
When Beast Boy had teeth, he had the normal shape of his teeth rather than the fangs.
When Carly Halpern Glaser, a writer in this episode, is credited, her last name is misspelled "Graser".
Running Gags
Beast Boy and Cyborg "wolfing down" the food that they eat.
Transcript
The transcript for "Smile Bones" can be found here.
Gallery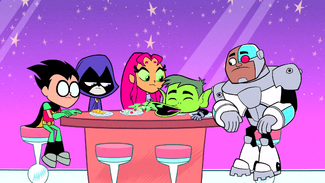 The image gallery for Smile Bones may be viewed here.