"Snot and Tears" is the thirty-sixth episode in the fifth season of Teen Titans Go!, and the two-hundred-forty-fifth overall episode of the series.
Synopsis
Robin tells the Titans to stop being reckless teens or the Creepy Catcher will get them.
Plot
Another day at Superhero Summer Camp... the Titans are currently paying their respects to Robin's underwear, which they've strung up the camp flagpole. They immediately regret their prank, though, when Robin walks out, totally exposed. After snapping on his underwear, Robin gives the team a stern warning about misbehaving at summer camp—if they keep acting up, the Creepy Catcher will snatch 'em. Everyone but Bumblebee sets off to disprove his forewarning, so Robin decides to film the Titans' demise as a great horror movie. Over-dramatics and all.
A crazy kidnapper on the loose? No worries for Beast Boy. He decides to strip and take a dip in the lake naked, alone with nature. Only, he's not alone... A bloodcurdling scream draws Robin and Bumblebee to the lake, where they find Beast Boy's clothes, but no Beast Boy. Robin reopens his video journal to give a sob story (and gloat for being right about the Creepy Catcher).
Elsewhere in the forest, Cyborg is hosting a game where players try to guess which shell holds a pea. After outsmarting Más y Menos, Starfire wonders what kind of black magic is afoot. But there's no magic—Cyborg simply just slips the pea under a different shell when no one's looking. Delighted by this foul play, Starfire begins hosting the game. For some reason though, she is brutally roasting and bruising Kid Flash for losing. Her tyrannical game is cut short, though, when something emerges from the bushes... After hearing a shriek, Bumblebee and Robin run to the scene, but too late. Time for another video, this time with puppy filters.
Enjoying a wild party at the Flash's cabin, Raven heads towards the basement to grab a few supplies. Robin and Bumblebee arrive to warn her NOT to go in there thinking that the Creepy Catcher is here, but Raven is just so rebellious. But after a few false alarms, she's eventually taken. The two remaining Titans run for their lives, and Robin manages to save himself by staff-whacking Bumblebee. After self-congratulating himself, Robin starts shooting another video, only to be interrupted by some screeching. He goes to check it out to see the Creepy Catcher about to kill Más, but no.
To his surprise, the Titans are playing baseball with the Creepy Catcher... he's actually just a sports enthusiast who needed some players. Sad that he wasn't invited, Robin records one final video, sobbing over his loneliness.
Characters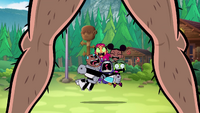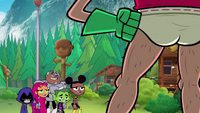 Main Characters
Cameos
Trivia
The other Titans East members are now at summer camp in this episode, so they've apparently recovered from the diarrhea they had in "Forest Pirates".

Despite the whole point of joining the Teen Titans was because the Titans East were ill, Bumblebee continues to stays with the Titans up until "The Viewers Decide" instead of returning to the Titans East for unknown reasons.

Miss Martian is seen admiring Superboy, referencing their romantic involvement.
Continuity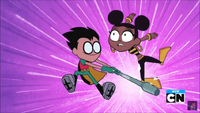 References
The opening song to honor Robin's underwear is a spoof of America.
Robin's incoherent crying (as well as his tears), is likely a reference to the indie game, the Binding of Isaac.
Errors
Running Gags
The Titans getting abducted by the Creepy Catcher one by one.
Robin crying and green snot coming out like Niagara falls out of his nostrils.
Transcript
The transcript for "Snot and Tears" can be found here.
Gallery
The image gallery for Snot and Tears may be viewed here.