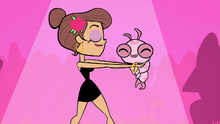 Sonia Conchita Hernández is a minor character in Teen Titans Go! and the admirer of Silkie. She is voiced by Nika Futterman.
Bio
Silkie met Sonia in Mexico and her upset ex-fiancé, Carlos. Carlos then captures both of them when he found them dancing at a Mexican club. Silkie escaped, but Carlos found and attempted to fight him, only to fall off the balcony. 
The next day, Silkie freed Sonia and she had to kiss Silkie good-bye and suffers the pain of losing him. She can be seen crying in the background when Silkie floated away. 
Physical Appearance
Sonia is a tall, attractive, and slender Mexican woman with brown hair that is put up into a bun. She wears a magenta bathing suit at the beach, gold hoop earrings and a lifted pair of sunglasses. When not at the beach, she wears a black dress with pink heels and a flower in her hair. She also wears lavender eye shadow and has a beauty mark on her right cheek.
Episode Appearances
Trivia
Sonia is a parody of Spanish Soap Opera (telenovela) heroines. The majority of them tend to be damsels in distress, waiting for their men to rescue them.
Sonia thinks that Silkie will save the day (which does happen due to sheer luck). 
Sonia is bilingual, speaking both English and Spanish.
Sometimes her name is mistaken as "Soña" or "Sonya".
Though Sonia doesn't like Carlos, it is still unknown how they got in a relationship.
Gallery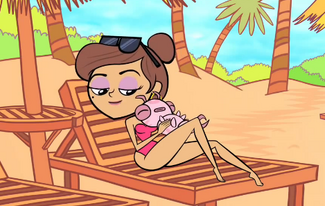 The image gallery for Sonia Conchita Hernández may be viewed here.