"Staff Meeting" is the twentieth episode of the first season of Teen Titans Go!, and the twentieth overall episode of the series.
Synopsis
When Robin's beloved staff is broken by the other Titans, Robin becomes so devastated that he goes on a perilous quest to the ancient Universe Tree to find a new magic staff to replace it.
Plot
Robin calls a "staff meeting", and begins striking the other Titans with his staff. He finally begins the actual meeting, and announces some statistics showing that vigilance and justice has gone down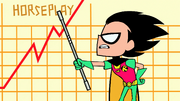 lately, yet horseplay has gone up. He turns and sees Beast Boy as a horse playing with Cyborg. He then says that they should be more like his staff, which annoys the Titans that he treats the staff like a person, especially since he talks to it. Starfire initially comes to Robin's defense in saying that on Tamaran, many people talk to lumps of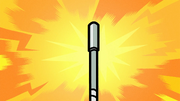 wood, but then says that those people are banished from the city and fed to a creature called the Dorpnug.
Then the Titans make the mistake of calling his staff a stick, "offending" the staff and Robin. They keep calling it a stick and the staff (or more likely Robin)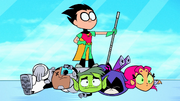 snaps and attacks the Titans, beating them into submission. During that, Robin even calls the staff his best friend and the best sidekick ever.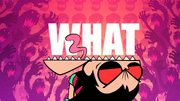 He then leaves to go hang out with his staff.
The next day, the Titans are having breakfast, when Beast Boy comes in and asks for a plunger. Starfire suggests using Robin's staff and he does, and it does the job very well. Beast Boy admits how awesome it really was and the rest of the Titans start to use it. Raven uses it to fight the Demon back into its portal again. Starfire uses it for limbo with Silkie. Beast Boy uses it again, but this time to hit a piñata shaped like Batman. Cyborg uses it to turn on the TV from a distance. They all want to use it and fight over it, but Beast Boy has a better idea. He breaks it into four so they can all use it, but then realizes that was a mistake because he broke Robin's staff. Raven tries to fix it with a magic spell, but only ends up knocking down Cyborg in the process.
The next morning, the Titans are trying to glue and tape the staff back together when Robin walks in. He asks for his staff but all the Titans try to hide it from him. Then Starfire breaks and admits what they've done. Robin is at first enraged but Cyborg calms him down telling him it will all be okay. Robin tries to make it seem ok, but after a failed fight with Doctor Light where his staff failed to do anything, he starts getting very upset. He starts crying hysterically and Raven suggests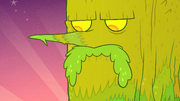 to the other Titans to give Robin alone time with his broken staff and they agree. After a fight with Cinderblock, where Robin is too sad to take him down, the Titans decide that he needs a new staff.
Raven tells Robin of the Universe Tree where he can go get a new one. Robin at first declines, but then Raven tells him it would be magic, so he accepts. Robin starts the long and dangerous journey and quickly finds a root on the side of a mountain to use as a staff to help him with the journey, using it to vault over things and assist him in acrobatic jumps. He gets to the Universe Tree and it tells him that the journey has already given him a staff, in the form of that root, but Robin doesn't want it because it's just some dirty root with bird dookie on it. He chops down the Universe Tree to get a new staff. He takes the Universe Tree's nose for a staff and he still talks through that staff.
The Universe Tree and Robin turn out to be a great team, with the Universe Tree able to talk out loud, bite, and move itself, as well as being an effective thing for Robin to hit people with. Robin calls another staff meeting and the Universe Tree smacks the Titans himself.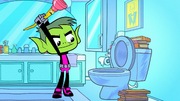 Robin seems to accept his new staff, but then Cyborg gives him his old staff back, completely repaired; Raven had found a spell that repaired it properly. Robin quickly forgets the Universe Tree and throws him in the trash and goes on to hang out with his old staff again and the titans are really glad to see robin happy again. The Universe Tree asks what he can do now, annoyed, and the episode ends with Beast Boy using the Universe Tree as a plunger.
Characters
Trivia
This is Doctor Light and Cinderblock's first appearance in the show.
This episode clearly shows that Robin cares more about his staff than his friends.
This was Michael Ryan's first and only episode as a writer.
Continuity
At the start, Robin is once again shown commandeering the other Titans with an iron fist, similar to how he did so in "Gorilla".
The '80s nostalgia theme from "Tower Power" plays when Beast Boy asks the Titans as an elephant where he could find a plunger.
Raven is still attempting to banish the Demon that appeared in "Driver's Ed", in which she succeeds this time.
Starfire being unable to lie is consistent with "Starliar", where Cyborg stated she never lied.
The special suit made by the old people in "Hey Pizza!" is shown hung in Robin's closet.
The Mr. Freeze ice cream container from "Double Trouble" and the Riddler on a question mark from "Parasite" both return in this episode.
When Raven tells the sobbing Robin that he can get a new staff from the Universe Tree, the receptionist theme from "You're Fired!" plays.
When Raven summons and reads the Ancient Legends book, she's in the exact same pose as she was when reading it in "Legendary Sandwich".
This is the second episode to be based off of an ancient legend. The first was "Legendary Sandwich".
When the Universe Tree comes alive to Robin, music previously heard in "Legendary Sandwich" and "Starliar" plays.
When Robin is reunited with his old repaired staff, the music previously heard in "The Date" and "Laundry Day" plays.
Robin's fragile mental state is shown for the second time. The first was "The Date".
References
While Robin sleeps, he wears a hat similar to Noddy's, a character of a children's show and book by Enid Blyton.
Beast Boy uses the staff to hit a Batman pinata.
The words "For three thousand lives of men, I've bestowed wisdom and knowledge", said by the Universe Staff, are a reference to The Lord of the Rings: The Two Towers, where the wizard Gandalf the White uses a similar phrase.
The Universe Tree looks identical to the Great Deku Tree from The Legend of Zelda: Ocarina of Time, in both the N64 and 3DS versions. They both even have some sort of mustache.
The Tree is also similar to Whispy Woods, a recurring boss in the Kirby Series
The way Robin acts towards his staff, even going crazy when it's broken, may be a reference to the creature Gollum, from both The Hobbit and The Lord of the Rings, and his obsession with the One Ring.
Errors
The suit that the old people made Robin is seen in his room, even though he threw it away in the episode it debuted in. It's possible that he was just trying to hide it from Starfire.
When Raven whacks the Demon with Robin's staff, her legs are plumper than normal.
Running Gags
Robin continuously being sad that his staff was broken (at the end, he was perfectly fine).
All the other Titans (beside Robin) fighting for the staff.
Transcript
The transcript for "Staff Meeting" can be found here.
Gallery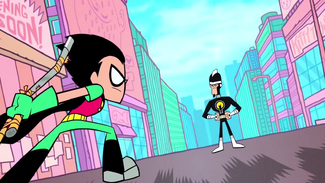 The image gallery for Staff Meeting may be viewed here.
v - e - d Episode Guide
Season 1: April 23, 2013 - June 5, 2014
Legendary Sandwich • Pie Bros • Driver's Ed • Dog Hand • Double Trouble • The Date • Dude Relax • Laundry Day • Ghostboy • La Larva de Amor • Hey Pizza! • Gorilla • Girl's Night Out • You're Fired! • Super Robin • Tower Power • Parasite • Starliar • Meatball Party • Staff Meeting • Terra-ized • Artful Dodgers • Burger vs. Burrito • Matched • Colors of Raven • The Left Leg • Books • Lazy Sunday • Starfire the Terrible • Power Moves • Staring at the Future • No Power • Sidekick • Caged Tiger • Second Christmas • Nose Mouth • Legs • Breakfast Cheese • Waffles • Be Mine • Opposites • Birds • Brain Food • In and Out • Little Buddies • Missing • Uncle Jokes • Más y Menos • Dreams • Grandma Voice • Real Magic • Puppets, Whaaaaat?

Season 2: June 12, 2014 - July 30, 2015
Mr Butt • Man Person • Pirates • Money Grandma • I See You • Brian • Nature • Salty Codgers • Knowledge • Slumber Party • Love Monsters • Baby Hands • Caramel Apples • Sandwich Thief • Friendship • Vegetables • The Mask • Serious Business • Halloween • Boys vs Girls • Body Adventure • Road Trip • Thanksgiving • The Best Robin • Mouth Hole • Hot Garbage • Robin Backwards • Crazy Day • Smile Bones • Real Boy Adventures • Hose Water • Let's Get Serious • Tamaranian Vacation • Rocks and Water • Multiple Trick Pony • Truth, Justice and What? • Two Bumble Bees and a Wasp • Oil Drums • Video Game References • Cool School • Kicking a Ball and Pretending to Be Hurt • Head Fruit • Yearbook Madness • Beast Man • Operation Tin Man • Nean • Campfire Stories • And the Award for Sound Design Goes to Rob • The HIVE Five • The Return of Slade • More of the Same • Some of Their Parts

Season 3: July 31, 2015 - October 13, 2016
Cat's Fancy • Leg Day • Dignity of Teeth • Croissant • Spice Game • I'm the Sauce • Hey You, Don't Forget about Me in Your Memory • Accept the Next Proposition You Hear • The Fourth Wall • 40%, 40%, 20% • Grube's Fairytales • A Farce • Scary Figure Dance • Animals, It's Just a Word! • BBBDAY! • Black Friday • Two Parter • The True Meaning of Christmas • Squash & Stretch • Garage Sale • Secret Garden • The Cruel Giggling Ghoul • How 'Bout Some Effort • Pyramid Scheme • Beast Boy's St. Patrick's Day Luck, and It's Bad • The Teen Titans Go Easter Holiday Classic • Batman v Teen Titans: Dark Injustice • Bottle Episode • Finally a Lesson • Arms Race with Legs • Obinray • Wally T • Rad Dudes with Bad Tudes • Operation Dude Rescue • History Lesson • The Art of Ninjutsu • Think About Your Future • TTG v PPG • Coconut Cream Pie • Pure Protein • Open Door Policy • Crazy Desire Island • The Titans Show • Booty Scooty • Who's Laughing Now • Oregon Trail • Snuggle Time • Oh Yeah! • Riding the Dragon • The Overbite • The Cape

Season 4: October 20, 2016 - June 25, 2018
Shrimps and Prime Rib • Halloween v Christmas • Booby Trap House • Fish Water • TV Knight • Teen Titans Save Christmas • BBSFBDAY! • The Streak • The Inner Beauty of a Cactus • Movie Night • BBRAE • Permanent Record • Titan Saving Time • The Gold Standard • Master Detective • Easter Creeps • Hand Zombie • Employee of the Month: Redux • The Avogodo • Orangins • Jinxed • Brain Percentages • BL4Z3 • Hot Salad Water • I Saw You Dance • The Story in Your Eyes • Playing Hard to Get • The Night Begins to Shine • Lication • Labor Day • Classic Titans • Ones and Zeroes • Career Day • TV Knight 2 • Justice League's Next Top Talent Idol Star • The Academy • Costume Contest • Throne of Bones • Demon Prom • Thanksgetting • The Self-Indulgent 200th Episode Spectacular! • BBCYFSHIPBDAY • Beast Girl • Flashback • Bro-Pocalypse • Mo' Money Mo' Problems • TV Knight 3
Season 5: June 25, 2018 - April 4, 2020
The Scoop! • Chicken in the Cradle • Kabooms • Tower Renovation • My Name is Jose • The Power of Shrimps • Monster Squad • Real Orangins • Quantum Fun • The Fight • The Groover • Justice League's Next Top Talent Idol Star: Second Greatest Team Edition • How's this for a Special? Spaaaace • BBRBDAY • Slapping Butts and Celebrating for No Reason • Nostalgia is Not a Substitute for an Actual Story • Business Ethics Wink Wink • Genie President • Tall Titan Tales • I Used to Be a Peoples • The Metric System vs Freedom • The Chaff • Them Soviet Boys • Little Elvis • Booty Eggs • TV Knight 4 • Lil' Dimples • Don't Be an Icarus • Stockton, CA! • What's Opera Titans • Forest Pirates • The Bergerac • Snot and Tears • Campfire! • What We Learned at Camp • Communicate Openly • Royal Jelly • Strength of a Grown Man • Had to Be There • Girls Night In • The Great Disaster • The Viewers Decide
Season 6: October 4, 2019 - present
Butt Atoms • TV Knight 5 • Witches Brew • That's What's Up! • Crab Shenanigans • Brobots • Brain Flip • Beast Boy on a Shelf • Christmas Crusaders • We're Off to Get Awards • Bat Scouts • Walk Away • Record Book • Magic Man • Titans Go Casual • Rain on Your Wedding Day • Egg Hunt • Justice League's Next Top Talent Idol Star: Justice League Edition • Mission to Find the Lost Stems • Drums • Guitar • Bass • You're The One
Top of the Titans: April 27, 2018 - July 20, 2018
Raddest Songs • Best Love Songs • Beast Boy & Cyborg Songs • Dance Party • Best Rivals
Community content is available under
CC-BY-SA
unless otherwise noted.