You may be looking for the character.
"Starfire the Terrible" is the twenty-ninth episode of the first season of Teen Titans Go!, and the twenty-ninth overall episode of the series.
Synopsis
When Robin needs an archenemy, Starfire generously offers to fill in the role, and she exceeds Robin's expectations.
Plot
The episode takes off with Cinderblock attacking the Jump City Rail Yard. It's Motorcycle Monday, so Robin ordered the Titans to hold back unless they have a motorcycle, but they can't really afford one.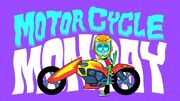 Robin takes advantage and goes solo, using his motorcycle to easily defeat Cinderblock.
Back at Titans Tower, Robin drives around the living room with his motorcycle, bragging that he is the greatest hero ever. The other Titans tell him that in order to be the greatest hero ever, he must have an arch-nemesis. Robin becomes very upset and cries, wondering why nobody wants to kill him. Starfire, who hates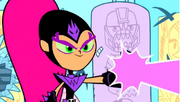 seeing Robin in pain, offers to become his arch-nemesis. The other Titans only laugh at her, telling her she is too nice to even become a villain. She attempts to show that she can be evil by drinking milk straight from the carton, but she just can't; it is too evil for her nature. Starfire retreats to her room, to find the four things every villain needs: a costume, a henchman (Silkie in robotic legs), an evil lair, and a diabolical scheme. After several tries to get an evil laugh, the first two being cheerful giggles, she somehow gets it right, but it's more like a gargle.
After calming down, Robin tries to entertain himself by throwing birdarangs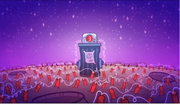 at the ceiling in his room. Suddenly, Starfire the Terrible bursts into his room, declaring that she is ready to begin their rivalry. Robin tells her that he could never hate her, so she decides to destroy the one thing that matters to Robin the most: his year's supply of hair gel, preventing him from ever having spiky hair again. Robin has second thoughts, but Starfire the Terrible shoots Starbolts at his hair gel unmercifully. This puts Robin in shock, shortly after, his hair falls downwards unkempt. After suffering a "terrible loss", Robin decides he has no choice but to become her enemy. One last jar of hair gel roles up, but Robin's hopes were to high... Starfire blows it up.
Robin retreats to the living room, where Cyborg, Beast Boy, and Raven are playing a game. He tells them to prepare for the worst, as his arch-enemy is on her way. The Titans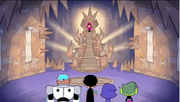 laugh, thinking there's no way Starfire could be a great villain. Suddenly, Starfire breaks in with a warning that nobody can protect them from what she is about to unleash upon the world. The other Titans are still convinced that she could never be a villain, and proceed to mock her with what they think she will do next, like drink from the milk carton, set the time on the microwave off, or leave the sink running. Instead, Starfire says she has rigged the moon to explode, which Cyborg dismisses.
Cut to the moon covered in dynamite seconds before it explodes, shocking the other Titans Starfire laughs/gargles before she really does down the milk carton, telling them that she only did it because Robin loved the moon so much. She leaves, doing her evil laugh/gargle. The outraged Titans decide that she is a much greater threat than they had ever imagined and prepare for battle. Robin gloats, saying he's finally got that arch nemesis he'd been moping about.
A short time later, the Titans infiltrate Starfire's evil lair (a giant cardboard building in their backyard) in an attempt to put a halt to her villainous ways. Prepared for their arrival, the diabolical Tamaranian activates an impressive security system consisting of laser guns made of cardboard tubes, a giant robot army, and trap doors leading to a pool of piranhas, all of which are activated by a cardboard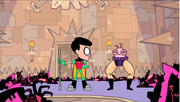 control panel with crayon pictures of buttons on it she manually makes the noises for.
The Titans engage in battle with the robot army, and put up a decent fight, until Cyborg, Beast Boy, and Raven are shoved into a piranha tank by one of the robots, and the top seals above them. Robin destroys the robot who just trapped his friends. He is the only one left, and he's ready to confront Starfire the Terrible at last. Plot twist: she unleashes her "henchman" to fight him! Robin is easily "defeated" by Silkie's vomit, and falls to the floor.
Starfire declares that she has finally done it, hoping to please Robin and is going to destroy him to finish the deed. However, Robin confesses that he only wanted an arch-nemesis so he could fit in, and apologizes. Then, Robin asks Starfire for one last request. Starfire eagerly decides to grant him one last request. Robin looks his enemy into the eyes, and simply asks, "What day is it?". Surprised and confused, Starfire tells him it is Monday.
Robin grins, knowing that means, and summons his R-Cycle. It bursts through the wall, and motorcycle punches Starfire in the face. Filled with excitement, Robin leaps onto his bike, and exclaims "MOTORCYCLE MONDAY!". Robin continues to cheer about his so-called "victory" over his arch-nemesis... he really is the greatest hero ever. On the screen flashes the word 'end' (in fancy cursive letters made of smoke), and then it ends to a black screen.
Characters
Trivia
It's revealed that Starfire does have feelings for Robin, as she is seen standing behind him with a flower, sad, while he's kissing the moon, however, it is shown that when he was kissing the moon, he was thinking of her or pretending that the moon was her, much to her misunderstanding.
It's revealed in this episode that the thing Robin values most in life is spiked hair.

However, this could've been for comic relief.

In the original series episode, "Revved Up", Starfire masqueraded as a villain known as the Dr. Amazing Mumgon the Terrible. This name was a mash up of several villain names from the series, specifically Dr. Light, the Amazing Mumbo (or "Mumbo Jumbo"), and Trigon the Terrible.

In both series, she was accompanied by a henchman (Raven as Henchie from the original series and Silkie in this episode).
In the short time it took her to become a villain, Starfire created her attire and her secret lair out of cardboard behind Titans Tower, make a villain theme that plays on a boom-box, destroyed one year's supply of Robin's hair gel, her boom-box, and the moon, drank directly from the milk carton, built lasers, an army of death bots, and a pool of piranhas, to the disbelief of Cyborg, Raven and Beast Boy, and grant her main foe one last request (an old school villain gimmick), which coincidentally became her downfall.

As a villain, Starfire's starbolts and glowing eyes turn purplish-pink (at least temporarily), similar to her evil sister Blackfire in the original series and her original comic version's starbolts.
This is the first time Starfire's starbolts have the appearance of fire.
This is Starfire's first appearance in a ponytail instead of her hair being out.
It's revealed that Robin's hair gel is green.
It's unknown whether or not Cyborg, Beast Boy, and Raven were killed by the piranhas.
In the original series episode, "Mother Mae-Eye", Robin is revealed to wear hair gel, though in a few earlier episodes, Robin's hair stays spiked up, even after going into water, such as in "Wavelength."
As a villain, Starfire carries a boombox with her theme, which she promptly destroys.
The R-Cycle from the original series appears for the first time.
Robin is shown with a Starfire poster and a calendar of Starfire's schedule in his room.
As the Titans journey to the lair of Starfire the Terrible, written on the tree Cyborg hides behind in the forest is "Quinn + Mr. J", with a heart drawn around it. This is a reference to The Joker and Harley Quinn.
Continuity
Starfire's method of making clothing once again involves steps used in cooking. ("Laundry Day")
Music from "Driver's Ed" and "Meatball Party" returns during two of Starfire's head transitions. Also, the Jeopardy- like music from "Terra-ized" returns when Beast Boy, Cyborg and Raven list lame "evil-doings" they thought Starfire would do before blowing up the moon.
The Starfire villain head visual is very similar to the Robin crying head visual in "Staff Meeting".
References
Several of the shots of Robin fighting Cinderblock with the motorcycle are recreations of scenes from the classic anime movie Akira.
In the animated retroback in Robin with the moon, the background music is called The Moon Represents my Heart by Teresa Teng.
Starfire's villain attire is based on the appearance of the professional wrestling tag team, Road Warriors.
When Robin is trying to restyle his hair with the leftover hair gel, his first hair style resembles Bart Simpson's hair, the next resembles Son Goku's from Dragon Ball Z, and the last resembles Sonic the Hedgehog.
When Starfire destroys Robin's one year supply of hair gel, his hairstyle is vaguely based on his debut appearance in Detective Comics #38.
Starfire's evil robots seem to resemble creations of the DC villain Brother Eye.
When the Titans try to guess what evil deed Starfire will do, the theme from the game show Jeopardy plays.
A tree with "Harley + Mr. J" can be easily seen in the Titan's backyard, a reference to the Joker and his girlfriend Harley Quinn .
The Jump City Railyard is a Wayne Enterprises subsidiary.
When Robin's spiked hair goes down, it's a reference to the original Teen Titans episode "Date With Destiny", when Starfire yelled at Robin in a conversation about him taking Kitten to junior prom.
In the scene when Starfire is talking after blowing up the moon, the background is in a style similar to the background that is seen in the videogames called Ace Attorney, when the the protagonist or antagonist becomes serious.
Errors
The Titans say that Robin does not have a arch-enemy. However, Slade was Robin's arch enemy in the original series. Although, Slade had not appeared in this series at the time this episode first aired.
In the scene where Silkie vomitted, in the next scene where Robin was on the floor, the vomit dissappeared.
Running Gags
One of Robin's hair gel containers (that didn't get blown up by Starfire's starbolt) rolling up to Starfire and Robin, who looks relieved until Starfire destroys it and levitates away smiling.
Silkie vomiting, demonstrating his power as Starfire's henchman.
Robin saying "Motorcycle Monday!".
Transcript
The transcript for "Starfire the Terrible" can be found here.
Gallery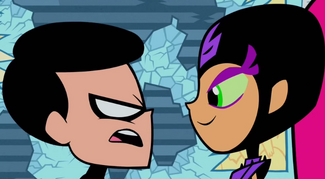 The image gallery for Starfire the Terrible may be viewed here.
v - e - d Episode Guide
Season 1: April 23, 2013 - June 5, 2014
Legendary Sandwich • Pie Bros • Driver's Ed • Dog Hand • Double Trouble • The Date • Dude Relax • Laundry Day • Ghostboy • La Larva de Amor • Hey Pizza! • Gorilla • Girl's Night Out • You're Fired! • Super Robin • Tower Power • Parasite • Starliar • Meatball Party • Staff Meeting • Terra-ized • Artful Dodgers • Burger vs. Burrito • Matched • Colors of Raven • The Left Leg • Books • Lazy Sunday • Starfire the Terrible • Power Moves • Staring at the Future • No Power • Sidekick • Caged Tiger • Second Christmas • Nose Mouth • Legs • Breakfast Cheese • Waffles • Be Mine • Opposites • Birds • Brain Food • In and Out • Little Buddies • Missing • Uncle Jokes • Más y Menos • Dreams • Grandma Voice • Real Magic • Puppets, Whaaaaat?

Season 2: June 12, 2014 - July 30, 2015
Mr Butt • Man Person • Pirates • Money Grandma • I See You • Brian • Nature • Salty Codgers • Knowledge • Slumber Party • Love Monsters • Baby Hands • Caramel Apples • Sandwich Thief • Friendship • Vegetables • The Mask • Serious Business • Halloween • Boys vs Girls • Body Adventure • Road Trip • Thanksgiving • The Best Robin • Mouth Hole • Hot Garbage • Robin Backwards • Crazy Day • Smile Bones • Real Boy Adventures • Hose Water • Let's Get Serious • Tamaranian Vacation • Rocks and Water • Multiple Trick Pony • Truth, Justice and What? • Two Bumble Bees and a Wasp • Oil Drums • Video Game References • Cool School • Kicking a Ball and Pretending to Be Hurt • Head Fruit • Yearbook Madness • Beast Man • Operation Tin Man • Nean • Campfire Stories • And the Award for Sound Design Goes to Rob • The HIVE Five • The Return of Slade • More of the Same • Some of Their Parts

Season 3: July 31, 2015 - October 13, 2016
Cat's Fancy • Leg Day • Dignity of Teeth • Croissant • Spice Game • I'm the Sauce • Hey You, Don't Forget about Me in Your Memory • Accept the Next Proposition You Hear • The Fourth Wall • 40%, 40%, 20% • Grube's Fairytales • A Farce • Scary Figure Dance • Animals, It's Just a Word! • BBBDAY! • Black Friday • Two Parter • The True Meaning of Christmas • Squash & Stretch • Garage Sale • Secret Garden • The Cruel Giggling Ghoul • How 'Bout Some Effort • Pyramid Scheme • Beast Boy's St. Patrick's Day Luck, and It's Bad • The Teen Titans Go Easter Holiday Classic • Batman v Teen Titans: Dark Injustice • Bottle Episode • Finally a Lesson • Arms Race with Legs • Obinray • Wally T • Rad Dudes with Bad Tudes • Operation Dude Rescue • History Lesson • The Art of Ninjutsu • Think About Your Future • TTG v PPG • Coconut Cream Pie • Pure Protein • Open Door Policy • Crazy Desire Island • The Titans Show • Booty Scooty • Who's Laughing Now • Oregon Trail • Snuggle Time • Oh Yeah! • Riding the Dragon • The Overbite • The Cape

Season 4: October 20, 2016 - June 25, 2018
Shrimps and Prime Rib • Halloween v Christmas • Booby Trap House • Fish Water • TV Knight • Teen Titans Save Christmas • BBSFBDAY! • The Streak • The Inner Beauty of a Cactus • Movie Night • BBRAE • Permanent Record • Titan Saving Time • The Gold Standard • Master Detective • Easter Creeps • Hand Zombie • Employee of the Month: Redux • The Avogodo • Orangins • Jinxed • Brain Percentages • BL4Z3 • Hot Salad Water • I Saw You Dance • The Story in Your Eyes • Playing Hard to Get • The Night Begins to Shine • Lication • Labor Day • Classic Titans • Ones and Zeroes • Career Day • TV Knight 2 • Justice League's Next Top Talent Idol Star • The Academy • Costume Contest • Throne of Bones • Demon Prom • Thanksgetting • The Self-Indulgent 200th Episode Spectacular! • BBCYFSHIPBDAY • Beast Girl • Flashback • Bro-Pocalypse • Mo' Money Mo' Problems • TV Knight 3
Season 5: June 25, 2018 - April 4, 2020
The Scoop! • Chicken in the Cradle • Kabooms • Tower Renovation • My Name is Jose • The Power of Shrimps • Monster Squad • Real Orangins • Quantum Fun • The Fight • The Groover • Justice League's Next Top Talent Idol Star: Second Greatest Team Edition • How's this for a Special? Spaaaace • BBRBDAY • Slapping Butts and Celebrating for No Reason • Nostalgia is Not a Substitute for an Actual Story • Business Ethics Wink Wink • Genie President • Tall Titan Tales • I Used to Be a Peoples • The Metric System vs Freedom • The Chaff • Them Soviet Boys • Little Elvis • Booty Eggs • TV Knight 4 • Lil' Dimples • Don't Be an Icarus • Stockton, CA! • What's Opera Titans • Forest Pirates • The Bergerac • Snot and Tears • Campfire! • What We Learned at Camp • Communicate Openly • Royal Jelly • Strength of a Grown Man • Had to Be There • Girls Night In • The Great Disaster • The Viewers Decide
Season 6: October 4, 2019 - present
Butt Atoms • TV Knight 5 • Witches Brew • That's What's Up! • Crab Shenanigans • Brobots • Brain Flip • Beast Boy on a Shelf • Christmas Crusaders • We're Off to Get Awards • Bat Scouts • Walk Away • Record Book • Magic Man • Titans Go Casual • Rain on Your Wedding Day • Egg Hunt • Justice League's Next Top Talent Idol Star: Justice League Edition • Mission to Find the Lost Stems • Drums • Guitar • Bass • You're The One
Top of the Titans: April 27, 2018 - July 20, 2018
Raddest Songs • Best Love Songs • Beast Boy & Cyborg Songs • Dance Party • Best Rivals