"Starliar" is the eighteenth episode of the first season of Teen Titans Go!, and the eighteenth overall episode of the series.
Synopsis
When Starfire is the only Titan invited to the Titans East Annual Dance Party, Beast Boy teaches her how to lie so that she can spare the other Titans' feelings, but her lies turn all of the Titans against each other. Meanwhile, Starfire forgets to feed Silkie, so he goes into a feeding frenzy and enters each of the Titans' rooms, eating their stuff.
Plot
Beast Boy, Cyborg, Raven, and Robin are all practicing their dance moves for the upcoming Titans East party. When Robin asks what time the party starts, Raven suggests checking his invitation. However, the Titans realize that none of them were invited to the party. They find this odd because they were the life of the party last year, at least from their perspectives. This leads to a flashback of that time where they actually ruined the party in multiple ways, which include accidentally hurting people and playing spooky music that freaked out the guests.
Starfire reveals to Beast Boy that she was, in fact, invited to the party, and plans to inform the others of her popularity. Beast Boy knows this would hurt the other Titans' feelings, so he tells Starfire to lie to them. She doesn't understand lying, so Beast Boy tells her how to do it. He claims that as long as she winks, they'll know she's just kidding. This of course, is not true.
Starfire then lies to the Titans. At first everything seems to be going well, but soon the lies go wrong, and the rest of the Titans get mad at each other. Beast Boy and Starfire must then choose between going to the Titans East party, or admitting to the Titans that they had lied. Beast Boy and Starfire decide go to the party, under the assumption that everything will be fine. As they are dancing, you can see sadness on Starfire's face, showing that she seems to feel bad about lying to the other Titans.
When they come back, Cyborg, Raven, and Robin were seen fighting with each other brutally, and have destroyed much of the Tower. They continue to fight until Starfire tells them to stop. Starfire admits to the Titans that she lied, and they forgive her and themselves. Starfire feels so bad that she says she will leave the Titans because of her actions. Robin stops her from doing so, dismissing the trouble she had caused. The episode ends with Starfire winking at Beast Boy, after telling him that she meant everything she had said. This clues in that Starfire was possibly lying about being sorry in the first place.
Characters
Trivia
The episode title is a pun on Starfire's name.
This episode marks the first time multiple Titans have cried together in the series, as Raven cried when she found out she wasn't invited to the Titans East party.
This is the first appearance of Bumblebee, Aqualad, Más and Menos, as well as the first appearance of the Titans East team as a whole. (Speedy previously first appeared in "The Date").
In this episode, it's revealed that Starfire never lies. However, even though she regretted it just after, she lied to Robin in "Ghostboy".
It's revealed that Robin uses yellow bombs with robins on them. This is shown at the end of the episode when Starfire interrupts the Titans' fight.
Starfire breaks the fourth wall by winking at the camera near the end of the episode
This is the second time the title is a pun of one of the titans. The first was "Ghostboy".
Continuity
This is the second episode to have two major plots in one episode. The first one was "Hey Pizza!".
This is the second time Starfire has lied on Beast Boy's request, which she previously did in "Ghostboy". However unlike the first time, she learns how to lie, and seems to enjoy lying.
This is the first time Silkie's eyes are seen open.
This episode contains various music from previous episodes:

Music that was previously heard in "Legendary Sandwich" is heard in this episode when Starfire is about to feed Silkie pet food.
Also, music from "Double Trouble" is heard while Silkie goes around the tower looking for things to eat.
Finally, music from "Dude Relax" is heard when Robin, Raven, and Cyborg all start to get mad at each other as a trio.

Aqualad is seen as a DJ for the Titans East Annual Dance Party. This was alluded later in "Missing".
The R2-D2 vacuum cleaner from "Tower Power" appears again, which Silkie ends up eating.
References
The subplot, which is Starfire neglecting to feed Silkie while lying, may be a reference to the episodes "Crash" and "Can I Keep Him?" Where Cyborg's system has a virus due to Beast Boy and thinks everything is food, (including his teammates), and where Silkie eats many things, constantly getting bigger (respectively), and eventually exploding.

Furthermore, Silkie's eyes even briefly have a "digital scanner", referencing Cyborg's vision.

When Cyborg is trying to pick which movie to watch, in his hands can be seen "The Dark Knight Snoozes" and "Plastic Man 3", a parody of The Dark Knight Rises and Superman III.
Silkie barfing up the tofu box and showing that he clearly did not like tofu is a nod to the Silkie version of the original Teen Titans in "Can I Keep Him?" when Starfire offered him tofu and he was more verbal about refusing it vs refusing the other foods she brought him.
The vacuum cleaner Silkie eats has a striking resemblance to R2-D2.
Robin hitting Cyborg over the head with a metal folding chair is a reference to professional wrestling, most likely WWE.
Errors
Just before Silkie jumps off the table, Starfire leaves the can of food on a corner. But, when Silkie jumps, the can of food disappears. However, after Starfire shakes Beast Boy's hand, she grabs the can of food as it reappears in her hand. Then later, when talking to Beast Boy, the can of food is gone again.
In the part when Starfire lies to Robin about Cyborg thinking he has a bad smell, Robin was seen with his staff, even though Silkie ate his staff earlier in the episode. However, Silkie could have spit it out at one point.
Running Gags
Starfire lying through out the episode even after she is told to stop by Beast boy.
Starfire causing rifts between Robin, Cyborg and Raven by lying to them.
Robin Cyborg and Raven all fighting with each other.
Transcript
The transcript for "Starliar" can be found here.
Gallery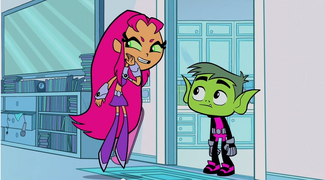 The image gallery for Starliar may be viewed here.
v - e - d Episode Guide
Season 1: April 23, 2013 - June 5, 2014
Legendary Sandwich • Pie Bros • Driver's Ed • Dog Hand • Double Trouble • The Date • Dude Relax • Laundry Day • Ghostboy • La Larva de Amor • Hey Pizza! • Gorilla • Girl's Night Out • You're Fired! • Super Robin • Tower Power • Parasite • Starliar • Meatball Party • Staff Meeting • Terra-ized • Artful Dodgers • Burger vs. Burrito • Matched • Colors of Raven • The Left Leg • Books • Lazy Sunday • Starfire the Terrible • Power Moves • Staring at the Future • No Power • Sidekick • Caged Tiger • Second Christmas • Nose Mouth • Legs • Breakfast Cheese • Waffles • Be Mine • Opposites • Birds • Brain Food • In and Out • Little Buddies • Missing • Uncle Jokes • Más y Menos • Dreams • Grandma Voice • Real Magic • Puppets, Whaaaaat?

Season 2: June 12, 2014 - July 30, 2015
Mr Butt • Man Person • Pirates • Money Grandma • I See You • Brian • Nature • Salty Codgers • Knowledge • Slumber Party • Love Monsters • Baby Hands • Caramel Apples • Sandwich Thief • Friendship • Vegetables • The Mask • Serious Business • Halloween • Boys vs Girls • Body Adventure • Road Trip • Thanksgiving • The Best Robin • Mouth Hole • Hot Garbage • Robin Backwards • Crazy Day • Smile Bones • Real Boy Adventures • Hose Water • Let's Get Serious • Tamaranian Vacation • Rocks and Water • Multiple Trick Pony • Truth, Justice and What? • Two Bumble Bees and a Wasp • Oil Drums • Video Game References • Cool School • Kicking a Ball and Pretending to Be Hurt • Head Fruit • Yearbook Madness • Beast Man • Operation Tin Man • Nean • Campfire Stories • And the Award for Sound Design Goes to Rob • The HIVE Five • The Return of Slade • More of the Same • Some of Their Parts

Season 3: July 31, 2015 - October 13, 2016
Cat's Fancy • Leg Day • Dignity of Teeth • Croissant • Spice Game • I'm the Sauce • Hey You, Don't Forget about Me in Your Memory • Accept the Next Proposition You Hear • The Fourth Wall • 40%, 40%, 20% • Grube's Fairytales • A Farce • Scary Figure Dance • Animals, It's Just a Word! • BBBDAY! • Black Friday • Two Parter • The True Meaning of Christmas • Squash & Stretch • Garage Sale • Secret Garden • The Cruel Giggling Ghoul • How 'Bout Some Effort • Pyramid Scheme • Beast Boy's St. Patrick's Day Luck, and It's Bad • The Teen Titans Go Easter Holiday Classic • Batman v Teen Titans: Dark Injustice • Bottle Episode • Finally a Lesson • Arms Race with Legs • Obinray • Wally T • Rad Dudes with Bad Tudes • Operation Dude Rescue • History Lesson • The Art of Ninjutsu • Think About Your Future • TTG v PPG • Coconut Cream Pie • Pure Protein • Open Door Policy • Crazy Desire Island • The Titans Show • Booty Scooty • Who's Laughing Now • Oregon Trail • Snuggle Time • Oh Yeah! • Riding the Dragon • The Overbite • The Cape

Season 4: October 20, 2016 - June 25, 2018
Shrimps and Prime Rib • Halloween v Christmas • Booby Trap House • Fish Water • TV Knight • Teen Titans Save Christmas • BBSFBDAY! • The Streak • The Inner Beauty of a Cactus • Movie Night • BBRAE • Permanent Record • Titan Saving Time • The Gold Standard • Master Detective • Easter Creeps • Hand Zombie • Employee of the Month: Redux • The Avogodo • Orangins • Jinxed • Brain Percentages • BL4Z3 • Hot Salad Water • I Saw You Dance • The Story in Your Eyes • Playing Hard to Get • The Night Begins to Shine • Lication • Labor Day • Classic Titans • Ones and Zeroes • Career Day • TV Knight 2 • Justice League's Next Top Talent Idol Star • The Academy • Costume Contest • Throne of Bones • Demon Prom • Thanksgetting • The Self-Indulgent 200th Episode Spectacular! • BBCYFSHIPBDAY • Beast Girl • Flashback • Bro-Pocalypse • Mo' Money Mo' Problems • TV Knight 3
Season 5: June 25, 2018 - TBA
The Scoop! • Chicken in the Cradle • Kabooms • Tower Renovation • My Name is Jose • The Power of Shrimps • Monster Squad • Real Orangins • Quantum Fun • The Fight • The Groover • Justice League's Next Top Talent Idol Star: Second Greatest Team Edition • How's this for a Special? Spaaaace • BBRBDAY • Slapping Butts and Celebrating for No Reason • Nostalgia is Not a Substitute for an Actual Story • Business Ethics Wink Wink • Genie President • Tall Titan Tales • I Used to Be a Peoples • The Metric System vs Freedom • The Chaff • Them Soviet Boys • Little Elvis • Booty Eggs • TV Knight 4 • Lil' Dimples • Don't Be an Icarus • Stockton, CA! • What's Opera Titans • Forest Pirates • The Bergerac • Snot and Tears • Campfire! • What We Learned at Camp • Communicate Openly • Royal Jelly • Strength of a Grown Man • Had to Be There • Girls Night In • The Great Disaster • The Viewers Decide
Top of the Titans: April 27, 2018 - July 20, 2018
Raddest Songs • Best Love Songs • Beast Boy & Cyborg Songs • Dance Party • Best Rivals
Community content is available under
CC-BY-SA
unless otherwise noted.