"TV Knight 5" is the second episode of the sixth season of Teen Titans Go!, and the two-hundred-sixty-third overall episode of the series.
Summary
Batman pretends to be sick to avoid work so he and Commissioner Gordon can run around town watching their favorite shows.
Plot 
TBA
Characters
Song
Trivia 
This is the 5th installment of the TV Knight series.
Bane reappears with a new design.
President Nixon is being jabbed during the Classic Titans segment in this episode, being depicted as a villain who has committed illegal activities related to hotels and taxes.

Fidel Castro, a now deceased Cuban communist revolutionary and politician, is also being jabbed here.

This is the last episode written by Dave Stone.
Continuity 
Raven is unhooded for the 101st time.
Multiple references to "I Used to Be a Peoples" and "Classic Titans" appear throughout the episode.
Beast Boy once again died in this episode. Check out List of Death Experiences if you want to know more of his death experiences.
Some audience characters from Teen Titans Go! vs Teen Titans movie appear in the football stadium crowd.
The way the Classic Titans unmasked "President Nixon" who was Fidel Castro in disguise was a callback to "The Cruel Giggling Ghoul".
References 
In Him-Guy and Overlords of the Macrocosm, Starfire was depicted as She-Ra, and Raven is likely depicted as Teela. And without a doubt, Cyborg as Him-Guy is once again a reference to He-Man.
Errors 
TBA
Running Gags 
Batman pretending to be ill so as to fool Alfred.
Transcript
The transcript for "TV Knight 5" can be viewed here.
Gallery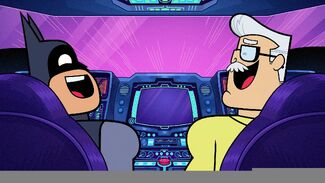 The image gallery for TV Knight 5 may be viewed here.