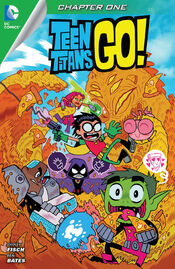 Teen Titans Go! is the comic book series based off the show with the same name. They can be purchased from the DC Comics website.
General Information
It is a digital-first comic to be released monthly with a print version (containing two issues) to be released bi-monthly. Like Batman '66, it utilizes the publisher's DC2 (DC squared) technology, making it an interactive digital comic.
Both Merrill Hagan and Sholly Fisch, who have both written for the TV show, alternate in writing duties on the comic series.
Issue Guide
2013-2019 edition
No.
Title
Guest Heroes
Villains
1 (1a)
Food Fright
None
Trigon (cameo), Pizza Monster
Synopsis: Someone's been eating Cyborg's sandwiches! But who? One of the other Teen Titans? Or something more...SINISTER? Cyborg and his stomach want answers! NOW!
2 (1b)
Par for the Course
Speedy (cameo)
Riddler
Synopsis: Tempers flare as Beast Boy, Robin, and Cyborg enjoy a "friendly" game of mini-golf. Meanwhile, Raven and Starfire hit the arcade!
3 (2a)
Idol Hands
The Red Bee
The Brotherhood of Evil, Darkseid
Synopsis: When Starfire signs the team up for the popular reality show "Jump City's Got Your Talent Right Here!", Robin becomes obsessed with showing the world just how talented the Teen Titans really are! But what will happen when their rivals are revealed to be one of their greatest criminal rivals?
4 (2b)
Cold Blooded
Speedy (cameo)

,

Aqualad (cameo)
Captain Cold
Synopsis: After a fight with Captain Cold, Robin comes down with a cold himself! Running a high fever and quarantined from the rest of the Titans...the madness begins to set in!
5 (3a)
Party, Party!
None
Terra, Killer Moth, H.I.V.E. Five
Synopsis: We all know the Teen Titans are great at throwing "hat parties" and "meatball parties"...but can they throw a regular ol' "party party?" Don't miss who's on the guess list!
6 (3b)
Silicon Valley Cyborg
None
Slade, Mother Mae-Eye, H.I.V.E. Five
Synopsis: When Cyborg is named CEO of the Silicon Valley startup "ChirpFolio," he hires the Titans as his employees! Cyborg is out to show the world that ChirpFolio is the next big thing! But...what is it that this company does, anyway?
7 (4a)
Go Fish!
None
H.I.V.E. Five
Synopsis: As the Teen Titans engage in an epic game of "Go Fish," the Hive-Five come knocking on their doorstep!
8 (4b)
Robin the First
Universe Staff (cameo)
Dr. Light
Synopsis: Tired of finishing second, an ultra-competitive Robin comes up with a plan to show the rest of the Titans that he's actually the best! But things get out of hand when Robin's competitive nature gives Dr. Light an upper hand.
9 (5a)
Prank'd!
Batman, Superman (cameo), Aquaman (cameo)
The Gordanians
Synopsis: How do the Teen Titans kill time in between missions? By making prank calls, of course! But what happens when Beast Boy prank calls...Batman?!
10 (5b)
Don't Look
None
None
Synopsis: A package for Raven leaves the rest of the Titans asking, "What's in the box?!"
11 (6a)
But Games Can Never Hurt Me
TBA
TBA
Synopsis: What about when Cyborg and Beast Boy plug their sweet new game console into the Tower's mainframe computer? It's mayhem! It's madness! It's...TOTALLY AWESOME!
12 (6b)
Sleep Over
Bumblebee
Jinx, Trigon
Synopsis: What happens when the girls have a slumber party and don't invite any of the boys?
13 (7a)
Starstruck
None
Terra, Dr. Light, The Brotherhood of Evil, Trigon (cameo)
Synopsis: When Starfire develops a massive crush on the latest teen pop sensation, Robin will stop at nothing to recapture her attention--even if he must become a teen idol himself!
14 (7b)
No Jacket Required
TBA
H.I.V.E. Five, Plasmus, Dr. Light, Killer Moth
Synopsis: Cyborg gets an awesome new jacket! Boo-yah!
15 (8a)
One Potato, Two Potato, Couch Potato
TBA
Brother Blood
Synopsis: The Teen Titans get an awesome new TV! But is it TOO awesome? Will they ever be able to focus on anything else ever again? ...What? Did you say something? It's so pretty?
16 (8b)
The Rocky Road to Love
None
Terra (cameo), Jinx (cameo), Gizmo
Synopsis: The day the Titans have been dreading all year has finally arrived. A day of unimaginable pain. Insurmountable loneliness. Inconceivable amounts of ice cream. That's right--it's Valentine's Day!
17 (9a)
Stare Master
TBA
TBA
Synopsis: It's Titan vs. Titan in a no-holds-barred, winner-take-all...staring contest! But which is stronger: Robin's focused glare, whose intensity can rip through to the deepest core of a man's soul…or Raven's just not caring?
18 (9b)
Royal Pains
TBA
Blackfire
Synopsis: When Blackfire accuses Starfire of losing touch with her roots, Starfire makes an effort to act more like a Tamaranean Princess--no matter the cost!
19 (10a)
May I Have This Trance?
TBA
TBA
Synopsis: After responding to an ad in a comic book, Beast Boy is the proud owner of a brand new pair of Hypno-Specs—and he's not afraid to use them!
20 (10b)
Last Pizza
TBA
TBA
Synopsis: Pizza with friends! It's the best! But how will the Titans decide who gets the last slice? PIZZA DOME!
21

(11a)

My Little Mustache
TBA
TBA
Synopsis: It's a proud day for Cyborg when he grows his very first mustache! But what happens when said mustache becomes a sentient being bent on turning Cyborg into...an adult?!
22

(11b)

Family Plan
TBA
Trigon, Myron
Synopsis: You think your family is tough? Well, welcome to Raven's family reunion! Sure, her dad, Trigon the Terrible, is the malevolent ruler of the underworld...but you haven't met her uncles, Horrace the Horrid, Barry the Beastly, and Myron the Mildly Irritating!
23

(12a)

Save the Date
TBA
TBA
Synopsis: Raven thought things couldn't get any worse after Starfire posted an online dating profile…until she posted one for Raven, too! But she quickly learns things can get a whole lot worse when their "perfect dates" start showing up at their door!
24

(12b)

Opposite Day!
TBA
TBA
Synopsis: It's "Opposite Day" at Titans Tower and chaos reigns supreme! But you know what they say about Opposite Day: it's all fun and games until someone accidentally tears open a rift into the Anti-Matter Universe.
25

(13a)

Tooth and Consequences
TBA
TBA
Synopsis: The Titans explore the single most terrifying word in the English language: "dentist"! Will Robin's dental routine save him from that dreaded trip?
26

(13b)

Sea Changes
Aqualad
TBA
Synopsis: Beast Boy does too many chores at Titans Tower, so he joins his buddy Aqualad for the easy life under the sea. But making his lazy-living dreams come true isn't nearly as simple as he imagines.
27

(14a)

Upgrade, Downgrade
TBA
TBA
Synopsis: Cyborg really should have read the fine print before upgrading the Tower's computer system because Mallah-ware isn't fun for anyone!
28

(14b)

Wishful Thinking
TBA
TBA
Synopsis: TBA
29

(15a)

Scaredy Pants
TBA
TBA
Synopsis: Raven and Cyborg create a pair of spooky-looking leggings from a pattern in one of Raven's arcane books. But Robin's in for quite the fright when he tries on these "Scaredy Pants"!
30

(15b)

Fouled Out
Titans East
TBA
Synopsis: When Titans East instigates a friendly softball outing, Robin sees a vast conspiracy by Speedy to undermine his team. And when his mania spreads to the other Titans, they're going to turn a friendly game into a high-stakes death match.
31

(16a)

Mumbo Jumble
TBA
Mumbo Jumbo
Synopsis: Mumbo Jumbo thinks he can rob any bank in the city, because he's got a foolproof plan for scrambling the Titans' powers. But he's got another 'trick' coming!
32

(16b)

Road Trip
TBA
TBA
Synopsis: When Batman leaves Robin the keys to the Batmobile, the Teen Titans go on a fun-filled cross country road trip!
33

(17a)

Starfire Starter
TBA
TBA
Synopsis: When Starfire comes down with a case of the dreaded Tamaranian flu, the Titans go to another dimension to find the rare medicine she needs. But is the cure worse than the disease?
34

(17b)

Bite Sized
TBA
TBA
Synopsis: When Jump City celebrates Titans Day, it's an excuse for the teens to party with their adoring fans. But it's cut short, literally, when they're magically shrunk down to a minuscule proportion. Can these teensy Titans reverse this mad modification in time to save the city?
35

(18a)

TV or Not TV Part 1
Aqualad, Kid Flash, Wonder Girl
Brother Blood, Trigon, Slade
Synopsis: Part one, The Teen Titans…stars of their own TV series? But which Teen Titans TV series will it be? Each of the Titans has their own idea…and one of them might just be your favorite!
36

(18b)

TV or Not TV Part 2
Speedy
Trigon, Brother Blood
Synopsis: Part two, The Teen Titans…stars of their own TV series? But which Teen Titans TV series will it be? Each of the Titans has their own idea…and one of them might just be your favorite!
37

(19a)

Precog-Sniffin'
TBA
TBA
Synopsis: The prank war to end all prank wars has erupted in Titans Tower, but for some mysterious reason, Beast Boy seems to be out-pranking everyone, even dodging Cyborg's barrage of stankballs. It's like he knows what pranks are coming before they even happen. Unbeknownst to the other Titans, Beast Boy has a new power-he can SMELL INTO THE FUTURE! But what happens when Beast Boy gets a whiff of…the apocalypse?!
38

(19b)

The Herring King
TBA
TBA
Synopsis: When the Titans bring Beast Boy's beloved pet fish Sven back to his homeland, Beast Boy is revealed to be the fulfillment of an ancient prophecy! But is he truly "The Herring King"?
39

(20a)

Beach Party A-Go-Go
TBA
The Brain, Monsieur Mallah, Madame Rouge, H.I.V.E. Five
Synopsis: Swapping their uniforms for bathing suits, the Titans zoom to the beach…only to discover that the H.I.V.E. Five had the same idea for a "Beach Party A-Go-Go!"
40

(20b)

Poetry Jam
TBA
TBA
Synopsis: Robin's "Poetry Jam" was supposed to be romantic, but things get really gross instead. We're shocked.
41

(21a)

Couch Surfers
Aqualad (cameo), B'wana Beast (cameo), Wonder Woman (cameo)
H.I.V.E. Five, Trigon, Blackfire (cameo)
Synopsis: Titans Tower has been condemned! The Titans don't want to be couch surfers, but they have to find a new place to live while repairs are underway. Think the Batcave is available?
42

(21b)

Goblin Catch 'Em All
Batman (cameo)
Slime Monster, Control Freak, Goblins (debut)
Synopsis: When the Titans get swept up in the Goblin Grab gaming craze, Beast Boy gets swept up by Control Freak. Will his teammates rescue him or be distracted by their need to "Goblin Catch 'Em All"?
43

(22a)

Bored of the Dance
Speedy (cameo)
N/A
Synopsis: Our heroes grow "Bored of the Dance" when Starfire's plans for a Titans Prom go predictably well. As in, not well at all.
44

(22b)

Smells Like Teen Titans Spirit
N/A
Punk Rocket
Synopsis: Something "Smells like Teen Titans Spirit" when Raven judges a musical competition and Punk Rocket's band threatens to shake the city to pieces!
45

(23a)

Misadventures in Babysitting
Justice League (mentioned), Superman, Bat-Cow (debut, cameo), Titans East
N/A
Synopsis: The Justice League is stopping by Titans Tower, but this time it's not about saving the world. Nope, today it's about "misadventures in babysitting".
46

(23b)

Customer Support
Batman (cameo), Kid Flash (cameo on poster), Superman (cameo on jet)
Stair Troll (debut, cameo), The Riddler (cameo), The Penguin (cameo), Trigon (cameo on picture), Dr. Light, The Brain, Monsieur Mallah, Killer Moth (cameo), H.I.V.E. Five,

Lex Luther

(cameo on shipping truck)
Synopsis: When the Teen Titans make their heroic services available to the public, their customer support voicemail overflows!
47

(24a)

Twisted
Aqualad (cameo), Silkie (cameo)
H.I.V.E. Five (cameo)
Synopsis: Things get "Twisted" when the Titans borrow a game Starfire brought from home. Who knew they'd merge into one giant pizza-eating, self-destructive bundle of nerves?
48

(24b)

The Letter
Aqualad, Speedy
H.I.V.E. Five
Synopsis: The team has to recruit new members to live up to a mistake on their license—will they be able to make it "Ten the Hard Way"?
49

(25a)

Oil's Well
Colossal Boy (debut)
H.I.V.E. Five
Synopsis: It's the holidays and the Titans can't help but get in the spirit. Of course, when Colossal Boy gets diverted on his trip from the 31st Century back to the first Chanukah, the spirit they get into is just a little confused.
50

(25b)

Claus of the Batman
Superman, Batman, Commissioner Gordon, Alfred Pennyworth
The Joker (cameo on poster)
Synopsis: The Titans are more than prepared to celebrate Christmas, until Beast Boy decides that Batman is Santa Claus. Jingle Bells, Joker smells, right?
51

(26a)

Among Us
Lady Legasus (debut)
Plasmus, Fun Gus (debut)
Synopsis: A new time-wasting gadget is Jump City's latest craze, and no one's getting anything done. Can the team pull together to find the Fun Gus "Among Us"?
52

(26b)

Grounds Zero
N/A
Trigon (cameo), Gizmo (cameo), Mad Mod (cameo), Killer Moth (cameo), Mumbo Jumbo (cameo), Plasmus (cameo), Jinx (cameo), Dr. Light (cameo), Monsieur Mallah (cameo), Madame Rouge (cameo), Brother Blood (cameo), Blackfire (cameo), Mother Mae-Eye (cameo), Billy Numerous (cameo), See-More (cameo), The Brain
Synopsis: The Titans discover a new neighborhood treat when Jump City becomes "Grounds Zero" for the caffeine craze sweeping the nation.
53

(27a)

Appointment of Doom!
Batman (cameo as drawings in notebook)

Mutant Ants

(debut)
Synopsis: The team makes an "Appointment with Doom!" when they each try to see a doctor. Beast Boy is convinced that evil Insure Ants will attack—and he might be right!
54

(27b)

Spring Cleaning
Titan Dust Bunnies (debut)
Dr. Light
Synopsis: When Robin forces the team to do some "Spring Cleaning", they discover sentient, angry dust bunnies and things go downhill from there. Is the team toast?
55

(28a)

Past Due
N/A
Control Freak
Synopsis: Control Freak's latest plan—sending the Teen Titans to the past! Will our heroes have fun in the 1950s? Maybe.
56

(28b)

Kickin' It
Vixen, Robotman, Elasti-Girl, Negative Man
General Immortus, Cheetah, Cat-Man, Lobo, The Spectre
Synopsis: Robin's got some chores to do, and the rest of the team will need some super-hero mentoring!
57

(29a)

Falling Stars
Ambush Bug
Darkseid, Balloon Man, H.I.V.E. Five
Synopsis: Success! The Titans finally got their own movie and all the fame and glamour that went with it. But are they doomed to wallow after their 15 minutes of fame are over?
58

(29b)

Crew? CUT!
N/A
Control Freak
Synopsis: The Teen Titans Go…back to Hollywood! Their L.A. adventure gave them a taste of the tinsel and they aren't ready to give up those dreams quite yet.
59

(30a)

Picnic
N/A
Mammoth, Jinx
Synopsis: "Picnic"! Well everyone but Raven, who doesn't quite understand the invitation/riddle and is about to explode from frustration.
60

(30b)

Burrito-ing the Hatchet
N/A
Giant Avocado Robots
Synopsis: Beast Boy stomps off from Fiesta Friday dinner when he discovers his teammates chowed down on every single vegan burrito. Will the Titans succeed in "Burrito-ing the Hatchet"?
61

(31a)

The Deadliest Art
Batman
Terra, Rock Giants
Synopsis: When Robin catches Starfire, Raven, and Cyborg making paper airplanes, he warns them that they're dangerously close to unlocking "The Deadliest Art": origami.
62

(31b)

Posers
Justice League
Mother Mae-Eye
Synopsis: The Titans are shunned by social media elites when a bad after-action photo reveals them as "Posers." Can they finalize a successful stance in time to defeat their next great menace?
63

(32a)

Snowbunny's Fool
N/A
Snowbunnies
Synopsis: Starfire is "Snowbunny's Fool" when Robin takes the team to a ski resort—but it's cold-weather-hater Raven who really surprises her teammates!
64

(32b)

Friendly the Snowman
N/A
Mr. Freeze, Mumbo Jumbo
Synopsis: Back in Titans Tower, things go awry when watching "Friendly the Snowman" provides the wrong kind of inspiration!
65

(33a)

Whatzit?
Bumblebee (cameo)
N/A
Synopsis: Tragedy (aka puberty) strikes the Titans and Cyborg faces the most dreaded crisis a teenager can endure in "Whatzit?"
66

(33b)

Weirder Things
N/A
Trigon
Synopsis: It's game night at Titans Tower as Robin DMs a session of Basements and Basilisks. When Raven plays a portal-casting spell, a real portal opens up and sucks the Titans into a dimension where "Weirder Things" are happening!
67

(34a)

The Hungry Games
N/A
N/A
Synopsis: The Titans get swept up in a 73-hour dystopian teen movie marathon, then re-enact "The Hungry Games" when they realize there's only one slice of pizza left!
68

(35b)

Meatball Heroes
N/A
N/A
Synopsis: When a meatball-making contest sponsored by a local Jump City joint (first prize: free heroes for LIFE!) provokes an intense Beast Boy/Cyborg rivalry, that spells certain disaster for our "Meatball Heroes"…and the poor restaurant.
69

(36a)

Dropping Stuff Down a Hole
N/A
Monsters (debut)
Synopsis: Robin's appalled when he finds Cyborg and Beast Boy "Dropping Stuff Down a Hole," but it gets worse when they discover why that hole appeared!
70

(36b)

Disappearing Act

Timothy Hunter

N/A
Synopsis: Raven's bummed her teammates are trying to hire a magic user…is she about to be kicked off the team?! Not if her "Disappearing Act" is successful!
71

(37a)

Power Brokers
N/A
Trigon
Synopsis: The Titans may have bungled Raven's surprise party, but Pretty Pretty Pegasus LIVE! is coming to Jump City, and it's their big chance to get tickets from some "Power Brokers" and make things right!
Booyah edition
No.
Title
Guest Heroes
Villains
86

(44b)

The Hic You Say?!
N/A
N/A
Synopsis: Starfire's Tamaranean hiccups are just like regular ones—except for the explosions! Can the Teen Titans help her stop them before all of Jump City is destroyed?
87

(45a)

A Home in the Country
N/A
N/A
Synopsis: Tired of the rules and regulations against totally normal things like foghorn-and-air-raid-siren parties, the Teen Titans take matters into their own hands—by starting a whole new country!
88

(45b)

Beast in Show
N/A
The Brain, Monsieur Mallah
Synopsis: After a long day of stopping an alien invasion, the Titans are all set to relax in front of the tube and watch the annual Jump City Dog Show...but what are the Brain and Monsieur Mallah doing there? And why does that dog look so much like Beast Boy?!
89

(46a)

Buttered-Fries Effect
Elderly Teen Titans
Jinx (cameo), Gizmo (cameo)
Synopsis: A mysterious visitor arrives at Titans Tower with a very important message: STAY HOME! The fate of the world depends on the Titans doing nothing—if they can't, they'll change the course of history and end up in the darkest future imaginable! But are the Titans up to this monumental task?!
90

(46b)

Spam I Am
N/A
N/A
Synopsis: When a delicious icy treat extinguishes Cyborg's internal firewall, he's taken over by offers for spray-on hair, Scandinavian princes, and not-at-all fake Latvian jewelry! To save him, the Titans learn the only way to fight spam is with SPAM!
Scooby-Doo Team Up Crossover
In the Scooby-Doo Team-Up series, comics #1 and #2, Mystery Incorporated teams up with Batman and Robin to solve a mystery. Later on, Mystery Incorporated teams up with the Teen Titans. Though Robin was drawn differently, the Batman and Robin crossover is later revealed to be canon with the ''Teen Titans Go!'' crossover.
No.
Title
Guest Heroes
Villains
7 (4a)
Teen Titans -- Ghost! Part 1
Mystery Incorporated
Myron

Synopsis: Is Titans Tower haunted?! Could there be more to the thumps in the night than a series of 'ghostly' pranks by Beast Boy and Cyborg? Robin has called in some experts to solve the mystery - if Scooby, Shaggy, Cyborg, and Beast Boy ever stop chowing down on pizza and start looking for clues, that is!

8 (4b)
Teen Titans -- Ghost! Part 2
Mystery Incorporated
Myron

Synopsis: The haunting of Titans Tower may be solved, but an even more mysterious visitor has the Teens in a tizzy. Scooby and gang will just have to stick around until the day is truly saved!
Teen Titans Go! To Camp
In these comic chapters, the Titans participate in the Camp Apokalips and trouble begin to brew for them when Robin's competitive streak gets the better of him.
No.
Title
Guest Heroes
Villains
72
73
74
75
76
77
78
79
80
81
82
83
84
85

(37b)
(38a)
(38b)
(39a)
(39b)
(40a)
(40b)
(41a)
(41b)
(42a)
(42b)
(43a)
(43b)
(44a)

Teen Titans Go! To Camp
Wonder Woman
Elasti-Girl
Chief
Robot Man
Bumblebee
Speedy
Más
Menos
Aqualad
Granny Goodness
H.I.V.E. Five
Trigon
Doctor Bedlam
Synopsis: Summer's in the air and the Teen Titans are leaving Jump City behind for six fun-filled weeks of mosquitoes, sunstroke, and poison ivy at summer camp!

What the Titans don't realize until they arrive is that this is Camp Apokolips, where the "bug juice" is made with real bugs, the swimming pool is a fire pit, and the lunch lady is Granny Goodness! Things only get worse when they encounter the bunks they'll be competing against in the camp's games: the Titans East and the H.I.V.E. Five! Given all of that, there's only one thing on Robin's mind...

No, not escape. It's how to beat the other bunks to become the camp champions. This is Robin, remember?
Teen Titans Go! Roll With It!
In this series, the Titans get engrossed in a board game and begin to neglect dangers lurking around the city, especially when a villain is planning to take over their city...
No.
Title
Guest Heroes
Villains
91 (47a)
92 (47b)
93 (48a)
94 (48b)
95 (49a)
96 (49b)
97 (50a)
98 (50b)
99 (51a)
100 (51b)
101 (52a)
Teen Titans Go! Roll With It!
N/A
Jinx
Synopsis: Robin persuades his teammates to start a new roleplaying game of "Basements and Basilisks," which will definitely not end with them being sent to an alternate dimension. Their new session is so engrossing, they don't notice when a supervillain takes over their game—and then their city…
Teen Titans Go! DC Super Hero Girls: Exchange Students
A crossover comic multi-parter between the Titans and the DC Superhero Girls, which is about them adjusting to each other while also having both sides trying to find a way to defeat Blackfire.
No.
Title
Guest Heroes
Villains
N/A
Teen Titans Go! DC Super Hero Girls: Exchange Students
DC Superhero Girls
Blackfire
Synopsis: Starfire has always wanted to be better friends with her sister, who mostly comes to Earth to cause trouble instead of enjoying the sisterly bonding. But this time, Blackfire's not even in the same Earth dimension! The Teen Titans will have to go undercover in a strange new version of Metropolis...one where the heroes have secret identities!

Meanwhile, the DC Super Hero Girls have all been assigned exchange students to show around school. They'd really rather battle the new super-villain in town, but hiding their super-activities from the rather strange new people staying in their homes is proving difficult.

Surely that's all a coincidence.
Teen Titans Go! Undead?!
This multi-parter comic is about how the Titans, mostly Robin, trying to fight against a myriad of zombies after a comet falls from the sky.
No.
Title
Guest Heroes
Villains
N/A
Teen Titans Go! Undead?!
N/A
H.I.V.E. Five
Synopsis: Jump City is full of strange, shambling creatures muttering about sales and dead set on brains. The Teen Titans saw a comet fall from the sky and can think of nowhere better to hang out and see what happens than the mall. If their theory is correct and people start turning into zombies, they want to be prepared—and we all know zombies love the mall! But as the situation grows ever more dire, Robin and his team take to the streets, trying to save the city from the bargain-hungry undead. But these zombies really bite: the cemetery isn't safe, the H.I.V.E. Five are not alive, and Robin's teammates are about to succumb to shopping fever! Can Robin keep it together long enough to cancel this apocalypse?
One-Shots
These are one-shot comic issues based on the Teeny Titans and Teen Titans Go Figure!.
Special Releases