Teen Titans Go! Toys are merchandise of the beloved characters of Teen Titans Go!. Wave 1 came out in September 2013. Wave 2 came out in August and September 2014. Wave 3 came out in August 2015. These toys are produced by Jazwares, a company that creates licensed toys for many cartoons and video games.
You can buy the toys here! All toys are owned by Cartoon Network.
Vinyl Pop! Figures
Figures (Five Inch)
Robin - With Staff
Cyborg - With jetpack 
Beast Boy- With animals
Raven - With spell book
Speedy with bow and arrow (coming soon)
Nightwing with removable helmet and battle staff (coming soon)
Figures (Three Inch)
Robin - With detective desk and chair
Beast Boy - With Titans refrigerator and BB pig
Raven - with Trigon
Red X - with Control Panel and Interchangeable Head
Speedy - with Starfire the Terrible
Keyrings
Robin keyring
Starfire keyring
Raven keyring
Beast Boy keyring
Cyborg keyring
Mystery Figures
Vehicles
Robin - In driver's suit with T-CAR
Play-sets
T-Tower With Cyborg 3 inch figure
Plushies
Robin
Cyborg
Trigon
Beast Boy
Raven
Starfire
Wendy's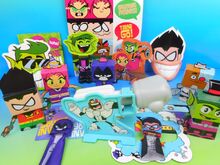 Crafty Party
Bling Bling Party
Punchline Party
Thumb Wrestling Party
Tower Power Party
Sonic
2014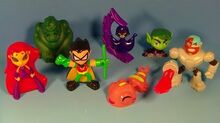 Beast Boy
Robin
Starfire
Raven
Silkie
Cyborg
2015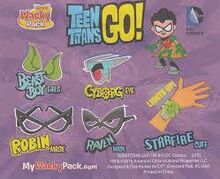 Beast Boy Ears
Raven Mask
Cyborg Eye
Robin Mask
Starfire Cuff
2016
2018
Beast Boy Piggy
Animating Raven
Starfire Bobblehead
Robin Waffle Lancher
Silkie Ring/Drink Buddy
Cyborg Pen
Glow in a Dark Silkie Ring/Drink Buddy
Gold Cyborg Pen
KFC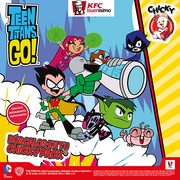 Cyborg laser cannon
Beast Boy flying launcher
Starfire and Raven sticker roller
Robin speed cycle
Burger King
Burger King is an American global chain of hamburger fast food resturants that was formed on July 28, 1953. Even though they aren't owned by DC Comics, Burger King has sold Teen Titans Go! toys in Burger King kids meals in 2015.
Robin launcher
Cyborg flashlight
Beast Boy matching game
Raven pen
Titans Tower cup
Titans Communicator
McDonald's
Cyborg
Beast Boy
Starfire
Raven
Doctor Light
Mini-figures (Two Inch)
Includes: Robin, Cyborg, Beast Boy, Raven, Starfire, and Silkie.
Wearable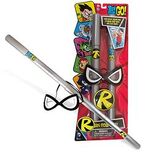 Robin Power Pack
Robin Gloves
Walkie talkies
Rock Candy Figures
Includes:
Mystery Minis
Includes:
Miniature Plushies
Includes: