Teen Titans Go! & DC Super Hero Girls: Mayhem in the Multiverse is a crossover movie event between Teen Titans Go! and DC Super Hero Girls.
Summary
With the help of an ancient Kryptonian power, Lex Luthor unites the world's Super-Villains to capture all of Earth's Super Heroes, until … only the DC Super Hero Girls are left to stop the Legion of Doom. Our heroes must cross dimensions to rescue their fellow Super Heroes from the Phantom Zone, but a fortuitous wrong turn leads them to Titans Tower – where they find much-needed allies in the Teen Titans. The young Super Heroes discover their combined strength – and usual comic relief – are essential to save the day in this blockbuster event!
Cast and Characters
Trivia
This is the fourth Teen Titans Go! movie.
This is the third time Teen Titans Go! crosses over with DC Super Hero Girls (2019).
This confirms that the Superhero Girls the Titans have encountered and befriended are not the ones they encountered in "Superhero Feud" and four-part episode "Space House", and "Exchange Students", considering it was their fourth time.
This is the 3rd time all the Titans have met the DC Super Hero Girls, the second being the four-part story Space House in 2021.
Fred Tatasciore reprises his role as Jor-El in Teen Titans Go! to the Movies.
This is the second time a DC Comics logo with TTG variant was used.
Continuity
This is the very first time that the Phantom Zone appears as a major factor.
References
In the DC Kids Fandome trailer, Jessica calling the Titans "Tweens" is a callback to the 2019 DCSHG episode, "#TweenTitans" that involves Jessica and Karen babysitting the tween counterparts of the Titans in their own DCSHG universe.
On the teaser trailer, as well as the ending, the 1970's counterparts of Justice League, with Robin, made their cameo appearance.
Errors
Running Gags
There are no running gags.
Gallery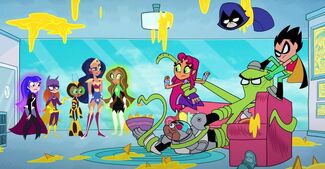 The image gallery for Teen Titans Go! & DC Super Hero Girls: Mayhem in the Multiverse may be viewed here.
Sources