Teen Titans Go! See Space Jam is a crossover film between the Teen Titans Go! and the 1996 film Space Jam. It premiered on Cartoon Network on June 20, 2021, over a month prior to Space Jam: A New Legacy, and was released on digital on July 27, 2021. It also serves as the third Teen Titans Go! movie.
Summary
The Teen Titans are visited by the Nerdlucks, the iconic Space Jam villains who tried to capture Michael Jordan and the Looney Tunes. Astonished to discover his fellow Titans have never seen Space Jam, Cyborg organizes an exclusive watch party.
Of course, if the Titans are watching a movie, don't expect silence to be golden. Raven and Starfire provide the commentary, Cyborg presents the fun facts, Beast Boy points out the butt shots, and Robin … well, Robin doesn't trust their new alien friends. Are the Nerdlucks here to attend an innocent watch party, or do they have more sinister motives up their sleeves?
Plot
The Titans are relaxing by the swimming pool. Later, they get interrupted by a spaceship hovering over them. It lands near them, and The Nerdlucks come out of their spaceship. Robin says that they are evil, but the others disagree and let them in the tower. Cyborg later suggests that they should watch Space Jam. The other Titans have no idea what it is, so he explains. After he does so, they agree to watch it.
They pause the movie to point out that the Nerdlucks can take powers. The Titans except Robin suggest that they use their powers. They do so. Blanko gets Cyborg's powers, Bupkus gets Raven's, Bang gets Beast Boy's and Nawt gets Starfire's. Pound stays the same due to Robin having no powers. Robin shows off his dance moves, but they all don't like it. The movie continues.
Characters
Major
Cast
Main Cast
Supporting Cast
Archived recording for the 1996 film, Space Jam
Live-Action Actors
Michael Jordon as himself
Bill Murray as himself
Larry Bird as himself
Thom Barry as James Jordan
Manner Washington as Jeffrey Jordan
Eric Gordon as Marcus Jordan
Penny Bae Bridges as Jasmine Jordan
Del Harris as himself
Charles Barkley as himself
Patrick Ewing as himself
Shawn Bradley as himself
Larry Johnson as himself
Muggsy Bogues as himself
Animated Actors
Trivia
This movie was probably made to celebrate the release of the sequel, Space Jam: A New Legacy.

Originally, this film was titled Space Jam 1.5, and this film pays a tribute to Mystery Science Theater 3000 and references to Disney's animated films, such as The Lion King 1 1/2 and Beauty and the Beast: Sing-Along at EPCOT.

During when they were watching the film, some interruptions were heard such as:

Robin complaining about the The Nerdlucks
Cyborg's Fun Facts
Beast Boy's Butt Shot Counting
Issues by Raven
Starfire questioning and commenting during the film

All of them are in speak bubbles.

This marks the very first time Teen Titans Go! has a premiere on a Sunday.
Previously most younger fans who have not seen "Space Jam" believed that one of the Monstars are actually enemies of the Justice League which are owned by DC and Warner Brothers. It turned out that only their successors the Teen Titans get to deal with them. It's still unknown whether they'll make future DC crossovers comic books about them.
Apart from the crossover, this isn't the only relation TTG has had with Space Jam-- LeBron James, who starred in the episode "The Cruel Giggling Ghoul", has starred the sequel, Space Jam: A New Legacy.
Compared to the original Space Jam film, many pieces of the soundtrack like Fly Like an Eagle and the famous Are You Ready for This? that occurs during the game were replaced by different compositions, likely for licensing reasons.
Transcript
The transcript for Teen Titans Go! See Space Jam! can be found here
Gallery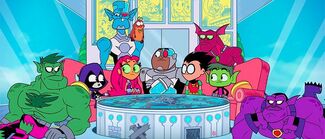 The image gallery for Teen Titans Go! See Space Jam! may be viewed here.