"Teen Titans Save Christmas" is the sixth episode in the fourth season of Teen Titans Go!, and the one-hundred-sixty-third overall episode of the series.
Synopsis
When Santa decides to quit, the Titans pitch in to save Christmas.
Plot
Oh yeah... It's the anticipating Christmas Eve once again, and despite the poor octopus gets burned by the Christmas light decorations, things aren't going to go awry, and everyone will be super gleeful about Christmas' arrival, right? Nope, this doesn't apply to the five Titans after all, who can no longer feel happy and despondently exit their rooms and head into the living room. They know that after they step in and prevent the notorious Santa Claus from conquering every holiday like fools. The "jolly" old man has ultimately decided to quit delivering them their share of Christmas gifts they used to yearn for under the tree and/or into their stockings until they enter the living room...
They had received presents under their tree, which is an utter surprise for them--one day early!--since they had lost hope from getting a single gift already! Elated, they snatch their respective gift boxes quickly, one by one... Unfortunately, they realize that the "surprise gifts" turn out to be piles of coal. Despite this, their disappointment doesn't last long because they manage to overcome it by comforting themselves that it's better than not receiving any. They are somehow going on a train trip around the world on distributing the excessive amount of coals! With Cyborg as the mine train, the five get into a mania:  Beast Boy throwing away pieces of coal, Raven shoving loads of these fuels off the train, Starfire crazily screaming the name of the fossil fuel while a myriad of them showering her, and Robin emphasizes the importance of coal being the power energizing of the world. But as they claim that this is the best Christmas ever...
Santa Claus, the "jolly" old man who deeply despises our five titular protagonists, appears on their couch drinking bottles of milk and spoils their fun on being coal-miners by referring to coal as a garbage gift for terrible children... Because he's still mad with the Titans. Although, BB doesn't care and proclaims his love for his lump of coal. Then Raven and Starfire wonder how Santa has broken in (since they no longer have a chimney), and of course, Santa claims that he has his crowbar as his "Christmas magic"... by cracking the tower's window! Anyway, Santa finally concedes that if he had not monopolized any holidays, then he doesn't need any one of them anymore, which means he's quitting his job!
Since the Titans have gotten used to not having presents anymore, they initially aren't surprised... Until Santa, while pretending that he's a dancing ballet, reveals that none of the children on Earth will receive the presents they deserve! Cyborg and Starfire are furious that he is a monster who abandons his duty to deliver presents to the other children. But Santa, who is irresponsible, still claims that presents have become history and doesn't forget to refer to the five as garbage kids when he breaks the window/wall and leaves with his reindeer Rudolph.
Luckily, when Beast Boy is afraid that Christmas is gone, Robin already has a plan: perceiving that the children's sadness will reach peak levels without any toys by breakfast. He declares that all five of them are the Christmas miracle by telling them that they're going to fill in Santa's place as he hears BB and Star's worries. Raven and Cyborg quickly concur with him as they each think that Christmas shouldn't focus entirely on material goods and is crazy enough to work! Then, Cyborg accepts his position as the sleigh-building engineer, Beast Boy agrees to be the reindeer while the girls venture to become Christmas elves who'll make toys for all the good girls and boys and work around the clock till their hands bleed... Expect for Robin, who forces everyone to acknowledge him as the substitute Santa, despite everyone pointing out that Sticky Joe (who Robin considers as a filthy Bohemian) is a better option because of his long beard and plump belly.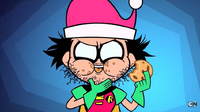 Anyway, since all of the children are depending on the Titans for their well-deserved presents, the team begins preparing themselves. Robin fattens himself with a bunch amount of milk and cookies and adds some hair-growing cream onto his chin; Cyborg builds the sleigh; BB trains himself with loads of gym exercises (as a reindeer), and the girls mass manufacture toys at a nonstop pace. Eventually, when Christmas arrives, Cyborg has built the sleigh that has two turbo engines powered by a nuclear fusion reactor. Beast Boy looks like he's ready to pull the sleigh, the worn-out girls who have sacrificed their rests and hands in return with a bag of toys, and Robin who has become a literal Santa!
Of course, Robin's friends are concerned about his weight gain (which is now jiggling like a bowl full of jelly) and his poor heart that is suffering from possible heart disease. But he still insists on starting their mission after he orders Raven to help transport them and the toys in the sleigh, and off they go! Unfortunately, their errand for the first house is a terrible beginning... since he refuses to listen to his friends' suggestion on using Christmas magic (crowbars!) to enter the house. He has difficulty getting through the chimney thanks to his "recently expanded girth" even with the help of some punching from the ol' Christmas shablamo. Not only has he gotten a broken leg, but he also has to endure a lot of pain from the punches. What's worse, the family and the dog deem him as an intruder and go ahead to thrash him!
Luckily, as Beast Boy encourages Raven to use her Christmas magic, she reacts resourcefully by teleporting herself and using her crowbar to smash one of the house's windows to rescue Robin. Unfortunately, this only draws attention from the police, and they have to flee quickly. Reindeer Beast Boy uplifts Robin as a compliment despite his failure. But Raven is certainly not happy with the total number of houses they have to visit when Star tells her that it's approximately seven billion... Later, the sudden arrival of Santa Claus! Santa is palpably exasperated that Robin is saying his catchphrase "ho-ho-ho," and the fact that the Titans are taking his job. Although, he's a bit worried about the health condition of Robin, who promises to go to see a doctor after Christmas. Anyway, he persists that Christmas is over despite Raven's valid argument of him being the irresponsible one who abandons his holiday duty. He argues his way out of his mistake by pointing out that if the world missed Christmas, they'd be desperate to have him back...only after they allow him to conquer other holidays! His evil plan wouldn't succeed if those "garbage children" give out presents, though...
After Santa violently rams the Titans' sleigh, the chase is on! Cyborg's twin-turbo engines, while super speedy, are no match for Santa's colossal rocket engine. Well within range, Kris Kringle orders Rudolph to start shooting lethal lasers with his red nose. The continuous stream of fire knocks out one of their engines. And so, Robin, realizing that they can't outrun Santa, orders the elves to battle stations. Starfire and Raven give a loyal salute, strap into dual laser cannons, and then return fire with a vengeance. The deadly lasers keep coming from both sides until the two sleighs eventually blow each other out of the sky. At least the snow buffers the force of our falling heroes from the sky, and Santa's sleigh explodes midair.
Initially, Robin hasn't let his guard down yet, so he orders Cyborg to scan the area for any suspicious figure that resembles Kris Kringle. But after a brief search without any results... he immediately lowers his defense and instructs the girls to retrieve their gifts for delivery, until..."PLOT TWIST!!!" It turns out that Santa is alive and well as he emerges from the ruins of burnt fruits of labor that the girls have made for months, and he had prepared—this time, he had armed with a gun!
But that doesn't mean Santa is going to finish off and prevail though. Wonder why? Thanks to another "PLOT TWIST!" Sticky Joe comes to rescue the Titans rescue after Santa gets distracted by the bright white light when he appears with his trusty possums as his steed for his flying dumpster bin! Having underestimated Sticky Joe, Santa insults Joe as a despicable bohemian and is about to aim at him. Yet, he soon has to eat his own medicine: being covered up in a pile of garbage bags, Robin mocked him as the real garbage, and is greeted by the other Titans' smirks! Although the presents have been destroyed, Sticky Joe has some replacements to compensate for the Titans' loss... bags of beans! Fortunately, the Titans don't feel disappointed for long.
Within less than a few minutes, the Titans descend into canned baked beans mania. As Cyborg turns himself into a train, the four others get aboard and travel around the globe via Cyborg's help, delivering and distributing beans for every kid in the world! Even though they had probably made some children crying among the pile of canned beans they had left behind, they declare this Christmas is the best day ever had. Anyway, MERRY CHRISTMAS everybody!!!
Characters
Main Characters
Minor Characters
Cameos
Bane (cameo on bean cans)
Trivia
Continuity
Santa Claus makes his second appearance in the fourth season. His earlier fourth season appearance was in "Halloween v Christmas".
Santa's pet name for the Titans, "garbage children" is said again for the second time in the series. The first time Santa called them that was in "Halloween v Christmas". He also likes to switch it up and say "garbage kids".
The Titans (excluding Robin) wear the elf uniforms for the second time in the series. The first time they wore them was in "The True Meaning of Christmas".
Raven is seen unhooded for the 52nd time in the series.
Santa has to use "Christmas magic" (a crowbar) to enter Titans Tower. The reason for this, as Starfire points out, is that Titans Tower doesn't have a chimney. Their chimney exploded in a previous episode, "Birds".
Cyborg's train form from "Caged Tiger" reappears in this episode.
The reasons that Santa hates the Titans can be traced back to the events of "The True Meaning of Christmas" and "Halloween v Christmas". However, he is not a total monster; hard feelings aside, even Santa is concerned about Robin's health after such recent excessive weight gain and suggests he seek medical help.
Raven's love for Pretty Pretty Pegasus is heavily hinted among the bag of burnt presents. You can see the head of a Butterbean toy amid them if you're observant during the scene when Santa walked out unscathed armed with a gun readying to confront the Titans.
References
Sticky Joe's favorite brand of canned beans appears to be Baked Banes. The label has a picture of Bane from The Dark Knight squeezing a bean and saying, "I will bake you!"
Robin stuffing himself with milk and cookies to speed up his weight-gaining progress is based on the well-known Christmas myth of Santa's favorite treats being milk and cookies.
Errors
When the Titans get in the sled, Raven's eyebrows do not appear.
Initially, the girls have messy hair, wretched hands, and bloodshot eyes after overworking, but after Robin comes in dressed as Santa Claus, later they return to their normal state.
Robin declares that coal is the power energizing the world. Nevertheless, this is no longer exact since there are more and more countries that are changing their energy generation from fossil fuels (coal included) to renewable energy sources.
Running Gags
The other Titans making fun of Robin for being Santa Claus.
Santa saying Christmas is over forever.
The Titans getting excited over unusual Christmas gifts such as coal and cans of beans, followed by Cyborg turning into a train and the other Titans riding on him around the globe.
Santa and the Titans using "Christmas magic" for the purposes of breaking and entering.
Robin's rapid weight gain causing concern for his health and well being.
Transcript
The transcript for "Teen Titans Save Christmas" can be found here.
Gallery
The image gallery for Teen Titans Save Christmas may be viewed here.