"Terra-ized" is the twenty-first episode of the first season of Teen Titans Go!, and twenty-first overall episode of the series.
Synopsis
Beast Boy thinks that a girl named Terra is his new girlfriend, but she is only using him to gain access to all of the Titans' data files. Raven is suspicious of her every move, or is she just jealous like the Titans assume.
Plot
The episode begins when Robin's Batman alarm clock goes off. There's is just something in the air that makes Robin know it's going to be a good day. After he gets dressed, he trots out of his room and starts singing a song about how great the morning
is (with rhymes centered on mornin'). He greets Starfire, then proceeds to make a bowl of Bat-O's (paying no heed to an overflow of milk). Robin's cheerful mood, accompanied by his annoying singing make Cyborg and Beast Boy disturbed. The two bros demand that he stop, but since Robin is the leader, he just ignores them and continues singing. As he makes his way into the living room, he sees a blonde haired, blue-eyed girl looking through at the Titans' secret documents. Caught up in his song, it takes Robin a while to realize what's going on, but he finally gets the gist and panics. He sounds the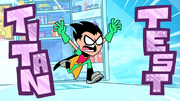 alarms and security system, which leaves the girl trapped in metal suspensions with laser turrets aiming at her (a bit too much). Beast Boy walks in and asks Robin to chill and sets her free... he explains that the girl's name is Terra, and that she's his girlfriend.
Later, all the Titans enter the living room wondering what the big emergency was, and Robin asks how she got past the security. Beast Boy replies that he gave her access to the Titans Tower. So Starfire asks how the two met, because they're happy for Beast Boy - all except for Raven. She finds it a little coincidental on how Terra asked to meet Beast Boy. Cyborg and Starfire think that she's just saying that 'cause she's jealous, which annoys Raven. Beast Boy says that Terra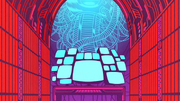 could be a new addition to the Titans; she even has the power to levitate rocks. Robin likes that idea, but first, he'll need to test her to see if she is worthy of the honor. He attempts jumping at her in a tree costume, but he falls over in shame.
Next, Beast Boy and Terra are discussing what they like, and Beast Boy knows for a fact that she likes secret compartments. He flips a switch to reveal a secret door, guarded by many passageways, which finally leads to a huge, data-filled room with computers, files, and all sorts of stuff Terra would want. Beast Boy doesn't take a hint that she doesn't like him, and she keeps on avoiding him. When he moves in to kiss her, she says to get her camera, and THEN she'll kiss him. Beast Boy then leaves retrieve her camera. While he is gone, Terra is seen talking on a phone to an unknown (but likely evil) source saying that she will soon have all of the Titans' secrets and that the Teen Titans will soon be nothing but a "bitter memory".
When Terra is going to procure some milk, Robin is found hiding in the fridge. Thinking he's got her this time, he jumps out at her, but Terra crushes his head between two cinderblocks. She apologizes, and Robin understands, even though his face has been sucked off. Things are going pretty smoothly for Beast Boy, or so he thinks, and Cyborg and Starfire ask Beast Boy how it's going with Terra. He recounts how she wanted to know about him, his passwords, the other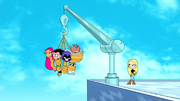 Titans' passwords, and all that business. This highly alarms Raven and her suspicions grow about Terra's intentions. However, the Titans accuse her of jealousy towards Terra, and they think Terra is in love with Beast Boy now. After remarking that she hates them, she pounds them with a giant fist before leaving in the elevator. Beast Boy then heads back to the secret lair for a date with Terra.
Beast Boy discovers that Terra actually said DATA (as in data transfer) instead of date, and wants to put all of the Titans' sensitive files on her flash drive. Somehow, Beast Boy thinks the whole situation is romantic (he even turns on the "romance meter".) He moves really up close to Terra and says he wants a little kissy first, launches him out of the Tower with a huge boulder. Beast Boy then returns and offers a deal: confidential data first, then a kiss. He transfers the files onto her flash drive for her, then puckers up for a kiss. This time, Terra drops a stone on his head, and Beast Boy is easily knocked out.
Raven has been watching the whole ordeal from her magic eye, and her predictions are now proven. Raven apprehends Terra and confronts Cyborg and Starfire again, this time with evidence. Unfortunately, they still think she's just gone crazy with jealousy. Suddenly, Robin performs his next test as he blasts himself from a cannon (don't worry, he's got a helmet). He completely misses Terra, but succeeds in hitting all the other Titans (except Beast Boy). This gives Terra the opportunity to tie them up and hang them over the Tower before she leaves.
Beast Boy arrives right when she's about to kill them, but he doesn't have a clue... he thinks she's just leaving because she wanted to break up. Beast Boy begs to know what she really thought of him. Well,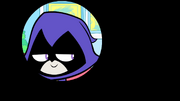 she finally lets her feelings loose by taking a gigantic, spherical rock from the island to squash Beast Boy. But luckily, Raven breaks free from her bonds, destroys the rock, and saves Beast Boy. She then opens a portal that sucks Terra into another dimension.
Things return to normal (apart from the missing chunk of the Tower) around the place, and the Titans admit that Raven was right after all. Raven keeps going on just how ridiculous the idea of her and Beast Boy being together. However, the thought of that relationship brings a little smile to her face....
Characters
Song
Trivia
The title is a play on the word "terrorized".
This is Terra's first appearance, with Ashley Johnson reprising her role from the original series.
Coincidentally, this is not the first time characters voiced by Greg Cipes (Beast Boy) and Ashley Johnson (Terra) have been involved in a loving relationship. It also occurred in Super Robot Monkey Team Hyperforce Go!, where they played Chiro and Jinmay, respectively; along with the Ben 10 series where they played Kevin and Gwen.
Briefly, while Terra first demonstrates her power, the seagull can be seen wearing purple shutter shades and listening to music from a gold boombox.
According to "Be Mine", this episode takes place around six months before Valentine's Day, meaning the episode takes place on August 14, 2013.
Beast Boy breaks the fourth wall by saying "Oh, snap" and giving a thumbs up to the viewers.
This episode features some very vague references to Slade, and hints that Terra is probably working for him.
Unlike the original series, Terra seems to be a full-time villain in this series, similar to her comic persona in the original DC comics. However as the series continued on, she was toned down to the point she came off more as a obnoxious jerk though still a villain.
A picture in the hallway shows Silkie in a Batman suit.
Continuity
Bat-O's make a sixth appearance. ("Legendary Sandwich", "Driver's Ed", "Double Trouble", "La Larva de Amor", "Gorilla")
The story to this episode is later continued in the episode "Be Mine".
The VS gag from "Laundry Day" and "Parasite" appears when Raven fights Terra.
Music from "Laundry Day" and "Parasite" are heard in this episode when Robin awkwardly floats away from Terra just after telling her to be prepared for random Titan Tests.
Music from "Dog Hand" also comes back.
Starfire speaks in teenage slang again, which she first did in "Dog Hand".

The same music is also playing in the background.

This is the third romantic-themed episode of the series,
References
The title of the episode is a pun on the word "terrorized."

It may also be a reference to pro-wrestler "Terra Ryzing," now known as Triple H in WWE.

When Beast Boy is figuring out what happening when he sees the other Titans tied up and Terra about to leave, the music sounds like the "think music" from the game show Jeopardy.
The wacky entrance that leads to the secret hidden room of the Titans Tower's super computer system is a spoof of the doors sequence from Mystery Science Theater 3000.
That same computer appears to run a variant of the old Mac OS 9 operating system, only with a "T" on top instead of an apple.
One of the vault doors leading to the Titans' hidden room had the number 101 on it, a reference to Vault 101 from Fallout 3.
At the start of the episode, we can see a picture of Robin on Batman's shoulders with Alfred Pennyworth and Superman on both sides of him next to the Batman alarm clock.
Starfire guessing what the "L" word is, she mentions lobster which is referring to the "lobster love" theory was a direct reference of a Warner Bros. sitcom Friends.
Errors
Despite Robin questioning how Terra got past security, the Pizza Deliverer and the senior citizens were able to get past it with ease in "Hey Pizza!"
Running Gags
Robin giving Terra the "Titans Test" at random times.
Beast Boy trying to give Terra a kiss but she keeps rejecting.
Starfire and Cyborg thinking that Raven is jealous of Terra.
Raven trying to tell everyone that Terra is evil and them not listening.
Terra smashing Beast boy with rocks.
Transcript
The transcript for "Terra-ized" can be found here.
Gallery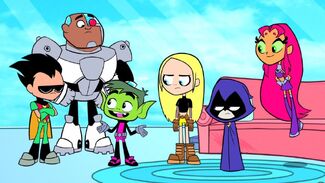 The image gallery for Terra-ized may be viewed here.
v - e - d Episode Guide
Season 1: April 23, 2013 - June 5, 2014
Legendary Sandwich • Pie Bros • Driver's Ed • Dog Hand • Double Trouble • The Date • Dude Relax • Laundry Day • Ghostboy • La Larva de Amor • Hey Pizza! • Gorilla • Girl's Night Out • You're Fired! • Super Robin • Tower Power • Parasite • Starliar • Meatball Party • Staff Meeting • Terra-ized • Artful Dodgers • Burger vs. Burrito • Matched • Colors of Raven • The Left Leg • Books • Lazy Sunday • Starfire the Terrible • Power Moves • Staring at the Future • No Power • Sidekick • Caged Tiger • Second Christmas • Nose Mouth • Legs • Breakfast Cheese • Waffles • Be Mine • Opposites • Birds • Brain Food • In and Out • Little Buddies • Missing • Uncle Jokes • Más y Menos • Dreams • Grandma Voice • Real Magic • Puppets, Whaaaaat?

Season 2: June 12, 2014 - July 30, 2015
Mr Butt • Man Person • Pirates • Money Grandma • I See You • Brian • Nature • Salty Codgers • Knowledge • Slumber Party • Love Monsters • Baby Hands • Caramel Apples • Sandwich Thief • Friendship • Vegetables • The Mask • Serious Business • Halloween • Boys vs Girls • Body Adventure • Road Trip • Thanksgiving • The Best Robin • Mouth Hole • Hot Garbage • Robin Backwards • Crazy Day • Smile Bones • Real Boy Adventures • Hose Water • Let's Get Serious • Tamaranian Vacation • Rocks and Water • Multiple Trick Pony • Truth, Justice and What? • Two Bumble Bees and a Wasp • Oil Drums • Video Game References • Cool School • Kicking a Ball and Pretending to Be Hurt • Head Fruit • Yearbook Madness • Beast Man • Operation Tin Man • Nean • Campfire Stories • And the Award for Sound Design Goes to Rob • The HIVE Five • The Return of Slade • More of the Same • Some of Their Parts

Season 3: July 31, 2015 - October 13, 2016
Cat's Fancy • Leg Day • Dignity of Teeth • Croissant • Spice Game • I'm the Sauce • Hey You, Don't Forget about Me in Your Memory • Accept the Next Proposition You Hear • The Fourth Wall • 40%, 40%, 20% • Grube's Fairytales • A Farce • Scary Figure Dance • Animals, It's Just a Word! • BBBDAY! • Black Friday • Two Parter • The True Meaning of Christmas • Squash & Stretch • Garage Sale • Secret Garden • The Cruel Giggling Ghoul • How 'Bout Some Effort • Pyramid Scheme • Beast Boy's St. Patrick's Day Luck, and It's Bad • The Teen Titans Go Easter Holiday Classic • Batman v Teen Titans: Dark Injustice • Bottle Episode • Finally a Lesson • Arms Race with Legs • Obinray • Wally T • Rad Dudes with Bad Tudes • Operation Dude Rescue • History Lesson • The Art of Ninjutsu • Think About Your Future • TTG v PPG • Coconut Cream Pie • Pure Protein • Open Door Policy • Crazy Desire Island • The Titans Show • Booty Scooty • Who's Laughing Now • Oregon Trail • Snuggle Time • Oh Yeah! • Riding the Dragon • The Overbite • The Cape

Season 4: October 20, 2016 - June 25, 2018
Shrimps and Prime Rib • Halloween v Christmas • Booby Trap House • Fish Water • TV Knight • Teen Titans Save Christmas • BBSFBDAY! • The Streak • The Inner Beauty of a Cactus • Movie Night • BBRAE • Permanent Record • Titan Saving Time • The Gold Standard • Master Detective • Easter Creeps • Hand Zombie • Employee of the Month: Redux • The Avogodo • Orangins • Jinxed • Brain Percentages • BL4Z3 • Hot Salad Water • I Saw You Dance • The Story in Your Eyes • Playing Hard to Get • The Night Begins to Shine • Lication • Labor Day • Classic Titans • Ones and Zeroes • Career Day • TV Knight 2 • Justice League's Next Top Talent Idol Star • The Academy • Costume Contest • Throne of Bones • Demon Prom • Thanksgetting • The Self-Indulgent 200th Episode Spectacular! • BBCYFSHIPBDAY • Beast Girl • Flashback • Bro-Pocalypse • Mo' Money Mo' Problems • TV Knight 3
Season 5: June 25, 2018 - April 4, 2020
The Scoop! • Chicken in the Cradle • Kabooms • Tower Renovation • My Name is Jose • The Power of Shrimps • Monster Squad • Real Orangins • Quantum Fun • The Fight • The Groover • Justice League's Next Top Talent Idol Star: Second Greatest Team Edition • How's this for a Special? Spaaaace • BBRBDAY • Slapping Butts and Celebrating for No Reason • Nostalgia is Not a Substitute for an Actual Story • Business Ethics Wink Wink • Genie President • Tall Titan Tales • I Used to Be a Peoples • The Metric System vs Freedom • The Chaff • Them Soviet Boys • Little Elvis • Booty Eggs • TV Knight 4 • Lil' Dimples • Don't Be an Icarus • Stockton, CA! • What's Opera Titans • Forest Pirates • The Bergerac • Snot and Tears • Campfire! • What We Learned at Camp • Communicate Openly • Royal Jelly • Strength of a Grown Man • Had to Be There • Girls Night In • The Great Disaster • The Viewers Decide
Season 6: October 4, 2019 - present
Butt Atoms • TV Knight 5 • Witches Brew • That's What's Up! • Crab Shenanigans • Brobots • Brain Flip • Beast Boy on a Shelf • Christmas Crusaders • We're Off to Get Awards • Bat Scouts • Walk Away • Record Book • Magic Man • Titans Go Casual • Rain on Your Wedding Day • Egg Hunt • Justice League's Next Top Talent Idol Star: Justice League Edition • Mission to Find the Lost Stems • Drums • Guitar • Bass • You're The One
Top of the Titans: April 27, 2018 - July 20, 2018
Raddest Songs • Best Love Songs • Beast Boy & Cyborg Songs • Dance Party • Best Rivals