"Thanksgetting" is the forty-third episode in the fourth season of Teen Titans Go! and the two-hundredth overall episode of the series.
Summary
Constantly bored of the same traditions on Thanksgiving, the Teen Titans (Minus Robin) create a new holiday with their own rules & traditions.
Plot
It is Thanksgiving at Titans Tower and Robin is REALLY EXCITED!!! He sets out everything for a perfect Thanksgiving: mashed potatoes, cranberries, and even turkey! The other Titans don't seem pleased with the food selections though. Instead, they ask if they can have anything else to eat but Robin said that they need to eat because it is the number one tradition. The next tradition is saying what they're thankful for. Robin is thankful for his very heroic, an awesome butt with strong abs and for being the leader of the Teen Titans. Cyborg is next and he says he is "thankful" for having a not so great Thanksgiving (which is very rude) Beast Boy said that he was thankful for poop but Robin said that he cannot be thankful for such a disgusting word (especially when Beast Boy starts singing an annoying "poop" song) and lastly Raven says that she is thankful that she has a great friend like Robin, but Robin quickly realizes she said it sarcastically, which is meant also. Then finally, Starfire said that she is thankful that Christmas is only a month away but Robin excludes all of these rude, nasty "gratitudes" and moves on with the last tradition, arguing about politics...which leads to them having a fierce fight, causing half of the Tower to get damaged.
The four Titans (sans Robin) now argue that they cannot take such a tradition like Thanksgiving anymore so they decide to create a new era of Thanksgiving called "Thanksgetting". Robin warns them about changing the year tradition that they may suffer some serious consequences. But they move on with their own traditions starting with fancy costumes (Starfire as a cat, Raven dressed as a Swiss Yodeler, Beast Boy as a dinosaur and Cyborg as a cowboy) and announce that the next tradition is that they can eat whatever they want (burgers, burritos, cupcakes, and other foods were at the table) Robin said that they cannot do a thing like that but the other four moved on saying what they are "not" thankful for. Cyborg said bee stings, Beast Boy said paper cuts, Raven says it's the sun (which she destroys purposefully though Robin points out they'll all die without the sun) and Starfire said that she isn't thankful for Robin's "stinky" attitude (which is a nasty thing to say about someone for a friendly girl like her). Finally, the last tradition is the "getting" in which each of the four Titans "gets" something they want.
Robin is now very mad with them about changing the tradition, and it turns out that his earlier warning comes true when everything is halted because of that weird talking Thanksgiving Turkey getting "gobbled" up and trapping the Titans under its wings by binding the five Titans with an evil tree's branches. Although Robin claims that his friends will be beyond sorry for changing the tradition, he still chooses to challenge the turkey as he witnesses how the turkey causes his friends to become sickened. After an intense battle, Robin defeats the turkey by throwing it into the oven and then into the ocean, even wishing it to have a good time in its water "gravy".
After a monstrous defeat of the turkey, the four other Titans start to get very tired thanks to the traumatic experience. Nevertheless, Robin believes that this is a great Thanksgiving and is thankful for this year's dinner. He then forces his friends to apologize in their slumber and wishes the audience a happy Thanksgiving. The episode ends with the turkey swimming to the screen while gobbling evilly.
Characters
Main characters
Minor Characters
Song
Trivia
This episode premiered a year after "Fish Water".
This is the 200th episode. This episode was celebrated in the following two episodes.
This is the second Thanksgiving episode of the series, after "Thanksgiving".

"Black Friday" is technically not a Thanksgiving episode so it does not count.

The title of this episode is an obvious antonym to "Thanksgiving".
This episode reveals that Raven hates the sun.
Analogous to the Titans, some American families do discuss politics at the dining table during Thanksgiving Day, and these discussions usually don't end in a good way.
Cyborg's political opinion on how the government should do everything it can to make sure the people are well cared for is a truth, it's just that nobody likes truths so nobody accepts what he has said.
Continuity
The Thanksgiving table and decorations from "Thanksgiving" and "Black Friday" are seen again in this episode.
Raven wears her Swiss yodeling uniform from "Operation Tin Man".
Cyborg wears his cowboy outfit from when he was trying to be a money deputy in "Pyramid Scheme".
Starfire is seen wearing a cat costume for the second time in the series. The first time was in "Scary Figure Dance".

Also, her cat costume in this episode is very similar to Robin's cat costume from "Cat's Fancy", because in this episode it's shown to be a full bodysuit.

The Thanksgiving Turkey marks his second overall appearance and his first speaking role in the series. He debuted in "The Teen Titans Go Easter Holiday Classic".
Thanksgetting isn't the only holiday the Titans (except for Robin) have created. In an earlier episode, they celebrated Second Christmas.
Robin has imitated the voices of his fellow Titans many times before. In "Puppets, Whaaaaat?", he gave his Titan puppets their own little voices, and in "Uncle Jokes", his body and voice changed to look and sound like his fellow Titans.
Peter Rida Michail reprises his role as the Thanksgiving cranberry roll from "Black Friday".
One of the disgusting rats from "Thanksgiving" makes a brief appearance.
The Easter Bunny from "The Teen Titans Go Easter Holiday Classic" and "Easter Creeps" makes a quick cameo.
Beast Boy's Thanksgetting food of choice is marshmallow cereal, which was seen in "The Gold Standard".
The Halloween costume backdrop from "Costume Contest" is seen at the beginning of the episode.
Raven is unhooded for the 74th time.
References
When the word "tryptophan" appears as a graphic, the letters and background look similar to the title sequence of another show, Breaking Bad.
Etrigan's face is revealed in the Halloween graphic.
When Starfire carves a pizza, she uses a chainsaw and wears a hockey mask, much like Jason Voorhees from the Friday the 13th movies.
This episode is similar to the Planet Sheen episode with the same name as this one.
Errors
When Raven destroys the sun with her dark magic, the other Titans would have died. This is later pointed out by Robin.
Technically speaking, this episode is the REAL 200th episode, although the next two-parter celebrates the show's 200-episode milestone.
Beast Boy eats marshmallow cereal even though he's a vegetarian.
Running Gags
The four other Titans being sarcastically thankful.
The Titans (excluding Robin) counting holiday traditions.
Transcript
The transcript for "Thanksgetting" can be found here.
Gallery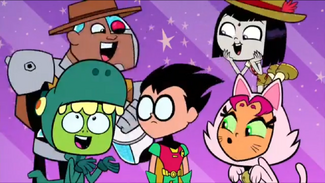 The image gallery for Thanksgetting may be viewed here.