"The Bergerac" is the thirty-fifth episode in the fifth season of Teen Titans Go!, and the two-hundred-forty-fourth overall episode of the series.
Synopsis
The Titans give Robin advice to guide him through his camp romance with Wonder Girl.
Plot
As the Titans walk through the campground, Cyborg and Bumblebee are arguing about which decade is best. Robin shuts them both down; to him, it's clearly the 60s, where he could proudly show off his swoll thighs. A leg-dance exhibition ensues, ending with him bumping into Wonder Girl, a hero attending the camp. The exchange is highly awkward, but Robin manages to attract her, even getting in some touchy touchy.
Bumblebee is ecstatic to see Robin hitting it off with Wonder Girl, but the Titans burst into laughter. They explain that Robin has no chance with a girl, with Starfire pointing out his physical and emotional ugliness. However, going off the romantic movies she's seen, Bumblebee sees a serious connection, and also a serious chance of smooching. Everyone in the group recounts their first kiss, all of them a bit weird, but Robin tops them in strangeness: his first time was with a TREE (sadly stolen by a Lumberjack). The team has no faith in Robin's romantic ability, so Bumblebee shoots some incentive stingers that convince them to help her get Robin hooked up.
At the picnic area, Bumblebee sets up a romantic lunch for Robin and Wonder Girl, but the Titan isn't feeling too confident. She advises him to be himself, but Raven dismisses that as a terrible idea. Instead, they plan to hide in the bushes and tell him what to say, kind of like Cyrano de Bergerac... the date starts, and Beast Boy starts giving Robin some pushy lines. Soon, all the Titans are screaming at Robin, and Wonder Girl is outta there! Hearing that she's going back to her ex, Robin loses hope. However, Bumblebee says that if he pulls off a crazy, over the top stunt, he'll win her heart over.
Night has fallen—Robin horse-rides out to the girls camp with a radio and fireworks. As the music starts playing, Wonder Girl leaves her cabin, just in time to see him shot into the air by the fireworks. Although his idiocy is off-putting, Wonder Girl somehow finds him irresistible. The move in for the kiss... when an ax suddenly splits them apart—the Lumberjack! And even more surprising, he's Wonder Girl's ex! Robin goes full speed at him, but he's instantly smashed into the ground. The fight isn't over yet, though... by flexing his thick thighs, Robin frees himself, then proceeds to thigh-slap the Lumberjack. He runs off, crying into the forest—and Robin has won!
As a reward, Wonder Girl lays Robin a kiss, and a long one, too. But since this is a camp romance, she now has to leave him forever. Bumblebee blames herself for dragging Robin into this situation and breaking his heart, he's fine, though— a girl finally kissed him, plus, there's still some hot trees out there. The episode ends with Starfire cringing followed by meticulous vomiting.
Characters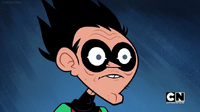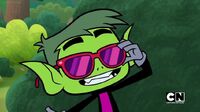 Main Characters
Minor Characters
Cameos
Song
Trivia
Continuity
References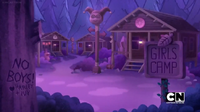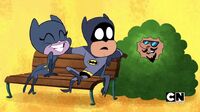 Errors
Running Gags
Transcript
The transcript for "The Bergerac" can be found here.
Gallery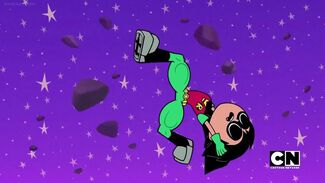 The image gallery for The Bergerac may be viewed here.