"The Best Robin" is the twenty-fourth episode of the second season of Teen Titans Go!, and the seventy-sixth overall episode of the series.
Synopsis
When the other Titans are too lazy to fight Brother Blood, Robin calls out his special secondary team: Team Robin, a crime-fighting group made up of different Robins.
Plot
The episode starts with Beast Boy looking for something to eat in the snack cabinet when he comes across a box of pasta. He gets benevolent when he sees it, but then, seeing how long the cooking instructions are, discouraged. He gets back to the couch with the other Titans being lazy, while Cyborg asks Raven to change the TV channel. She claims Cyborg is closer to the remote and that he should get it. He then tries to pick the remote off the floor, but he gives up and tries to change the television manually, but he accidentally punching the screen, causing the television to fall, bursting into flames. Starfire then asks if they should try to put the fire out, but Raven says they should call the Fire Department. Starfire then points out she is closer to the telephone, but she denies that alibi.
Leaving the TV on fire, Robin shows up and tries to extinguish the fire with water and a mini-extinguisher from under his foot. Angrily, he tells the Titans that this was the fourth time he had to put out a fire and shoots the fire extinguisher to Beast Boy, who thanks him. Cyborg asks Robin to change the channel after he fixes the television, making Robin wonder what happened to his team lately. Beast Boy claims that being a superhero is hard, and Starfire thinks that sometimes relaxing is very necessary. Suddenly, a crime alert ring showed to be Brother Blood who kidnapped the City Council. However, when Robin tells the team to go save him, they groan, saying it's too much work. Leaving Robin with no other solution, he calls his other team, surprised the Titans, and asked him what team he was talking to. He then remembered that he has never told him about his other team and calls them with a bird call made by robins, weirded the Titans out. But before Beast Boy could say "Dude! What was--," three more Robins jumped from the window. The Titans get terrified of this, as Robin introduces to all the Robins. Raven, surprised, she never knew about another three more Robins.
Robin answered that there had been more than that since Batman often gets a new sidekick. Robin then pointed out that they were the best of the best, and Robin agreed. Robin then tells the other Robins to save the city council. The Robins left for a second while returning through the other window. Then, the Robins started congratulating each other. In the end, they all said: "Team Robin! Ca-Cah!" Cyborg, surprised, claims that they did their job for them, and Starfire adds that they also did it in a much better way than they did. Raven then points out that, since they are Robins, they all have to be the best. Beast Boy then had an idea for sabotaging Team Robin. They all discuss it in a group. Right after, Robin says that they should have learned a valuable lesson. Beast Boy tells Robin that they have learned their lesson. Robin then makes a speech but is cut off by Beast Boy, saying he was telling that to the Robin who did all the work. Robin then thanked Beast Boy but was cut off again by Beast Boy, who said that he was congratulating the Robin with the hairless legs. However, two Robins have hairless legs, so when they both said "Thank you," they got confused. Then Robin pointed out that he was the classic Robin, who was the best Robin. Robin then said that they all knew he was the best, but Robin interrupted him, saying that she was the best. Then, Robin said that he was the best, and dislocated his arm to prove it, which made all the Robins sick. They all started discussing who was the Best Robin when they got interrupted by Cyborg, who said that obviously, the best Robin was the strongest, quickest, and most capable. Then Raven said the best would be the one who gets pizza first. Robin then asks how that would prove it but gets cut off by Robin jumping out the window to get the pizza. Robin then complains that wasn't very sporty at all before jumping. Starfire then said that she felt guilt and asked Cyborg if they should make their tasks instead. However, Cyborg declines, saying that it was like the old saying: "Always trick your friends into doing stuff for you," and the Titans agreed.
The next scene is a few minutes later when Robin comes in to get the pizza. Raven then thanks Robin and Robin obliged, but then Raven said that she was talking to the other Robin, who got pizza and fixed the television. Robin then said that it was easy if you put your mind to it. He then asks Beast Boy if he needs any help, but Beast Boy said he was fine. Robin starts launching chips into Beast Boy's mouth, chewing it and swallowing it for him. Then Cyborg calls for Robin, which made Robin run there, but it turns out that Robin had made an outfit for Cyborg. He then tells Robin that he should "get his game up" if he wanted to win. Robin then sees Robin giving a massage to Raven and Starfire. This made Robin mad, seeing all the Robins were doing better than him. He shouted at them to get out and threw them out into the elevator, which makes the Titans upset, as Cyborg wants his outfit, and Beast Boy doesn't remember how to eat.
Then the crime alert rings, saying it was Brother Blood again. Beast Boy says that the Robins are not there anymore and asks who is going to fight them. Robin says that they would do it, and, even though they are acting sluggish, he will lead them to victory and prove he is the best Robin. However, in the next scene, they are captured, and Robin asks how it was possible, but Brother Blood had a foolproof plan. He tells them that it is time to die and let a torture machine on top of them. They all start screaming. However, the torturing machine takes a long time to get to them, and Brother Blood asks them to keep screaming. Beast Boy starts screaming again, but Raven punches him to stop. Then, Robin asks if they have anything to say to him, and all the Titans apologize and promise they'll change their laziness. Beast Boy then asks if he can call the other Robins to get out, but Robin denies, saying that the best Robin doesn't need any help. He comes up with a plan: If he struggles enough, he will lose weight and would be able to slip off the ropes. Raven and Beast Boy tried to convince him to call them, however, he keeps declining. Then the Titans say that they are going to call them themselves and try making the bird call that Robin made.
Annoyed, Robin tells them how it was done. However, he didn't realize that his demonstration calls the other Robins. He says that he didn't mean that, but the other Robins come in through the wall. They ask if they need help, and everyone but Robin agreed. Brother Blood then comes through the door, asking if they are dead yet. However, when he sees the Robins, he presses the "In case of Robins" button. Then, Hurt Bot comes in, terrifying the Titans. Team Robin tries to take him down, but he squishes them with an anvil. Brother Blood then ties them up as well, saying that there wasn't enough space and if they could squeeze together a bit, which they did. Robin then says that he wanted them all to know that, since the Robins failed, he still has a chance for being the best Robin. Cyborg then explains that each Robin is special in one way, and no one is better than the other. Robin agrees, saying there is no way to tell which one is best and that they should all be themselves. Robin then points out that is because they are going to die soon, which made everyone scream in terror. However, Super Robin comes in, defeats the Pain Bot and Brother Blood, and disconnects the machine. Then Robin agrees that the bird is the best Robin.
Characters
Trivia
This episode aired one year after "Second Christmas".
In their first appearance (from left to right), the other Robins are Carrie Kelly (orange hair), Silver Age Robin (round mask), and Tim Drake (all-red outfit).
This is Tim Drake's first appearance in Teen Titans Go! It should be noted, however, that the current Robin would've known that he was replaced, and thus would have caused confusion between two sidekicks of the same name.
This is Carrie Kelly's first appearance in the series. She is also the first female Robin to be portrayed as Batman's sidekick.
This is the last episode of Teen Titans Go! that premiered in 2014, due to no episodes airing on the holidays.
Brother Blood 's emergency button says "Press in case of multiple Robins."
This is the first crossover in either series.
This is Brother Blood's third and final appearance in Season 2.
 It's also Brother Blood's third major role in the series, his first two being in "Waffles" and "Baby Hands".
This is the second episode to contain Robin's name in its title. The first was "Super Robin".
Continuity
This episode is not the first time in which Tim Drake, Dick Grayson, and Carrie Kelly are featured as Robin at the same time. The comic series Tiny Titans had also featured these three (as well as Jason Todd, Stephanie Brown, and Damian Wayne) as Robin at once.
References
When the Carrie Kelly Robin says that there are plenty of Robins elsewhere, she may have been referring to Jason Todd, (the second Robin who perished) Damian Wayne (Bruce Wayne / Batman's biological son and latest Robin), or Stephanie Brown.
The picture of Robin when the four comic version Robins are shown, is the same picture of Robin on the front page of the magazine issue of Teen Titans called "Food Fright."
When we see Cyborg in his Robin suit, you can hear the pastoral music of the Cartoon Network miniseries, Over the Garden Wall.
When Robin exits the elevator with a pizza, there are several pictures of villains on the wall, including Harley Quinn, the Halloween Spirit, Slade, and Bane (Dark Knight Rises version).
Errors
Both Classic Robin and Silver Age Robin are Dick Grayson, therefore he should not exist.

It could also be the Earth-One Robin for a parallel universe team-up.

The Titans could've easily escaped from Brother Blood, since it looks like regular rope.
It's impossible that Tim Drake and Dick Grayson can both be Robin at this point in time, because Tim Drake becomes Robin around the time that Dick Grayson is Nightwing. 
In the beginning of the episode, after Robin puts out the small TV fire, the phone that the rest of the Titans were thinking about using to call the fire department disappears, as well as the small table it was on top of. 
Raven says that Silver Age Robin fixed the destroyed TV, which is impossible because the screen was shattered and the whole thing caught on fire.

He most likely just bought a new one. 
Running Gags
The Teen Titans using bird noise to call Team Robin.
Robin saying that he is the best while the American flag appears as a background.
Transcript
The transcript for "The Best Robin" can be found here.
Gallery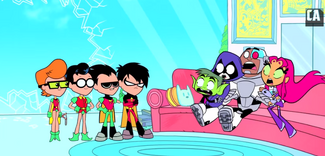 The image gallery for The Best Robin may be viewed here.