"The Cape" is the fifty-third and final episode of the third season of Teen Titans Go!, and the one-hundred-fifty-seventh overall episode of the series.
Summary
Robin and Cyborg argue about the importance of capes.
Plot
The episode begins with much drama as smoke is billowing from Jump City Prison, and an alarm is sounding. Cinderblock quickly enters the scene, looking to break his little brother out of the prison. But before he can make his move, he finds his path blocked by the Teen Titans. They look so awesome with their fluttering capes and hair, yet Cinderblock can't help but comment how Cyborg is the only one without such a dynamic element.
Robin and Starfire deliver blows to Cinderblock, leaving him weakened. Just as Cyborg is about to launch an attack from his arm cannon, he notices some bird dooky on his shoulder and gets distracted wiping it off.
Cinderblock sees this as an opportunity to ditch the Titans and make some bad egg puns as he crashes through several walls. Finally, he reaches his little brother's cell and finds him in a tube-like water chamber, apparently taking a long bath. Cinderblock grabs the water chamber and exits the prison by breaking through the floor.
Meanwhile, Robin blames Cyborg for letting Cinderblock getaway, arguing that a cape could have prevented the whole bird dooky incident. Cyborg refuses to wear a cape though, or any flowing garments. He says he'd rather grow a mustache than wear a cape. Robin argues against it, and Cyborg, unwilling to be a part of the Teen Titans any longer, just walks away.
In the next scene, in an undisclosed location, Slade is sitting in a chair, pretending to hold things in his hand. Cinderblock interrupts his pretend party by opening the water chamber. Slade is not happy to see that his son has been taking long baths in the water chamber and asks to see his fingers, which show evidence of pruning. Because of this bath time arrogance, Slade's son quickly transforms into a big gooey prune monster.
The next day, we see that most of the Titans are back home in the tower. Starfire is trying to make the others eat a pudding which she has tried her best to make taste like "the butt". She offers some to Robin, but he is not interested in butt food. He can't help but think about Cyborg, who is hanging out with Mas and Menos somewhere else. Without his friend around, Robin just can't seem to get his cape to ruffle in the wind like it used to.
Robin decides the only thing he can do now is going into Cyborg's room and steal things from it. While looking for stuff to take, Robin finds a picture of Cyborg and himself sharing a moment. At first, Robin thinks it's creepy, but then he begins to realize just how much he misses the big guy.
Suddenly, the crime alert goes off. There's been a break-in at the prune juice factory! The Titans respond to the alert and find the prune monster there, drinking all the prune juice. Robin refers to the monster as Prune Guy, and soon after that, the Titans are narrowly dodging prune projectiles. Starfire blasts a hole through Prune Guy, and Robin ties the villain up with some rope. Beast Boy turns into a rhino and rams Prune Guy, slamming him down to the floor. Then Starfire and Raven use their powers to pin down Prune Guy with iron beams.
The Titans think Prune Guy is down, but he's not out. Summoning his powers, Prune Guy splits himself into multiple prune monsters and charges toward the Titans. Seeing the odds no longer in their favor, they run away.
Robin goes through the wrong door and lands on a conveyor belt that carries him toward a vat of boiling prune juice. If only Cyborg had been with them, they might have stood a chance. It's too late for that now as a prune crab attacks Robin, and they grapple on the conveyor belt. Robin manages to fling the prune crab over his body, but he also goes over the edge of the conveyor belt. The situation is not good. Robin is hanging off the side of the conveyor belt and is about to fall to his doom. To make matters worse, the prune crab has a hold of his leg and is pulling him down.
All hope seems lost when Robin goes over the edge, that is until he is rescued by a helping hand from Cyborg. The prune crab isn't so lucky, and it melts into the prune juice from whence it came. Robin thanks Cyborg and explains he's just realized that one doesn't need a cape to be a hero. Cyborg agrees and shows off his new mustache to Robin. Robin says he doesn't like it though, so Cyborg agrees to shave it off.
With the team back together, and his cape flowing stronger than ever, Robin and Cyborg do a sweet power move that blasts the prune gunk off of Prune Guy, transforming him back to his old self.
The villain is defeated, and their friendship repaired, Robin and Cyborg play rock-paper-scissors while the other Titans watch on, happy to see their teammates are back to the good friend times.
The scene zooms out to reveal it was all a dubbed episode from the classic Teen Titans series and that the Titans from the Teen Titans GO! series had been watching it together all along. They comment on how fantastic the episode was, and Robin says it was better than he remembered it. The episode ends with them excitedly agreeing to watch more episodes.
Characters
Trivia
This episode is mostly a dubbed version of the first (third in airing order) episode "Divide and Conquer" from the previous Teen Titans series, while two scenes were taken from "Crash" and "Titans East, Part 1".

On the report of Eric J Pringle, this is one of the most expensive episodes from season 3, because it took writers and editors months to restructure the original episode into a cohensive TTG format.

This episode is one of the most polarizing of the series, with some decreeing it as the worst episode of the show for reusing footage from the original series instead of using new footage, as well as for mocking the original source material. However, others finding it to be legitimately funny.
Plasmus is referred to as "Prune Guy" in this episode since Plasmus appeared in his original form in the flashback and not in his current form as seen throughout the series, possibly to avoid confusion from the younger audience who hasn't seen the original series.

This marks the only appearance to date of Plasmus' human form in Teen Titans Go!, only via flashback from the original series.

This episode was originally planned for Season 4, but the TTG crew announced that this episode is a part of Season 3.
Apparently, Cinderblock and Plasmus are siblings, while Slade is their father.
It is unknown whether the Titans were dubbing over the original episode themselves or if they were watching the episode supposedly as is.
After not airing on TV since May 13, 2018, this episode made a return to the TV airwaves on August 22, 2020.
Continuity
References
The song Raven plays is a parody of "Axel F", the theme to "Beverly Hills Cop".
Errors
Running Gags
Slade pretending to hold something.
Robin talking about his cape.
Transcript
The transcript for "The Cape" can be found here.
Gallery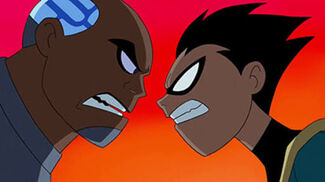 The image gallery for The Cape may be viewed here.