Not till we know our fortune! You first, Beasty. Pick a color.

--Cyborg
"The Date" is the sixth episode of the first season of Teen Titans Go!, and the sixth overall episode of the series.
Synopsis
Robin gets up the courage to ask Starfire on a date, only to find that she has already agreed to go out with Speedy, Robin's arch rival...so Robin kidnaps Speedy!
Plot
The episode starts with Robin playing with a fortune teller and shouting in excitement. Beast Boy passes his door, but stops and wonders what Robin is doing.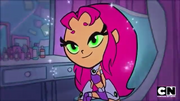 Cyborg later joins Beast Boy on finding what it is. They manage to steal the fortune teller from him. Cyborg and Beast Boy make fun of him for playing with "baby games" but then play it themselves. Both Cyborg and Beast Boy's fortunes were about Starfire, (Beast Boy: you will marry Starfire and Cyborg: You and Starfire will have seven kids) then Cyborg checks all the fortunes They ask Robin why are all of the fortunes about Starfire, and he tells them the fortunes were meant for him.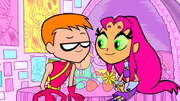 After hearing a voice in his head and getting bad advice from Cyborg and Beast Boy, Robin asks Starfire to a restaurant opening tonight, which she declines because Speedy, by his luck, already asked her. Speedy walks in as a jealous Robin tries to convince Starfire that Speedy is wrong for her. She says she is only going because he and Speedy share many auditory and physical features, hinting she may have a crush on Robin. Robin then kidnaps Speedy, dresses up like him and plans to ruin their date. As Cyborg and Beast Boy watch Speedy, Starfire regrets going on the date. Cyborg and Beast Boy got bored and ask Raven to keep watching Speedy, while they go out and eat. Speedy then escapes, with Raven not showing any attempt to keep him tied.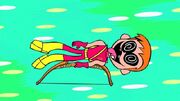 Starfire on her date, tells Speedy (Robin) that she was wrong to think he was like Robin, and walks away from the date. As Starfire is leaving, Speedy (dressed as Robin) arrives. The two boys fight and Robin switches back into his original costume in time for Starfire to fall for Robin. Robin started hearing a voice and felt guilty and tells Starfire what happened. Starfire seems happy at first but punches Robin in the face for ruining her date. Just as she's about to bring Robin further pain, the voice in Robin's head takes her out on a date as Robin lays on the floor, disappointed, along with Speedy knocked out, lying on the floor.
Characters
Trivia
The voice in Robin's head is voiced by Ricky Jay.
Cyborg misspells green when trying to find out Beast Boy's fortune. He spells it like g-r-e-e-e-e-n.
This is the debut of Speedy in the Teen Titans Go! continuity with Scott Menville, also the voice of Robin, replacing Mike Erwin for the voice of Speedy.
Silkie is absent in this episode.
An episode

from

The Amazing World of Gumball and Total Dramarama shares the same title.
It appears that Robin is supposedly good with archery.
This is the first appearance of Robin and Starfire's bedrooms.
This is the first romantic-themed episode of the series.
Continuity
This is the first time Starfire hurts Robin purposely.
Robin and Speedy's rivalry and Robin's crush on Starfire are established.
References
Robin's narrator might be a reference to the movie "A Christmas Story" where the main character also has a similar narrator.
Robin offers Beast Boy and Cyborg Scooby Snacks if they watched Speedy, and, when accepted, Beast Boy turns into Scooby-Doo.

It may also be a reference to the DC Nation New Teen Titans shorts, Turn Back The Clock where he ran out of BB Snacks.

In Robin's room, you can see two posters, one of the Joker and one of Two-Face. There is also a punching bag with the faces of Bane, Killer Croc, and Deathstroke (Slade) on it.
Starfire going out with Speedy may be a nod to their relationship in the comic series, Red Hood and the Outlaws.
When the voice in Robin's head talks about how he thinks Robin is going crazy, it shows Robin in a straight jacket and with a mask, similar to Hannibal Lecter from The Silence of the Lambs.
When Speedy asks Cyborg and Beast Boy to untie him and they say no repeatedly, the way they say it is a resemblance to an episode of Kung Fu Panda: Legends of Awesomeness known as "Mama Told Me Not to Kung Fu", where Po repeatedly asks why Crane resigned from the Furious Five and Crane says no.
When Beast Boy dreams of becoming a millionaire, his dream references Disney's DuckTales.
Robin (in Speedy's outfit) uses the Howie scream when he charges at Speedy in battle.
Errors
When Starfire arrives for the date, she is wearing green star-shaped earrings. However, they disappear when Robin (disguised as Speedy) throws food at her. They reappear when she leaves and runs into Speedy (disguised as Robin).
Running Gags
Robin's inner voice talking to him.
Transcript
The transcript for "The Date" can be found here.
Gallery
The image gallery for The Date may be viewed here.
v - e - d Episode Guide
Season 1: April 23, 2013 - June 5, 2014
Legendary Sandwich • Pie Bros • Driver's Ed • Dog Hand • Double Trouble • The Date • Dude Relax • Laundry Day • Ghostboy • La Larva de Amor • Hey Pizza! • Gorilla • Girl's Night Out • You're Fired! • Super Robin • Tower Power • Parasite • Starliar • Meatball Party • Staff Meeting • Terra-ized • Artful Dodgers • Burger vs. Burrito • Matched • Colors of Raven • The Left Leg • Books • Lazy Sunday • Starfire the Terrible • Power Moves • Staring at the Future • No Power • Sidekick • Caged Tiger • Second Christmas • Nose Mouth • Legs • Breakfast Cheese • Waffles • Be Mine • Opposites • Birds • Brain Food • In and Out • Little Buddies • Missing • Uncle Jokes • Más y Menos • Dreams • Grandma Voice • Real Magic • Puppets, Whaaaaat?

Season 2: June 12, 2014 - July 30, 2015
Mr Butt • Man Person • Pirates • Money Grandma • I See You • Brian • Nature • Salty Codgers • Knowledge • Slumber Party • Love Monsters • Baby Hands • Caramel Apples • Sandwich Thief • Friendship • Vegetables • The Mask • Serious Business • Halloween • Boys vs Girls • Body Adventure • Road Trip • Thanksgiving • The Best Robin • Mouth Hole • Hot Garbage • Robin Backwards • Crazy Day • Smile Bones • Real Boy Adventures • Hose Water • Let's Get Serious • Tamaranian Vacation • Rocks and Water • Multiple Trick Pony • Truth, Justice and What? • Two Bumble Bees and a Wasp • Oil Drums • Video Game References • Cool School • Kicking a Ball and Pretending to Be Hurt • Head Fruit • Yearbook Madness • Beast Man • Operation Tin Man • Nean • Campfire Stories • And the Award for Sound Design Goes to Rob • The HIVE Five • The Return of Slade • More of the Same • Some of Their Parts

Season 3: July 31, 2015 - October 13, 2016
Cat's Fancy • Leg Day • Dignity of Teeth • Croissant • Spice Game • I'm the Sauce • Hey You, Don't Forget about Me in Your Memory • Accept the Next Proposition You Hear • The Fourth Wall • 40%, 40%, 20% • Grube's Fairytales • A Farce • Scary Figure Dance • Animals, It's Just a Word! • BBBDAY! • Black Friday • Two Parter • The True Meaning of Christmas • Squash & Stretch • Garage Sale • Secret Garden • The Cruel Giggling Ghoul • How 'Bout Some Effort • Pyramid Scheme • Beast Boy's St. Patrick's Day Luck, and It's Bad • The Teen Titans Go Easter Holiday Classic • Batman v Teen Titans: Dark Injustice • Bottle Episode • Finally a Lesson • Arms Race with Legs • Obinray • Wally T • Rad Dudes with Bad Tudes • Operation Dude Rescue • History Lesson • The Art of Ninjutsu • Think About Your Future • TTG v PPG • Coconut Cream Pie • Pure Protein • Open Door Policy • Crazy Desire Island • The Titans Show • Booty Scooty • Who's Laughing Now • Oregon Trail • Snuggle Time • Oh Yeah! • Riding the Dragon • The Overbite • The Cape

Season 4: October 20, 2016 - June 25, 2018
Shrimps and Prime Rib • Halloween v Christmas • Booby Trap House • Fish Water • TV Knight • Teen Titans Save Christmas • BBSFBDAY! • The Streak • The Inner Beauty of a Cactus • Movie Night • BBRAE • Permanent Record • Titan Saving Time • The Gold Standard • Master Detective • Easter Creeps • Hand Zombie • Employee of the Month: Redux • The Avogodo • Orangins • Jinxed • Brain Percentages • BL4Z3 • Hot Salad Water • I Saw You Dance • The Story in Your Eyes • Playing Hard to Get • The Night Begins to Shine • Lication • Labor Day • Classic Titans • Ones and Zeroes • Career Day • TV Knight 2 • Justice League's Next Top Talent Idol Star • The Academy • Costume Contest • Throne of Bones • Demon Prom • Thanksgetting • The Self-Indulgent 200th Episode Spectacular! • BBCYFSHIPBDAY • Beast Girl • Flashback • Bro-Pocalypse • Mo' Money Mo' Problems • TV Knight 3
Season 5: June 25, 2018 - April 4, 2020
The Scoop! • Chicken in the Cradle • Kabooms • Tower Renovation • My Name is Jose • The Power of Shrimps • Monster Squad • Real Orangins • Quantum Fun • The Fight • The Groover • Justice League's Next Top Talent Idol Star: Second Greatest Team Edition • How's this for a Special? Spaaaace • BBRBDAY • Slapping Butts and Celebrating for No Reason • Nostalgia is Not a Substitute for an Actual Story • Business Ethics Wink Wink • Genie President • Tall Titan Tales • I Used to Be a Peoples • The Metric System vs Freedom • The Chaff • Them Soviet Boys • Little Elvis • Booty Eggs • TV Knight 4 • Lil' Dimples • Don't Be an Icarus • Stockton, CA! • What's Opera Titans • Forest Pirates • The Bergerac • Snot and Tears • Campfire! • What We Learned at Camp • Communicate Openly • Royal Jelly • Strength of a Grown Man • Had to Be There • Girls Night In • The Great Disaster • The Viewers Decide
Season 6: October 4, 2019 - present
Butt Atoms • TV Knight 5 • Witches Brew • That's What's Up! • Crab Shenanigans • Brobots • Brain Flip • Beast Boy on a Shelf • Christmas Crusaders • We're Off to Get Awards • Bat Scouts • Walk Away • Record Book • Magic Man • Titans Go Casual • Rain on Your Wedding Day • Egg Hunt • Justice League's Next Top Talent Idol Star: Justice League Edition • Mission to Find the Lost Stems • Drums • Guitar • Bass • You're The One
Top of the Titans: April 27, 2018 - July 20, 2018
Raddest Songs • Best Love Songs • Beast Boy & Cyborg Songs • Dance Party • Best Rivals