"The Fight" is the eleventh episode in the fifth season of Teen Titans Go!, and the two-hundred-twentieth overall episode of the series.
Summary
Robin tries to teach the other Titans about real estate, but they're only interested in finding a villain to fight.
Plot
Starfire, Cyborg, Raven, and Beast Boy are sitting on the couch, doing nothing in particular, when Robin bursts through the roof, blow horns ablaze. He's all excited about today's presentation on real estate, specifically the mortgage refinance process. As usual, Robin's speech isn't exactly sparking interest in the Titans. Not even knowing what he's talking about, Beast Boy refuses to listen, so Robin tries to reel him in with data on low interest rates. When Starfire mishears him as saying "low interest rats", Robin clarifies that it's actually a perfect time to start investing in rental property/lower monthly payments.
After the Titans fall asleep, Robin has to use a ferocious blow horns on them. Starfire and Cyborg wonder why he's talking about finance instead of doing superhero stuff. When Robin claims that they're always fighting crime, Raven points out they aren't the Justice League. However, Robin luckily filmed a bunch of their action clips, just in case they had a memory lapse like this. Despite the fact that secretly videotaping them is creepy, the Titans turn to the screen as Robin plays back their past heroic moments...
The compilation shows past action-packed moments from Teen Titans Go!, everything from blasting a demonic toothache with meatballs to the demise of the Perfect Sandwich. Having proved the valor of the Titans, Robin turns back to his real estate speech. However, Beast Boy and Raven aren't satisfied; all he showed them was some ridiculous food fights. Robin proposes that hunger is mankind's greatest enemy, but Cyborg points out no other superheroes focus this much on food. Robin tries citing Matter Eater Lad, a hero who can eat pretty much anything, but the Titans blow him off as useless... they're looking for real action against real villains.
To appease them, Robin turns on volume 2 of the Teen Titans action compilations, a food-free volume. The video begins with the team parachuting in on Baby Land, shows a few other equally ridiculous clips, and the ends with Robin milking a giant cow. A little ashamed by the silliness, Robin nevertheless asserts their past epic-ness. But after being shouted down for the absolutely absurd video, Robin concedes that the Titans really are lame... and probably destined to be lame forever. However, it's not too late for them to change; Beast Boy says all they need to do is find a really good villain and fight. Robin seems more willing to discuss boring APR/interest rate info, but luckily a crime alert sounds. Opportunity has called, and the Titans answer.
A monstrous robot spans across downtown Jump City, piloted by the fiendish Brother Blood. While announcing his denomination over the poor citizens, he's suddenly interrupted by the Titans. Brother Blood says he doesn't have any food for them, but he's surprised that the heroes are actually here to fight him, a true anomaly. Pleased by their challenge, he orders a massive AI robot army equipped with dual M134s to open fire on them. The hail of machine gun fire fails to penetrate Raven's black magic shield, though, and now the Titans go on the offensive. Starfire takes a few bots out with some starblasts, while Beast Boy demolishes some in gorilla form with a sweet turn-around move. Bullets and missiles continue be ineffective against Raven's impenetrable shield; once they're empty, she proceeds to shred them with her raven astral projection. Meanwhile, Cyborg's gunning down a few while simultaneously short circuiting a few with his head. Robin manages to take out one or two, but his main focus is the crystal power source up top. With the helpful yet rough assistance of his teammates, he is launched into the crystal, smashing it with his head.
Inside the robot lobby, Brother Blood is appalled to see his power draining. The Titans smash into the room in style (except Robin, who looks half-dead). But Brother Blood's got a dastardly back up plan... a leg snaps off the robotic structure, sending it down to crush the people below—all while he makes a speedy jetpack getaway. Realizing the priority, Robin orders Raven to teleport him down to the ground. Sharp spines extend from his staff, which he uses to slow the robot to a halt. Amazingly, the metal pole hold up the weight of the monstrous object... Jump City is safe!
The other four Titans descend to the ground as applause rises through the air. But before they can celebrate too much, Brother Blood appears on a giant TV screen, taunting them about there future confrontations. But Starfire, Beast Boy, Cyborg, and Raven have had enough of that. Robin's annoyed; earlier they were pleading to fight villains, but now they want to rest? It's just too much work for them, though... they'd much rather hear about interest rates. Robin's a little irritated at first, but he's then happy that he finally gets to talk about his financial facts.
Characters
Main Characters
Minor Characters
Trivia
This marks Brother Blood's first appearance in the fifth season and his first speaking role since his last one in the Season 3 episode, "A Farce".
It is revealed that Robin's staff's metal claws can withstand heavy objects like Brother Blood's robot.
Aaron Horvath, Chris Battle and Marina Gardner can be shown as bystanders.
The cover of Lookin For a Fight was based off this episode.
Continuity
Many previous episode clips are seen in Robin's The Titans in Action volumes. In order, they include:
This is the fourteenth episode to directly show or reference events from previous episodes.
This is the second time an episode talks about finance, the first example being "Finally a Lesson".
The Titans wearing the Justice League's costumes as seen from "Two Parter" are shown.
Raven is seen unhooded for the 81st time.
Gayle reappears since season one episode You're Fired! as a cillivian witnessing Brother Blood's speech.
References
When Raven stops bullets in midair, this scene is similar to one in The Matrix: Reloaded, where Neo also uses a bullet force field.

It is also similar to the rooftop missile chase scene from the Sonic movie, like in one part where Sonic is surrounded by missiles.

This episode shared the same title from another Cartoon Network show The Amazing World of Gumball.
Errors
Miniguns shoot anywhere from 2000-6000 rpm. Although Raven halts many bullets from the robots machine guns, there should be an astronomically amount more.
There're a few episodes in which the Titans fought with villains that aren't food related, like "Two Parter" and "The Night Begins to Shine", not to mention that they battled against Slade in the movie.
Running Gags
Robin breaking the fourth wall and showing the other Titans clips of the show to prove to them that they do in-fact do action packed fight sequences.
Robin giving lectures about finances.
The Titans refusing to listen to Robin's finance lectures calling them boring.
Transcript
The transcript for "The Fight" can be found here.
Gallery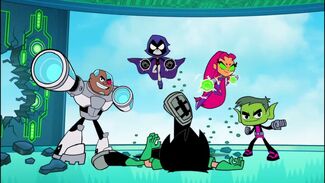 The image gallery for The Fight may be viewed here.