"The Night Begins To Shine Two: Chapter Four: Bass" is the fourth part of the five-part movie special, the 23rd episode of the sixth season of Teen Titans Go!, and the two-hundred-eighty-fourth overall episode of the series.
Summary
To retrieve the final stem, the Titans must conquer a virtual world full of increasingly harder obstacles.
Plot
The Titans are riding on the motorcycle to find the final stem. Robin is constantly checking the stem-tracker, and that the final stem should just be beyond the ridge that they are heading to. Upon approaching, they see a fortress-like structure. The radio is leading them straight to it.
They go up to the fortress, but find no door. Beast Boy notices a mold on the wall shaped like the tracker. Robin inserts the tracker into the mold and twists it. The entire fortress starts to light up, and the wall opens, revealing a portal. They enter the portal, and the Titans appear to be in Tron-esque virtual world. The shimmering light at end of the virtual horizon seems to be the final stem. The Titans ride on the motorcycle to get the final stem, but then a wall appears out of nowhere and they crash into it, dissipating into nothingness. They 'respawn' back at the starting point, and it seems they have a limited number of lives. The Titans realize that they have to avoid obstacles in order to get the final stem, and if they run out of lives, they will disappear forever. The Titans try to use their powers to skip the obstacle, but it looks like their powers are stripped away in this virtual environment.
After many failed attempts through the obstacle course, the Titans are ready to give up. Having one life left, Robin says that they are beat. Cyborg hearing the word beat makes him realize that beating the obstacle requires listening and following with the music. The Titans close their eyes, take a deep breath, letting the music calling out to them. Once they open their eyes, the hear the music, and the virtual world is filled with colors. They Titans go through the obstacle, this time following the music, and they are able to beat the obstacle. Starfire grabs the final stem, and they find themselves outside again. The ground starts to shake, and a path to a mountain is revealed.
Characters
Trivia
Many fans enjoy Stomp Out, which is the techno-beat when the Titans use their last life to retrieve the final stem.
Continuity
The Titans continuing on their quest to retrieve the lost stems
References
The elements of the virtual world are very similar and possibly a reference to the movie "Tron".
The entrance to the virtual world is similar and likely a reference to the first Stargate film.
Errors
N/A
Running Gags
N/A
Transcript
Gallery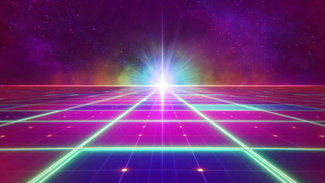 The image gallery for The Night Begins To Shine Two: Chapter Four: Bass may be viewed here.