The Riddler (Edward Nygma) is a villain of Batman and the Teen Titans who made his debut in the comic Par for the Course.
History
The Riddler is by far Batman's smartest adversary, with genius intellect. He is Batman's only opponent that tests his intelligence and creativity with the riddles he leaves at the crime scene, rather than simple brute force. He is obsessed with quizzes and puzzles, and enjoys leaving traps and challenging riddles for his adversary.
In Par For The Course, the Riddler is shown to be the owner of Eddie's Arcade. He yells at the Titans for destroying his miniature golf course and specifically at Raven for stealing from the claw machine. He bans them from ever returning to the arcade.
Apart from this comic book appearance, the Riddler plays an elusive role in the TV show. In "Real Boy Adventures", he can be seen in the drowd of various DC characters cheering on Fleshy Guy. A picture of him surfaces in "Yearbook Madness", and he also shows up with a huge roster of villains in "The Titans Show". He total screen time has been under 10 seconds, with only two words spoken, "real boy!"
Characteristics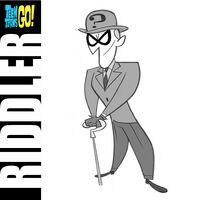 Lime green in the signature color of The Riddler. All of his clothes and accessories are this color shade, including his trousers, shoes, jacket, gloves, and top hat. He's one of those villains who likes to dress nicely, so he has a black tie with a white undershirt. A napkin can be seen in his pocket, probably for a riddle, and he carries around a green cane (designed as a "?") as well. The Riddler's hat has a black "?" emblem on it, which is pretty much his logo, signifying mystery... He has blonde hair and green goggles.
In "The Titans Show", the Riddler's appearance changes a little. He still wears the same attire, but he now has a different stature, face composition, and a more Robin-like mask.
Episode Appearances
Trivia
Gallery
Community content is available under
CC-BY-SA
unless otherwise noted.